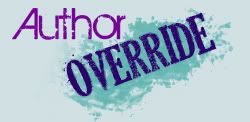 Author Override is the place where authors take the reins and take you on a journey into their world. Some may allow you into their private writing dens. Others may take you along with them on research trips or interviews. Whatever the case may be, sit back, relax and enjoy the ride because here you'll get an in-depth look into an author's musings.
JENNA JACOB
I was already twenty minutes late to my meeting with Francesca from Under The Covers and traffic was not cooperating. Exhaling a heavy sigh, I pulled into the parking lot of Genesis. She wanted to interview me at the private BDSM club that inspired me to write, "Embracing My Submission".
Throwing my car into park, I raced toward the non-descript wooden doors when suddenly they flew open and there stood Juliana, also-known-as "Emerald."
"Oh, hello Ms. Jacob," she smiled with a slight look of fear in her huge, green eyes. "Um, you may not want to go in there right now." She winced as she braced her hands on the doorframe, thus blocking my entrance.
"Hi, Emerald," I frowned wondering what on earth was going on inside the club. "I have an appointment, of course I need to go inside. Is something wrong?"
"Pet?" A deep buttery masculine voice boomed from behind her. I knew immediately it belonged to none other than, Mika. "You're not dawdling are you, my sweet girl?"
Emerald's eyes grew wide as she shot a glance over her shoulder. "No, Sir."
"No, who?" Mika asked suddenly appearing behind his girl.
"No, Master," she whispered then swallowed tightly.
"You've said hello, now go run your errand. I have something for you when you get back." He smirked in sexual suggestion.
I watched a shiver pass through her body as she dashed past me with a giggle of delight and scurried down the sidewalk.
"Hello, Ms. Jacob," Mika whispered causing my heart to skip a beat…okay several beats. Damn, Emerald was one lucky wench. "You're late." He admonished with a wicked twinkle in his panty-melting amber eyes.
"Traffic," I sighed as he wrapped his broad fingers around my elbow and ushered me into the lobby of Genesis.
"Francesca waited for you, patiently… but…"
"You mean she's gone?" I screeched in panic. "But I'm only…"
"Is that how you speak to a Dominant, Ms. Jacob?" Mika's brows arched as he issued a look of warning.
"Oh, no Sir. I mean… did she leave, Mika Sir?"
A broad smile curled on his mouth. I could see why Emerald was obsessed with his thick, erotic bottom lip. "Much better, girl. I think maybe instead of explaining, I'll just show you."
Sliding his hand through the thick velvet curtain, he pulled the massive veil to the side and with a nod of his head, I entered the massive dungeon. Looking around the cavernous room for Francesca, I couldn't find her anywhere. The only other person in the room was Daddy Drake and he had a woman cuffed to a cross, her butt cheeks a beautiful hue of crimson.
Wait, that didn't make sense. Where was Francesca?
"I said she waited patiently, at least for a while dear girl." Mika whispered in my ear as he slid his thick muscled arm around my waist.
"Wait?" I blinked and shook my head in denial. "That's not…"
"Oh, yes. It is precious. That's Francesca." Mika grinned as he looked pointedly at the woman upon the cross that Daddy Drake was intently focused upon.
"What on earth are you doing?" I gasped in alarm. "She's here to interview me, not…. Oh hell!"
Running like a mad woman toward Drake and Francesca, I slid to a halt as Drake raised a single tail high in the air.
"Stop!" I cried as I ducked and ran toward the back side of the cross.
Francesca eyes were half closed and a soft, serene smile played on her ripe lips.
"Oh my god Francesca, are you alright?" I gasped.
She didn't respond, just a slow sultry moan echoed from the back of her throat.
"What the hell do you think you're doing, young lady?" Drake thundered as he looked at me, his eyes narrowing in anger.
"Me? What do you think you're doing… err, Sir?" I gulped then looked back at Francesca.
"I'm giving her exactly what she asked for, not that I owe you an explanation Ms. Jacob." Drake scolded in that damn dominant tone of his.
"She asked for…? Oh good grief," I sighed unsure of what to do next.
Trying to ignore both Doms, which wasn't easy with more muscles bunching on their massive bodies than a Mr. Universe Competition, I tucked a strand of dark hair behind Francesca's ear.
"Francesca, talk to me. Are you enjoying yourself?" I whispered sliding my fingers over her warm cheeks.
"Mmmmm," she sighed dreamily and nodded her head.
"She has a safe word, now if you'll kindly move your interfering ass behind me, I will finish giving her what she asked for." Drake drilled me with an imposing look and I felt my knees turn to jello.
"Come Ms. Jacob, as you can see your friend is perfectly fine and in extremely good hands," Mika coaxed as he escorted me to a nearby table.
Drake sailed the single tail through the air, landing light wispy kisses upon Francesca's reddened backside. She moaned in delight as she slid farther into subspace. I would have liked to have heard the conversation that had her to agreeing to be taken headlong into submissive bliss.
"You see, Ms. Jacob there is nothing to fear. Drake is an expert when it comes to wielding the single tail. And he'd never do anything to maim or scar your friend. She simply wanted to feel some of the sensations one can experience here at Genesis." Mika's voice was low, warm and filled with so much compassion I knew instantly that Francesca was being cared for beneath extremely capable hands.
Watching Drake's body ebb and flow, the muscles of his massive arms ripple and bulge I knew Francesca was probably loving every damn minute of her adventure.  And I couldn't help but secretly wish I could be next.
Entranced in the session with Mika's hot body sitting so close to mine, I lost track of time and as Drake wound up his whip and attached it to his belt loop, I watched Mika stand and join him at the cross.
They worked in tandem to release Francesca from the thick leather cuffs as Drake supported her tiny, almost boneless body against his wide leather clad chest. When she was freed, Drake plucked her up into his arms, like a rag doll.
"How are you doing now, Bella?" Mika whispered as he brushed the wisps of dark hair from her face then placed a soft kiss upon her cheek.
"Celeste. Oh così celeste," Francesca softly sighed.
Looking up at Mika in question, he smiled. "She said: Heavenly, oh so heavenly."
I sighed in delight as Drake held her in his arms and cradled her slight slender body, smiling down at the peace and serenity gracing her beautiful face.
Haunted for years by dreams of a savage, amber eyed Dominant with lips so enticing my soul ached in frustration and lust. None of the Dominants at Genesis, my local BDSM club ever stirred me in such blistering ways. While I tried to fill my submissive desires vicariously through interactions at the club, I attempted to convince myself it was enough. But it wasn't. My dream Dom made certain I hungered for more.

Forced beyond what I could bear, my passion and frustration exploded. I threw in the towel, determined to stop chasing a dream and gave up completely on finding submissive surrender. But fate intervened when two gunshots split the night. Forced to confront my desires and insecurities, I was shocked to realize that my dreams may have held a deeper meaning. Were they compelling me to finally embrace my submission?
READ OUR REVIEW
Excerpt
At seven o'clock on the dot, I knelt on the soft carpet in Drake's private room.  Nervous and trembling, my heart thundered in my chest. All afternoon I'd paced, cried, and
worried about what he had in store for me.
That is, when I wasn't mooning over
hopeless fantasies of Jordon.
Thoughts of the handsome Dom filled my head almost more than fretting about my
punishment. Trying to keep Jordon in perspective, I reminded myself that I'd
screwed up far beyond repair and shouldn't hold on to foolish hope.
Craning my neck, I looked at the clock on the nightstand behind me and trembled
in anticipation-laced fear.
7:05.Okay Drake, I'm as ready as I'll ever be. Let's get this over with.
7:10.What is taking him so long?
7:15.You're doing this to fuck with me. I know it!
7:20.Damn it, Drake, I'm  going to waltz my ass back home if you don't get here soon. The anticipation is driving me insane!
The snick of the lock as it disengaged had me quaking with fear.
About the Author:

Jenna Jacob is married and lives in Kansas. A lover of music, cooking, camping and riding Harley's on the open country roads. When she was thirteen she began writing and not on a stone tablet as her youngest son often teases. There is always a plot bubbling inside her head that has to be written.
With four grown children she finally has time to paint pictures of her twisted mind, with words. Outgoing with a sassy sense of humor, she's never once been accused of being shy or introverted. With nearly twenty years of experience in the dynamics of the BDSM lifestyle, she strives to portray Dominance and submission with a passionate and comprehensive voice

We have a copy of EMBRACING MY SUBMISSION up for grabs.  International.
Latest posts by Under the Covers Book Blog
(see all)