Weekly UTC After Dark Swag Giveaway
During UTC After Dark we will be giving out swag every week!
10 winners each week. International.
Our last author is
Gena Showalter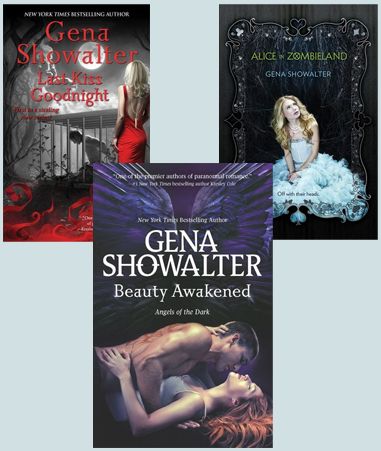 ALICE IN ZOMBIELAND
She won't rest until she's sent every walking corpse back to its grave. Forever.

Had anyone told Alice Bell that her entire life would change course between one heartbeat and the next, she would have laughed. From blissful to tragic, innocent to ruined? Please. But that's all it took. One heartbeat. A blink, a breath, a second, and everything she knew and loved was gone.

Her father was right. The monsters are real….

To avenge her family, Ali must learn to fight the undead. To survive, she must learn to trust the baddest of the bad boys, Cole Holland. But Cole has secrets of his own, and if Ali isn't careful, those secrets might just prove to be more dangerous than the zombies….
OUT NOW!
LAST KISS GOODNIGHT
The breathtaking first novel in New York Times best selling author Gena Showalter's new paranormal romance series, Otherworld Assassins, featuring a black ops agent who is captured and enslaved…and the beautiful deaf girl who holds the key to his salvation…

THE SWEETEST TEMPTATION…

Black ops agent Solomon Judah awakens caged and bound in a twisted zoo where otherworlders are the main attraction. Vika Lukas, the owner's daughter, is tasked with Solo's care and feeding. The monster inside him yearns to kill her on sight, even though she holds the key to his escape. But the human side of him realizes the beautiful deaf girl is more than she seems—she's his.

THE ULTIMATE PRICE…

Vika endures the captives' taunts and loathing, hoping to keep them alive even if she can't free them. Only, Solo is different—he protects her. But as hostility turns to forbidden romance, his feelings for her will be used against him…and he'll be put to a killer test.
AVAILABLE DECEMBER 26, 2012
BEAUTY AWAKENED
"Combining passion, humor, pulse-pounding action and just plain fun, Gena Showalter's books are always a refreshing escape!" – New York Times bestselling author Lara Adrian New York Times bestselling author Gena Showalter returns with another captivating Angels of the Dark tale, as a tormented warrior is brought to his knees by the most delicate of humans…

His name is Koldo. He is scarred, powerful, his control legendary-and he lives only for vengeance, determined to punish the angel who viciously removed his wings. But if he yields to the forces of hatred, he will be kicked from the heavens, eternally damned.

She is his last hope. Nicola Lane was born with a defective heart, yet this fragile human shows surprising strength as demons stalk her every move, determined to end her. She is the key to Koldo's deliverance…and his downfall. Though he fights duty, destiny and his first addictive taste of desire, his toughest battle will be the one for Nicola's life-even if he has to sacrifice his own….
AVAILABLE FEBRUARY 26, 2013
We have 10 swag packs to give out with bookmarks from LAST KISS GOODNIGHT, ALICE IN ZOMBIELAND and BEAUTY AWAKENED.