Interview and Giveaway with Marjorie M. Liu

Marjorie M. Liu
Maidens, we have the pleasure of having with us an amazingly talented author (and a personal crush of mine) Marjorie M. Liu.  She writes everything paranormal, from PNR to UF and even comic books!  And she's amazing at it all.   Please help us welcome her to UTC today!
You can pretty much do it all, from writing books to comic books. What do you think you have the most fun with?
I love them both, but for different reasons.  Writing novels is an intensive exercise in living within your imagination– and by that, I mean you have to go deep when you write a book, and you have to go deep for a long period of time. You have to sustain the world you've conjured, you have to stay in love with it, and keep breathing life into the characters.  You can't let go until it's done, and that takes…well, as long as it takes for you to finish.  It's not easy, but it's like living another life, again and again.  You have the privilege of being a storyteller, someone who creates worlds that others can inhabit with you.  How wonderful is that?  It's been my dream for as long as I've read books.
Comics are just a shorter version of this.  Shorter, and entirely visual.  I can't draw, so my burden is lighter — I share half the job with a penciler, colorist, letterer — wonderful men and women who make the visual aspects of the world come alive for the reader.  All of them are storytellers in ways I'll never be.  As a writer, my only job is to create the plot through dialogue, the staging of action, a look, a particular moment.  It's incredible fun, for a variety of reasons.  I get to play with characters that I've loved for years, such as Wolverine, Jubilee, Gambit — and take them out on new adventures.  But also, comics keep me in the present, and grounded.  When you write a novel, it usually takes an entire year for it to be published — never mind the years you spent writing the darn thing.
But comics come out on a monthly basis.  There's always something new.  Always work to be done.  If you want to see your work published on a regular basis, writing comics will certainly feed that craving.
You left a successful career behind to write full time. What has been the biggest reward of that decision?
I don't even know where to start.  It's such a privilege and blessing to be able to wake up every morning with only one intention — to tell a good story.  That's freedom.  But it comes with responsibilities, too.  And one of them is to do as right by your readers as you can.  Doesn't mean that every book you write has to be The Best Thing Ever, but the responsibility that comes with being a storyteller is that we should always be there, be present, be invested to the best of our abilities.  Never phone it in.
This month we are celebrating Paranormal Romance and Urban Fantasy. As a writer for both genres, what would you say is your favorite thing about each? Why did you decide to write in these two genres?
It wasn't really a decision.  I wrote a book that I was passionate about, and it "fit" as a paranormal romance.  The same thing happened with my other work — I didn't think about genre as I was working on the first book of the Hunter Kiss series, but the final version was most definitely urban, and most certainly a fantasy.  And, sometimes, you just have to go with where the publishers want to market you.
What are my favorite things about each?  I don't know, really.  There's so much crossover, it can be hard to tell them apart, at times.  But I can tell you that I enjoy reading Paranormal Romance for the love stories — and I enjoy reading Urban Fantasies for the love stories and intense world-building, and the tangled relationships.
For those readers new to your books, can you please tell us about Dirk & Steele series?
The series is set in our world — our world, which is full of hidden mysteries and magic.  All those myths, all the legends that we hear as children…they exist as real people, living in fear of being revealed.  The Dirk & Steele agency searches for these non-humans in order to bring them together as a community that uses its gifts and powers to help others.  Psychics, shape-shifters, gargoyles, mermen, witches — all of them a metaphor for "otherness" — the outsider who feels alone, who wants nothing more than to find purpose, and solace through friends — friends who become family.
Where did the idea of the Hunter Kiss series come from?
For those who don't know, the Hunter Kiss series is about a woman covered in living tattoos that peel off her body at night to form her own demonic army.  There's more to it than that — time travel, quantum roads, genetic engineering — but that's the gist.  As for where the idea came from?  I had a deadline!  I needed to write a novella for an anthology, and one night I saw a documentary on the Yakuza — the Japanese mafia — with a special focus on their amazing tattoos.  I thought, "Wow, those look alive."  And the rest was history.
What are you currently working on?
The fifth Hunter Kiss book, called LABYRINTH OF STARS.  Also, the next issue of Astonishing X-Men.
What does your writing work space look like? Clean and tidy or a complete fire hazard? Any visual would be nice.
My writing space has changed over the years.  Sometimes I work in coffee shops, other times a desk.  But what I need, more than anything, is a soft place to stretch out — comfortable clothes — maybe a television in the background, and constant refills of hot water or tea.  Also, music.  And yes, it's almost always a mess.  Post-it notes, journals, books piled sky-high…rocks, paperclips, fun little cards…photographs, light, flowers…it just depends.  Whatever soothes me at any given moment.
Name one thing on your bucket list.
To finally write the epic fantasy that I began dreaming up when I was fifteen years old.  It's…evolved…over the years in some fairly radical ways.  But the core of it is the same: a girl with a mission.
Which paranormal creature is your favorite and why?  
I love unicorns!  I always did, as a little girl.  I don't know why, exactly, but the first time I saw one in a children's book, I lost my mind.
Thank you so much for stopping by UTC today and sharing with us!
About Marjorie
Marjorie is the author of two ongoing New York Times bestselling series: the Dirk & Steele paranormal romance novels and the Hunter Kiss urban fantasy series.
Recently, Liu introduced the latest novel in her Hunter Kiss series, THE MORTAL BONE (on-sale 12/27/11), about a woman covered in living demonic tattoos. When the bond Maxine Kiss shares with Zee and the boys—the demons tattooed on her skin—is deliberately severed, she is left vulnerable, unprotected…while her demons turn violent and unpredictable without her guiding influence.
WITHIN THE FLAMES, the most recent novel in Marjorie's Dirk & Steele series, is now available from Avon, an imprint of Harper Collins, and pairs pyrokinetic Eddie with dragon shape-shifter Lyssa.  Like Eddie, fire is Lyssa's weapon, her destiny…and her curse.  In the Dirk & Steele series, Marjorie gives readers a chance to discover what happens in a world where magic rubs elbows with science, where men and women with more-than-human powers secretly risk their lives to help others.  It is a world where one right turn can deliver a little mystery that will change your life forever.
Marjorie is also celebrated for her comic book writing and is a popular panelist at conventions and other comic book and literary events.  Recent interviews with top media outlets such as USA Today.com, Wall Street Journal.com, i09, MTV, Newsarama, and Comic Book Resources are available upon request.  Marjorie has co-written the bestselling Dark Wolverine series for Marvel, and wrote the beloved X-23 series for several years.  She authored Black Widow: The Name of the Rose, NYX: No Way Home, and X-Men: Dark Mirror, and is the new ongoing writer for Astonishing X-Men.  She has received critical praise for her writing in Masked, an anthology of superhero fiction, and was also featured in the hardcover anthology based on Jim Henson's The Storyteller television series, now available from Archaia.
Marjorie also gained national renown with the paranormal romance video game, Tiger Eye: Curse of the Riddle Box, which was based on her novel, Tiger Eye. The game was featured on Jimmy Kimmel Live, was a top ten bestseller at Big Fish Games, and is now available at select major retailers.
Marjorie is an attorney and divides her time between the American Midwest and Beijing, China. Recent international coverage of Marjorie's work includes features in the Beijing Global Times, China Daily, and Paris's Comic Box.
To check out what Marjorie is up to, visit her blog at http://www.marjoriemliu.com or follow her on twitter at http://twitter.com/marjoriemliu

We would like to give away the first book in the Hunter's Kiss series, THE IRON HUNT.  Paperback.  International.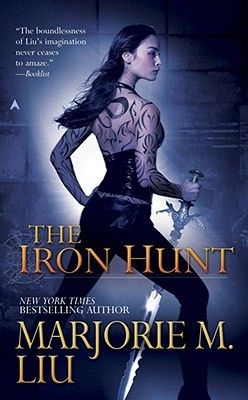 Silver smoke winds around my torso, peeling away from my ribs and back, stealing the dark mist covering my hands and lower extremities…tattoos dissolving into demon flesh, coalescing into small dark bodies. My boys. The only friends I have in this world. Demons.
I am a demon hunter. I am a demon. I am Hunter Kiss.
By day, her tattoos are her armor. By night, they unwind from her body to take on forms of their own–demons of the flesh, turned into flesh. This is the only family demon hunter Maxine Kiss has ever-known. It's the only way to live, and the very way she'll die. For one day her demons will abandon her for her daughter to assure their own survival–leaving Maxine helpless against her enemies.
But such is the way of Earth's last protector–the only one standing between humanity and the demons breaking out from behind the prison veil. It is a life lacking in love, reveling in death, until one moment–and one man– changes everything…
Latest posts by Under the Covers Book Blog
(see all)