Interview and Giveaway with Elisabeth Naughton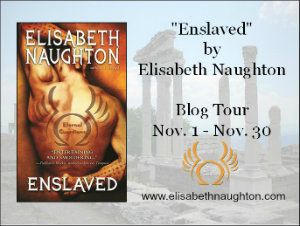 Maidens, we are very excited today because we have with us not only a talented author but a very sweet lady!  Elisabeth Naughton is here celebrating the release of ENSLAVED and if you haven't read them yet, we know you'll be rectifying that.  I mean… don't you want that cover sitting on your shelf?
Welcome to UTC, Elisabeth! Can you please tell us a bit about yourself?
Thanks so much for having me here!
I always hate talking about myself but I'll see if I can hit the high points…
I'm an author, a mom of three who lives in the PNW where it always rains, a half-marathon runner and a baseball fan. (I'm also an Oregon State University grad so if you see me tweeting about the Beavers, you'll know what that's about!)
Can you please tell us a bit about ENSLAVED?
Absolutely. I love talking about ENSLAVED!
The Eternal Guardians are seven warriors descended from the seven greatest heroes in Greek Mythology. They protect their own realm (Argolea) and the human realm from threats born of the Underworld, in particular one evil goddess with a serious vendetta against the guardians. Each book centers around a different guardian, with an over-arching plot of good vs. evil tying the series together.
Book five is Gryphon's book. He's my lost Argonaut. His soul was sent to the Underworld to be tortured in book 3 (TEMPTED) and he was rescued in book 4 (ENRAPTURED), but he came back a changed hero. Gryphon was always the easy-going, fun guardian. Now he hears voices, he twitches, and he fights an evil foreboding that haunts his every move. His story is really about finding himself again, and the one woman who has the power to rescue him from himself.
What do you love most about Gryphon? Was it a smooth process writing his story?
Gryphon was a tough character to write, not only because he was so thoroughly (and literally) tortured but because he didn't believe he was a hero anymore. I really put him through the ringer, but what I love most about him is that even with everything he did, he was still protective of those he cared about. That hero-nature came through even in the depths of his despair.
Where did you get the inspiration for the Eternal Guardian series?
The idea for the Eternal Guardians came while I was writing STOLEN FURY, my debut book. STOLEN FURY is a romantic suspense treasure hunt where the main characters are searching for three ancient Greek relics. I knew during research for that book that I wanted to write a series based on Greek mythology, I just didn't know what. At the same time I had an idea for a book about a woman who doesn't know she's was born into royalty and a warrior who has to bring her back to his world knowing doing so will fulfill a prophecy that could kill her. When I was reading a book blog and someone commented that they wished an author would write a series about the Greek heroes, the research and the book idea melded and the result was the Eternal Guardians.
Why do you think there is still a great interest in the paranormal world? Is there a particular reason why you decided to write paranormal romance?
Genre popularity seem to go in cycles, but paranormal has been popular for quite a while. Personally, I think the draw comes from the fact paranormal stories have that "anything can happen" quality. You never quite know what's coming next or how the characters will survive. There's also a real fascination with abilities we don't have but wish we could wield. Wouldn't it be so cool to live forever or shoot lightning out of your fingers? Paranormal novels give readers the chance to experience what life would be like in those situations from the safety and comfort of our every day lives.
Can you tell us a bit about your Firebrand series?
The Firebrand series is a new paranormal series I launched over the summer. It's set in the Djinn world and follows three brothers who have been imprisoned by an evil sorceress intent on taking over their realm. The first, BOUND TO SEDUCTION, is Tariq's story. He's sent to the human realm as a pleasure slave to corrupt souls which fuel the evil sorceress's power. The second book, SLAVE TO PASSION, is Nasir's story. It's my gladiator book and follows his struggle to break free from a pretty nasty prison where's he's been forced to fight for sport. And the third, POSESSED BY DESIRE, (which hasn't released yet), is Ashur's story. He's the youngest djinn brother and may be the only one who can save their realm.
Each Firebrand story is sexy, action packed and romantic.
If you could collaborate with another author, who would you pick and why?
My CP – Joan Swan. We've been critique partners for years because we "get" each other's writing. We have no plans to co-write a book at this time though. We're each so busy I don't know when we'd find time.
Which paranormal creature is your favorite and why?
They probably don't classify as "creatures" but I do have a lot of fun writing from the gods' point of views, especially Hades. He's evil, but with his own agenda, and even though he and Persephone have this totally twisted relationship, he's head over heels in love with her. It's fun to write a character like that.
As for creature-creatures? I introduced some new creatures in ENSLAVED called kobaloi…they're gnome-like dwarves who live underground and mine Hades's invisibility ore. I had a lot of fun with those in the most recent book.
If you were stranded in your home without power and could only read books, what would you reading pile look like?
It would be an eclectic pile with books from my favorite authors like CS Lewis, JRR Tolkien, Susan Elizabeth Phillips, Elizabeth Lowell, Joan Swan, Galen Foley, Judith McNaught and LM Montgomery.
Do you write to music? Do you have playlists for each one of your books? If so, care to share?
I can't write to music with lyrics, but I do make playlists for my books that I listen to when not writing. They help me get into my characters' heads and keep me thinking about the book when I'm doing things besides actual writing. I'm actually listening to the playlist for ENSLAVED right now while answering this interview. The list is below:
Holding Out for A Hero – Ella Mae Brown
You Found Me – the Fray
Lost in Paradise – Evanescence
Brothers Under the Sun – Bryan Adams
Breathe – Breaking Benjamin
Easier to Run – Linkin Park
Just a Kiss – Lady Antebellum
Sound the Bugle – Bryan Adams
Give In To Me – Garrett Hedlund & Leighton Meester
Lullaby – Nickelback
Nothing I've Ever Known – Bryan Adams
Innocent – Taylor Swift
Dear Agony – Breaking Benjamin
Something for the Rest of Us – The Goo Goo Dolls
Waiting for the End – Linkin Park
I Will Always Return – Bryan Adams
ENSLAVED BY ELISABETH NAUGHTON – IN STORES NOVEMBER 2012
"Do not miss this series."—New York Times bestselling author Larissa Ione

GRYPHON—Honorable, loyal, dependable…tainted. He was the ultimate warrior before imprisonment in the Underworld changed him in ways he can't ignore.

She calls to him. Come to me. You can't resist. But Gryphon will not allow himself to be ruled by the insidious whispers in his head. And there's only one way to stop them: kill Atalanta, the goddess who enslaved him. But with so much darkness inside, he can't be sure what's real anymore. Even the Eternal Guardians, those who protect the human realms and the gods, want to exile him.

Finding Malea is like a miracle. Somehow he doesn't feel the pull of the dark when she's near. And he's determined to keep her as near as possible, whether she wants him close or not. But she's a temptation that will test every bit of control he has left. One that may ultimately have the power to send him back to the Underworld…or free him from his chains for good.
Praise for Elisabeth Naughton:
"Entertaining and smoldering." —Publishers Weekly, starred review of Tempted
"Creative worldbuilding and ever-present danger pull the reader into this mesmerizing tale." —RT Book Reviews, 4 ½ star review of Enraptured
ABOUT THE AUTHOR
A former junior high science teacher, Elisabeth Naughton traded in her red pen and test-tube set for a laptop and research books. She now writes sexy romantic adventure and paranormal novels full-time from Oregon, where she lives with her husband and three children. Her work has been nominated for numerous awards, including the RWA RITA© Award, the NJ RWA Golden Leaf, and the RWA Golden Heart. When not writing, Elisabeth can be found running, hanging out at the ball park, or dreaming up new and adventures. Visit her at www.elisabethnaughton.com and follow her on Twitter, @ElisNaughton.

We have one copy of ENSLAVED up for grabs.  US/Canada only.