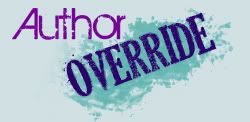 Author Override is the place where authors take the reins and take you on a journey into their world. Some may allow you into their private writing dens. Others may take you along with them on research trips or interviews. Whatever the case may be, sit back, relax and enjoy the ride because here you'll get an in-depth look into an author's musings.
A huge thanks to Under the Covers for inviting me to be guest today. I'm psyched to be here and can't wait to have some fun with the
Dragonfury Quiz
I've put together for you. The objective is to find the Dragon-Shifter best suited to you. But hold on…hold on just a minute. I know you want to Find Your Dragon-Shifter Love Match, but there are a few ground rules before you begin:
1. Answer the questions in the Dragonfury Quiz.
2. Tally your score to Find Your Dragon-Shifter Love Match and read the results.
3. Comment below, tell me which dragon is your love match and be entered to win a signed copy of FURY OF SEDUCTION (Dragonfury series, book 3).
4. Don't forget to grab your Love Match Button when you've finished (copy and paste it to your website, blog, post it on Facebook and Twitter to show your friends…display your button wherever you'd like!) and be proud of the match you've made!
All right? All good? Okay, then…let the love connections begin!
*****************************************************************************
DRAGONFURY QUIZ:
~ Find Your Dragon-Shifter Love Match ~
by Coreene Callahan
1. You've been invited to an up-scale Dragon-Shifter cocktail party. Do you wear:
A: A black leather miniskirt with a silk blouse and sexy boots?
B: A little black dress with red patent leather stilettos?
C: A body-hugging velvet gown with a slit thigh-high?
D: A sexy silver sequined cocktail dress?
2. At the bar, you spot an über-hot Dragon-Shifter. You get his attention by:
A: Buying him a drink and asking the bartender for extra ice.
B: Treating him to a sultry glance every 30 seconds or so.
C: Asking for Tabasco sauce to sprinkle on your hors d'oeuvres when he's
within earshot.
D: Trailing your fingertip around the rim of your glass while holding his
gaze.
3. A Dragon-Shifter is taking you out on a date tonight. When he asks where you would like to go, you say:
A: A trendy restaurant.
B: The new, ultra-hip aquarium.
C: Ice skating outdoors.
D: The movies.
4. Your favorite vacation must-bring accessory is:
A: A beautiful bikini.
B: Lip balm and polar fleece.
C: Anything electronic and portable.
D: A cocktail dress paired with stunning stilettos.
5. He invites you back to his place. You:
A: Suggest a nightcap at your place instead.
B: Give a resounding "hell yah!"
C: Ask "why not?" He's got a hot tub!
D: Play hard-to-get. The longer you make him wait, the more he'll
want you.
Scoring :
1. a—1, b—0, c—2, d—3 2. a—2, b—3, c—1, d—0 3. a—3, b—1, c—1, d—3 4. a—0, b—2, c—3, d—1 5. a—0, b—0, c—0, d—1
10 TO 12 POINTS

Lightning Queen
Always quick with a witty comeback, you are the life of the party. There is never a dull moment
with you around. You electrify whatever room you enter with your super-charged personality, and as such, will draw a LIGHTNING DRAGON's interest like no other.
Grab your Lightning Queen Love Match Button!
7 TO 9 POINTS

Frost Vixen
Once frostbitten, twice shy, you are always cool under fire.  Determined and self-confident, nothing stands in your way when you decide you want something. Never a pushover, your willingness to put a man in his place—by giving him the cold shoulder when he deserves it—makes you irresistible to a FROST DRAGON.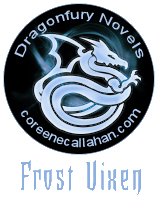 Grab your Frost Vixen Love Match Button!
4 TO 6 POINTS



The Firebrand
Passionate about righting wrongs, your protective nature makes you the ideal champion of those in need. Never one to shy away from difficult situations, you charge into the unknown, always keen for the next adventure.  Sassy and free-spirited, you use your charm to effect and often talk your way out of trouble.  No FIRE DRAGON alive can resist your fiery allure.
Grab your Firebrand Love Match Button!
0 TO 3 POINTS

Water Nymph
A smooth operator, your charisma is undeniable.  The sheer force of your personality makes you an attractive companion. Men are drawn to you.  Women want to be your best friend. But as always, you remain affable and kind to all. Easy going and fun, you are a WATER DRAGON's dream-girl.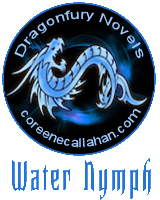 Grab your Water Nymph Love Match Button!
Here at UTC, we are all Lightning Queens!!
Thanks again to UTC for having me onto today. I hope you enjoyed making your Dragon-Shifter Love Match. For more about the Dragonfury Novels, please visit my website www.coreenecallahan.com or drop by Facebook author page, https://www.facebook.com/pages/Coreen…. I'd love to see you there!
Successful landscape designer Tania Solares prides herself on living by her own terms, relying on no man to provide for her. But her carefully controlled life takes a turn for the extraordinary when her inquiry into the disappearance of her best friend thrusts her between two warring factions of dragon-shifters. Suddenly Tania's survival depends on Mac, a newly initiated dragon-warrior who will break every rule to keep her safe.
Now that Tania knows the truth about Dragonkind, returning to her old life is too grave a risk. Ivar, leader of the Razorbacks, plots to decimate the human race, and Tania is just the tool he needs. Despite the danger, Mac cannot deny her a choice: Trade the independence she's fought so hard to achieve for safety in a magical world, or turn her back on the man she's grown to love in order to reclaim a freedom that might not last? It is an impossible choice. And yet a sacrifice must be made…

Again, comment below and tell us which dragon is your love match and be entered to win a signed copy of FURY OF SEDUCTION (Dragonfury series, book 3).
Remember, you don't have to include your email address in the actual comment anymore.
Latest posts by Under the Covers Book Blog
(see all)