This is a sign that I have to catch up on this series! WOW! Look at the final cover for Meljean Brook's The Guardian series. Definitely the best cover! 
by Meljean Brook
(The Guardians # 8)
In this thrilling conclusion to the Guardian series, New York Times bestselling author Meljean Brook delivers another stunning page-turner, in which the fate of humanity depends upon a tortured warrior winning the trust—and heart—of the woman he wounded…
After a terrifying encounter in Hell destroys her trust in Michael, the Guardian's powerful leader, former detective Andromeda Taylor is ready to call it quits as one of the angelic warriors and resume her human life again. But when demonic forces threaten her closest friends and she uncovers a terrifying plot devised by Lucifer, Taylor is thrown straight into Michael's path again…
To defeat Lucifer, Michael needs every Guardian by his side—and he needs Taylor more than any other. The detective is the key to keeping his own demonic side at bay, and Michael will do anything to protect her and keep her close. And when Taylor manifests a deadly power, her Gift might tip the scales in the endless war between Heaven and Hell…or it might destroy them both with a single touch.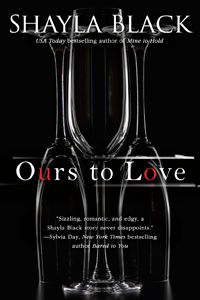 Between two brothers…

Xander Santiago spent years living it up as a billionaire playboy. Never given a chance to lead his family business in the boardroom, he became a Master in the bedroom instead. His older brother inherited the company and worked tirelessly to make it an empire. But while the cutthroat corporate espionage took its toll on Javier, nothing was as devastating as the seemingly senseless murder of his wife. It propelled him into a year of punishing rage and guilt…until Xander came to his rescue.

Comes an irresistible woman …

Eager to rejuvenate Javier's life, Xander shanghais him to Louisiana where they meet the beautiful London McLane. After surviving a decade of tragedy and struggle, London is determined to make a fresh start—and these sexy billionaire brothers are more than willing to help. In every way. And London is stunned to find herself open to every heated suggestion…and desperately hoping that her love will heal them.

And inescapable danger …

But a killer with a hidden motive is watching, on a single-minded mission to destroy everything the Santiago brothers hold dear, especially London. And as fear and desire collide, every passionate beat of her heart could be her last.