September 2012 Monthly Recap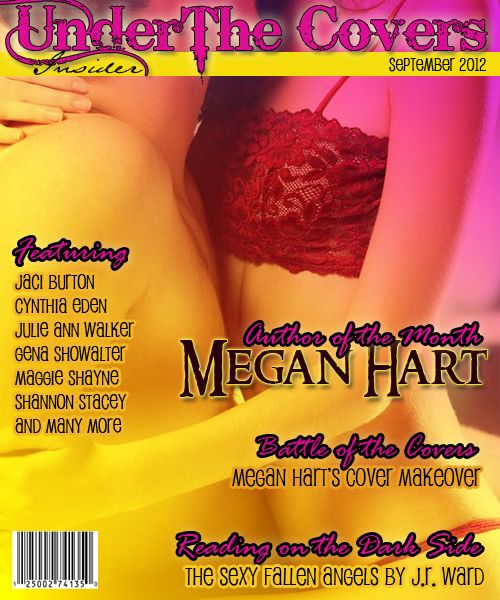 Author of the Month: Megan Hart
UTC would like to send out a big thank you to Megan Hart! Thanks for being our Author of the Month! If you're interested in reading our interview with Megan, you can check it out here.
We shared the love and screamed out our love for Megan's emotional but sexy books. You can see that post here.
We also did a special spotlight on our favorite Megan Hart hero, Alex Kennedy. Visit this post here.
Author Appearances:
Daisy Harris
Linda Grimes
Jaci Burton
Donna Grant
Savanna Fox
Cynthia Eden
Cari Quinn
Shannon Stacey
Carrie Lofty
Marie Sexton and Heidi Cullihan
Toni Aleo
Eden Bradley
Vicky Dreiling
Thea Harrison
Joan Swan
Maggie Shayne
Megan Hart
Gena Showalter
Amanda Carlson
Julie Ann Walker
Katie Porter
Shana Galen
Kelly Jamieson
Battle of the Covers: Megan Hart Cover Makeover
Hart's book covers got a recent makeover. What did you think about the new cover change? See what people had to say here.
UTC Monthly Picks:
Check out what we read and loved this month!
Suzanne's recs:
How A Lady Weds a Rogue by Katharine Ashe (Historical Romance)
Creed by Kristen Ashley (Contemporary Erotica)
Annie's recs:
Let Me Be the One by Bella Andre (Contemporary Romance)
Delusion in Death by J.D. Robb (Romantic Suspense)
The Angel by Tiffany Reisz (BDSM Erotica)
Never Seduce A Scot by Maya Banks (Historical Romance)
Francesca's recs:
Hold 'Em by Katie Porter (Erotic Romance) I am in love with this series and this author. They can do no wrong. 'nuff said.
Angela's recs:
Shades of Temptation by Virna dePaul (Suspense)
Never Seduce a Scot by Maya Banks for some Scot Love (Historical Romance)
Rough Surrender by Cari Silverwood to sate your BDSM hunger (Erotica)
Hunter's Season by Thea Harrison (Paranormal Romance)