Night's Awakening Book Blurb Tour – Day 12
Book 2 in the Dark King's Trilogy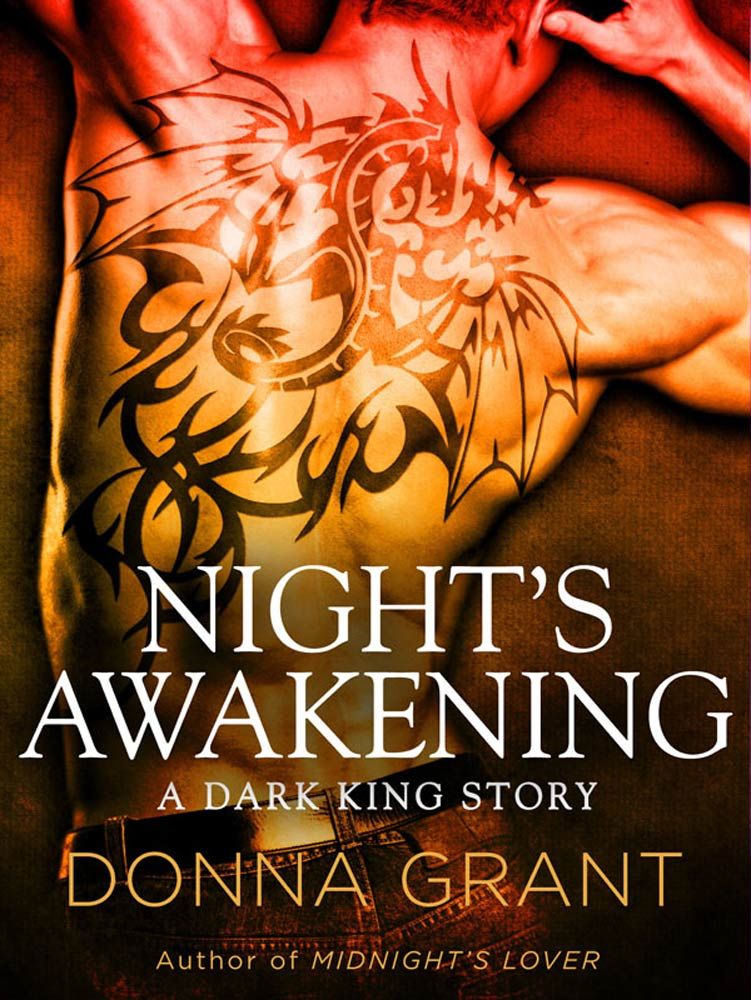 Night's Awakening ~
Meet the hero ~
Guy is wholly unprepared for his life to be shaken to its very core when he saves a woman who has trespassed onto their land and decided to go caving in their mountain. While everyone else is worried what she might have seen, Guy is more concerned with the way he can't stay away from Elena or her very tempting lips.
Never once has he turned his back on his fellow Dragon Kings, but for Elena he would do anything just to keep her near him. Even if it meant going against everything it was to be a King.
Dragon Color:

Power:

Favored Region:



Night's Awakening
Fueled by dragon magic, the dark immortal warriors were never meant to feel human desire, much less fall in love. But when Guy, a member of an ancient order of shape-shifting warriors, meets Elena Griffin—a mere mortal whose beauty and blind ambition shakes him to his core—all bets are off…
Having left America to explore the Scottish Highlands, Elena suddenly finds herself lost in a dark cave—alone, injured, and utterly hopeless…until Guy appears from out of nowhere. Is she dreaming her own rescue when she falls into his arms? A man—and a passion—this strong is too good to be true. It's only a matter a time before she learns the truth about the flames in his heart. And the dragon in his soul…
Read a snippet from Night's Awakening ~~
It took only one look at Banan when he returned to know Sloan hadn't survived the fall.
Elena covered her mouth with her hand and squeezed her eyes closed. "No," she whispered with such anguish that it tore at Guy.
Being so near her caused a riot within him that he couldn't stand there, but he couldn't move farther away either. It baffled him, and set him on edge.
"I want out of this mountain," Elena suddenly said, her voice shaking with her emotion.
Banan caught Guy's gaze. "She willna get back through injured as she is."
"And taking her back with us is no' wise either," Guy said.
Rhys shrugged. "We doona have a choice."
There was movement as Elena used the cave wall to pull herself to her feet. "I'm not going anywhere with any of you. I don't know you."
"We're here to help," Rhys said.
"Really?" she asked, her voice laced with sarcasm. "Then who are you? How did you get here without any kind of equipment?"
One thing at a time, Guy thought. He pointed to Rhys first. "He's Rhys, that's Banan, and I'm Guy. We work and live at Dreagan. We're no' here to harm you, simply to get you safely off our land."
"And the gear?" she asked pointedly.
Guy smiled and lifted a shoulder in a shrug. "We're good at what we do. We've lived near this mountain for—"
"Seems like eternity," Banan interrupted sarcastically.
Guy cut him a look before he turned back to Elena. "In other words, we know these caves. You can no' return the way you came. You need to come with us. We willna force you."
"What?" Rhys asked in disbelief.
Guy held up a hand to stop Rhys. If he had to, he'd knock Elena out and carry her out of the cave himself, but he wasn't leaving her.
"Good or not at caving, only an idiot would go without equipment," she said, eyeing him with distrust. "But I want this nightmare to end."
"Then come with me," Guy said, and offered his hand.
She hesitated a moment, staring at him before she reached for his hand. As soon as she took it, he knew his world was about to turn upside down.
Be sure to check out more stops on

Donna

's Dark King's
Book Blurb Tour for more snippets!! 
The Next Stop on the Tour is ~
Today's prize will be a Kindle or Nook copy of Book 1 in The Dark King's trilogy, Dark Craving!  
Comment below to enter and be sure to leave your email address so we can contact you.
Giveaway will be open for one day only. 
Donna Grant has been praised for her "totally addictive" and "unique and sensual" stories. She's the author of more than twenty novels spanning multiple genres of romance—Scottish Medieval, dark fantasy, time travel, paranormal, and erotic. Her latest acclaimed series, Dark Sword, features a thrilling combination of Druids, primeval gods, and immortal Highlanders who are dark, dangerous, and irresistible. She lives with her husband, two children, a dog, and three cats in Texas.
Learn more about Donna Grant and her books here —
http://zcrazyartist.blogspot.com
http://www.donnagrant.com/category/books/?series=dark-kings
The Dark Kings series is a spin off the Dark Warriors series and Dark Sword series.

Dark Craving
Dark Kings #1
July 31, 2012

Night's Awakening
Dark Kings #2
August 28, 2012
Latest posts by Under the Covers Book Blog
(see all)