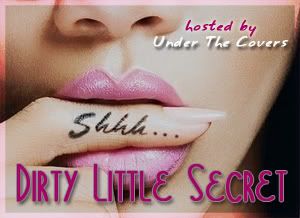 Dirty Little Secret is a weekly meme hosted by us at Under the Covers. Every Thursday we get to know other bloggers and our readers more intimately by asking them a question hoping to reveal their dirty little secrets. We hope that you will all join us!
To participate in the meme all you need to do is:
1. Be a follower of Under the Covers.
2. Create a post in your blog taking the meme image (code above) and copy instructions.
3. Answer the question we propose! This can be done in any way you like, post a video, write a post etc.
4. Then add your link below.
Non-bloggers: We want to hear from you as well!!! Let us know your answer in the comments!
We hope you join us and let us know your Dirty Little Secrets!
This week's question:
"What is your take on anthologies? Love them? Hate them? And what is the last anthology you've read and enjoyed?"
Our Answer:
Francesca:
I have a love/hate relationship with anthologies.  Why?  Because it's not an easy thing to write a good short story and sometimes they end up a disappointment.  That being said, I love the fact that I get to find new authors.  For example, I discovered Jaci Burton when I read Nauti and Wild.  My favorite theme for anthologies though is Christmas.  The one that I can think of I've loved the most recently was Jeaniene Frost and Lynsay Sands, The Bite Before Christmas.  Right now I'm reading Midnight Scandals, a historical romance anthology that I picked up because of Courtney Milan, but I've discovered so far that I love Carolyn Jewel's writing and will be getting a book of hers soon.
Annie:
I like
anthologies
because they can give you a taste of a writer's style before you really commit. It's almost like test-driving. I love anthologies that follow some kind of theme. Like the one I'm reading now, An Apple For The Creature has to do with all school related things. Charlaine Harris, Ilona Andrews, Faith Hunter and Nancy Holder are just a few of the authors in this antho. 
I also love it when anthologies are series or author specific like the Angels' Flight release by Nalini Singh or Into The Woods by Kim Harrison. If you're a mega fan, those are good.
My fave collection is still probably Magic Graves by Jeaniene Frost and Ilona Andrews. It's two of my fave authors and series for a very low price!
Suzanne:
As a whole I am not a massive fan of anthologies, but there are exceptions and I have discovered some of my favourite authors that way! For example I got the "Playing Easy To Get" anthology for Sherrilyn Kenyon and Jaid Black but discovered a whole new obsession when Kresley Cole's "A Warlord Wants Forever" was also in it!