Jennifer Estep has released the cover to book eight in her Elemental Assassin series, DEADLY STING. Again, this mass market paperback releases will have a step-back cover like WIDOW'S WEB. What do you think?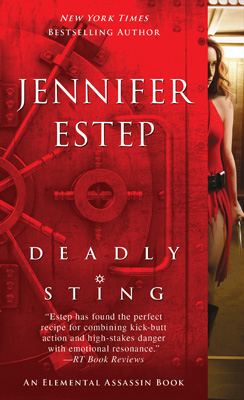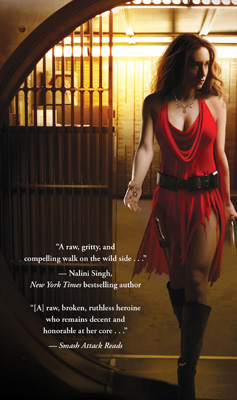 The cover is designed by artist Tony Mauro again. I really like the vault idea and all the red! DEADLY STING releases March 26, 2013.
Here's the book description. If you're worried about spoilers, please read at your own risk…
Red is definitely my color. Good thing, because in my line of work, I end up wearing it a lot.  
Most people shy away from blood, but for an assassin like me — Gin Blanco, aka the Spider — it's just part of the job. Still, it would be nice to get a night off, especially when I'm attending the biggest gala event of the summer at Briartop, Ashland's fanciest art museum. But it's just not meant to be. For this exhibition of my late nemesis' priceless possessions is not only the place to be seen, but the place to be robbed and taken hostage at gunpoint as well. No sooner did I get my champagne than a bunch of the unluckiest thieves ever burst into the museum and started looting the place.  
Unlucky why? Because I brought along a couple of knives in addition to my killer dress. Add these to my Ice and Stone magic, and nothing makes me happier than showing the bad guys why red really is my color.
Another one I'm very much looking forward to is Jennifer Armentrout's OPAL. This would be book 3 in the awesome alien YA series. Check out the cover! What do you think?
I love that they are still using the same couple throughout the series, but at first glance I thought that Daemon was holding on to something else. It wasn't until a second later that I realized he was holding her up. The black on black confused me there for a second.
No one is like Daemon Black.  
When he set out to prove his feelings for me, he wasn't fooling around. Doubting him isn't something I'll do again, and now that we've made it through the rough patches, well… There's a lot of spontaneous combustion going on. 
But even he can't protect his family from the danger of trying to free those they love. 
After everything, I'm no longer the same Katy. I'm different… And I'm not sure what that will mean in the end. When each step we take in discovering the truth puts us in the path of the secret organization responsible for torturing and testing hybrids, the more I realize there is no end to what I'm capable. The death of someone close still lingers, help comes from the most unlikely source, and friends will become the deadliest of enemies, but we won't turn back. Even if the outcome will shatter our worlds forever. 
Together we're stronger… and they know it.
OPAL releases December 11, 2012.
by Shiloh Walker
No blurb yet but this book is part of Shiloh Walker's FBI Psychics series.  If you read the HOT IN HANDCUFFS anthology this year you got a taste for what that series is about.  I love this cover!
Latest posts by Under the Covers Book Blog
(see all)