Author Override is the place where authors take the reins and take you on a journey into their world. Some may allow you into their private writing dens. Others may take you along with them on research trips or interviews. Whatever the case may be, sit back, relax and enjoy the ride because here you'll get an in-depth look into an author's musings.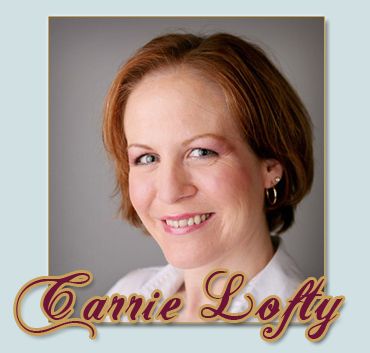 Old Time Sex
By Carrie Lofty
Probably because we look back at the era as so wholesome, it can be difficult to imagine WWII lovers getting it on. Jimmy Stewart? Bing Crosby? Come on!
But believe me, they got it on like whoa damn. After all, it was the middle of a war! "Meet on Friday, marry on Sunday" because a clichéd phrase because it was so common. Joe and Lulu from His Very Own Girl don't move quite that quickly in their courtship, but they do enjoy just as much fun in the sack as any other romance couple.
Here's a little taste, in an exclusive excerpt…
Joe was drowning in the feel of her, all heat and edgy wiggles. Their rasping exhales filled the room, but he could barely hear it over the rush and swish of blood in his ears. His heart slammed in time with the impatient throb of his erection.
Lulu said his name on a ragged sigh, and the tenor of her movements changed. She tugged at his tunic. A whimper caught in her throat. "Joe, please."
"Hmm?" He was enjoying her breasts too much to stop.
"I want to touch you."
"So do it."
"Naked, you fool."
He grinned against her damp throat. "If you insist."
He stood and released her, forcing taut arms to fall limp at his sides. Lulu wasted no time in attacking his new uniform. The tunic went first. Then she quickly dispatched the line of buttons down the front of his khaki shirt. She smiled as she yanked it out of his waistband, then sidled nearer. Full breasts molded against his T-shirt, gouging him with those two hardened peaks as she smoothed each sleeve down his arm. With her tongue against her lower lip, Lulu slipped her fingers beneath both suspenders.
He was on fire. Only a thin stretch of cotton separated their upper bodies as they clung together, joining for another melting kiss. He fought the demanding urge to toss her onto the bed. He needed to slow down, to savor. Memories of this moment would stay with him as long as he drew breath. He wanted to hoard them and delight in his woman for as long as she was his.
Edging back toward the bed, he tugged Lulu's pliant body and delicious mouth with him. He trailed open kisses down her neck as she whispered his name and edged her fingers around his lower ribs.
"I was trying to help you out of this gown," he said against the upper swell of her breast. He circled down and peppered tiny kisses along the curve underneath. "I'm not doing a very good job of it."
"I've lodged no complaints."
Feeling robust, he forced himself to stop kissing. He sat on the edge of the bed. She turned and stood with her back to him. Before removing her nightgown, he wondered what underwear she wore. Perhaps some frilly, cheap, lacey piece of froth. Or maybe something more demure, befitting the efficient way she wore her uniform.
Aroused to the point of mindlessness, he slowly lifted the hem. She wore perfectly ordinary white panties. The cotton was worn thin from repeated washings. The lace trim meant they were older than restrictions on nonessential clothing. How long had she gone without something new and pretty?
The war intruded at impossibly intimate levels.
Joe swallowed his frustrations. He wasn't able to lavish her with gifts, but he could make these next few moments, few hours, unforgettable.
And that's even their first time together! You can imagine that their reunions are far more…heated. No one lives for the here and now more than lovers during wartime. I hope you give Lulu and Joe a chance. Come read their journey from wartime fling to happily ever after… Find out more about His Very Own Girl here.
Thanks again to Under the Covers for featuring His Very Own Girl!
Summer has been a blast! Available now from Pocket Books are three Christ Family romances. FLAWLESS kicked it off with a tale of an estranged couple's search for love. The 99¢ tie-in novella, "A LITTLE MORE SCANDAL" follows two aspiring lovers to London. And the Scottish-set second novel, STARLIGHT, was an RT BookReviews 4½ Star Top Pick. "Richly nuanced characters and a superbly realized Victorian setting come together brilliantly." ~ The Chicago Tribune
I've also launched a co-written pseudonym, Katie Porter, with my long-time friend and critique partner, Lorelie Brown. Our "Vegas Top Guns" series of contemporary erotic romances launched from Samhain with DOUBLE DOWN and INSIDE BET, both of which were RT BookReviews 4½ Star Top Picks: "This racy, raunchy, hella good read…will move Fifty Shades of Grey to the children's section of the bookstore."
Where to find me:
http://www.carrielofty.com
Twitter: @carrielofty
From the author of Flawless and Starlight comes an emotional, sensual romance set during World War II about a female British civilian pilot and the American paratrooper medic who opens her heart—only available as an eBook.
After the War took the lives of Lulu Davies's parents and her fiancé, she promised herself she would guard her heart carefully and concentrate on her great love—flying the biggest and best airplanes in the sky. Lulu is a pilot in the British civilian air force, ferrying planes around Great Britain and keeping her eye on a coveted spot in a training program for world-class pilots. She's perfectly content to strive for greatness in the skies, and dance with a few GIs on the way.
Brawny, quiet American medic Joe Weber signed up with the paratroopers to escape his checkered past; he's hoping that jumping out of planes and patching up soldiers will earn him respect and a hopeful future. Joe's first real test of medical skill is on a pilot whose plane takes a hard landing in a training field; after rushing to the crash scene, he is stunned to come face-to-face with a gorgeous Rita Hayworth lookalike. And when the two cross paths at a dance hall a couple weeks later, he can't resist the urge to find out more about this spirited, dark-haired beauty.
Their flirtation breaks all of Lulu's rules, but dance by dance, week by week, walk by walk, she finds herself falling in love with this honest, vulnerable man on the run from his demons. But as Lulu and Joe's undeniable attraction gains momentum, World War II steadily intensifies toward D-Day. The lovers only have one night together before Joe is transported to France for the Battle of the Bulge, where his skills and his instinct for survival will be pushed to their limits. Lulu distracts herself with flight school and the friendships of her colleagues, but she can't get the handsome medic out of her head. Only time and hope will tell if her love will return unharmed from War, and if the two will be able to overcome their pasts to form a beautiful life together in peace-time.


Carrie is giving away a digital copy of HIS VERY OWN GIRL in any format. So much danger! So much reason to live for the moment! Just answer: Do wartime romances appeal for you? Why, and from which era?
a Rafflecopter giveaway
Latest posts by Under the Covers Book Blog
(see all)