Review Tour: Star Crossed by Kele Moon
I received this book for free from Author in exchange for an honest review.
This does not affect my opinion of the book or the content of my review.
Star Crossed

Book Info
Released:
July 3, 2012
Genre:
Contemporary Romance
Series:
Battered Hearts #2
Published by
LLC
,
Loose ID
Pages:
295
Format:
ARC


Star Crossed (Battered Hearts Book 2)
by Kele Moon
~~~~~~~~~~~~~
BLURB:
Heavyweight UFC fighter, Romeo Wellings comes from the hard streets of New York where his family ties to the mafia cause him nothing but pain. His life takes a surprising detour when he crosses paths with the twin sister of his long time enemy. After a steamy one-night stand, he faces the fight of his life, but it's not in the cage. The secret relationship that blooms between Romeo and his real life Juliet has him battling his family and a dark past rather than let her go.
The only lawyer in her hometown of Garnet, Jules Conner is also a volunteer Sheriff's deputy and co-owner of a successful MMA training center. Strong and dependable, Jules is always there for those who need her. Until one forbidden night in Las Vegas with Romeo leaves her feeling so alive she can't stop reaching out to the sexy, bad boy of MMA, even knowing the forbidden love affair could jeopardize everything.
As the tide rises against them and the people they love work at keeping them apart, Romeo and Jules hold onto a dream for a better life together and vow to go down fighting rather than accept a tragic ending.
Romeo and Juliet…it seems like it is fated to be, but with Romeo being a heavyweight MMA fighter with unwanted ties to the mafia and Juliet being a lawyer and a deputy in her small town where her twin brother who hates Romeo is Sheriff, these lovers really are star crossed. But will this Romeo and Juliet have a happier ending then the original lovers?
Defying the Odds the first book in this series was one of my favourite impulse buys this year, and I was so pleased to see that Star Crossed was just as good. It was a fantastic mixture of romantic, which kept me glued to the page.
I was a little bit dubious about a couple with the name of Romeo and Juliet but despite what I thought, it worked for me and the names just added to the romantic tone of the book. The chemistry between them both was off the charts, the steamy scenes left me panting a little and googling MMA fighters to see if I could pick up my own somewhere! Individually they were both likable characters, I especially think Jules was really well fleshed out.
I think the author may have a favourite character in this series though, Wyatt Connor, Juliet's twin brother, he is certainly my favourite. He gives the impression of laughing on the outside, whilst crying on the inside and the combination of sexy, funny but vulnerable has me panting all over him, and luckily for me (and everyone else!) it read like his book may be next!
I recommend you give this series a go if you haven't already, both this book and the first and really enjoyable reads.
*ARC provided by author
~~~~~~~~~~~~~
EXCERPT:
"I don't do fighters."
Romeo snorted. "Really? You could've fooled me."
"That was an extreme situation. It shouldn't have happened. You need to stop calling me."
"You gave me your number." He was quiet for one long moment before he confessed. "And I think about you—a lot."
She thought about him too.
In fact Jules couldn't stop thinking about him. She'd barely gotten any sleep in four nights, and it was starting to affect her life. The Christmas lights blurred to misty streams of color as she admitted, "I think about you too, but you can't call me anymore. It was fun, but it's over."
"I'm saying yes to Clay," he said dismissively, ignoring her wishes in a bullheaded way that was totally infuriating. "I'm coming to Hicksville. I wanna see what the hell they put in the water that makes such badass fighters. Clay took a bullet like he was friggin' superman and then lay there bleeding like it was no big deal. I've never seen anything like it."
"You better not," she warned, wondering how on earth she'd ended up falling into bed with the one man she couldn't intimidate. "I grew up drinking this water, Romeo. You come here and start messing with my life, you won't have time to worry 'bout Clay and Wyatt. I'll dent that hard head of yours personally."
"That sorta turns me on." Romeo's voice was taunting and sexy. "I like 'em feisty. Especially with that twangy accent you got going on. I'd give my last UFC check to see you in a pair of Daisy Duke shorts. With those long legs, I bet they'd look amazing."
"I ain't kidding. Three rounds in the cage with me and you'll be running back to New York with your tail between your legs. I'm a scary bitch. I can give you a long list of references confirming it."
"You can get me in a cage anytime you want. If it turns you on, it turns me on too. Bruises don't scare me. Hurt me, baby. I like it."
Jules let her head fall into her hand. She knew there were several good reasons why fighters were off the menu. She couldn't exactly intimidate a guy who made a living in the cage. "This ain't happening."
Romeo was quiet on the other end for one long moment before he said in a soft, sensuous voice that sent goose bumps dancing over her skin, "Juliet."
"Don't call me that." She sighed, hating that both her body and mind responded to her name on his lips. "Just don't call me. Period."
"I wouldn't tell anyone. It's not exactly stellar timing for me either, but no one has to know what's between us."
~~~~~~~~~~~~~ 

About the Author
A freckle-faced redhead born and raised in Hawaii, Kele Moon has always been a bit of a sore thumb and has come to enjoy the novelty of it. She thrives on pushing the envelope and finding ways to make the impossible work in her story telling. With a mad passion for romance, she adores the art of falling in love. The only rules she believes in is that, in love, there are no rules and true love knows no bounds.So obsessed is she with the beauty of romance and the novelty of creating it, she's lost in her own wonder world most of the time. Thankfully she married her own dark, handsome, brooding hero who has infinite patience for her airy ways and attempts to keep her grounded. When she leaves her keys in the refrigerator or her cell phone in the oven, he's usually there to save her from herself. The two of them now reside in Florida with their three beautiful children, who make their lives both fun and challenging in equal parts—they wouldn't have it any other way.
Email: kelemoon@me.com
Website: http://www.kelemoon.com
Twitter: https://twitter.com/kele_Moon
Facebook: http://www.facebook.com/kelemoon
Follow the Tour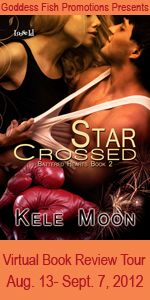 August 13:   Love To Read For Fun
August 14:   The Brunette Librarian
August 14:  STOP 2 Mimmi's Musing's
August 15:  The Romanceaholic
August 16:  A Tasty Read
August 20:  Under The Covers Book Blog
August 21:  Sultry Storyteller
August 27:  Reviews by Molly
August 28:  Books Reviewed by Bunny
August 28:  STOP 2  The Steamy Side
August 29:  The Muse Unleashed
August 30:  Crazy Four Books
August 31:  Delighted Reader Book Reviews
August 31:  STOP 2  Wicked Readings By Tawania
September 3:   Words of Wisdom from The Scarf Princess
September 4:  Queen of the Night Reviews
September 5:  My Secret Romance Book Reviews
September 5:  STOP 2  Wickedly Wanton Tales
September 6:  Slave's Erotic Reviews
September 7:  Reader Girls

Kele will be awarding a $25 Amazon GC to one randomly drawn commenter during the tour.
Be sure to leave a comment on this post along with your email address and follow the tour to increase your chances!
Did you like this review? If so, please tell us your thoughts in the comments below!