Interview and Giveaway with Tiffany Reisz

Ladies, we have a special treat today for you. We are so excited we got to ask Tiffany Reisz some questions and we are very excited to share those with you. She's one of UTC's favorite 2012 authors so please help us welcome her.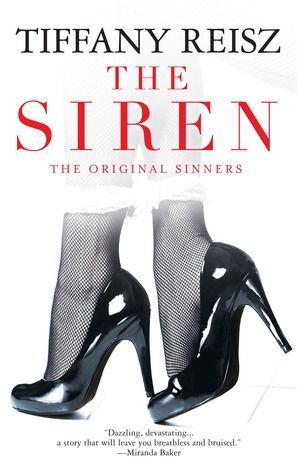 THE SIREN has created a lot of buzz lately because of its unconventional ending and dealings with S&M. What would you say to readers who are unsure if this book is right for them?
Simply this…THE SIREN is not a romance novel. It's a work of erotic women's fiction. Dr. Logan Levkoff (who you may recall is the smoking hot PhD who sparred with Dr Drew on The Today Show) called THE SIREN "a terrific emotional thriller." And she's not the only reader who has called it a thriller. If you need something formulaic with a guaranteed and simplistic happy-ever-after, then this is not the book for you. If you only like romance novels, this book is not for you. There are millions of those books out there. I wrote the book for the readers who wanted something darker, something different, something that would haunt them long after they read the final words.

What can readers expect from THE ANGEL, the next book in the Original Sinners series due out in September?
In romance novel series, the books usually revolve around a place with a big cast of characters. For example, Roni Loren's fantastic Loving on the Edgeseries centers on The Ranch, a BDSM club. Every one of her books involves a new hero and new heroine who visit The Ranch. That's not how it works in The Original Sinners world. Nora Sutherlin is the main character of all the books. THE ANGEL picks up 13 months after the end of THE SIREN as Nora is trying to settle in to her new life which is much like her old life. But a ghost from her past refuses to stop haunting her heart. Chaos ensues when her lover Søren is suddenly up for a big promotion, a promotion that could spell disaster for their relationship and their community. So while Søren's dealing with that, he sends her and a troubled teenaged boy of their acquaintance up North to hide out with Nora's favorite fuck buddy Griffin Fiske.
No matter whether they loved him or hated him, all my THE SIREN readers asked me the same thing—"Will we get to learn more about Søren?" Answer, yes. Big time. Book two and three both delve deep into his past. Book three even takes you there. Plus you'll learn a lot more about who Mistress Nora is and why she might just be more dangerous than all the other sinners combined.

Søren is such an interesting character. What would you say is his greatest strength? What is his greatest weakness?
Søren is my favorite character. He's so easy to write. It's like he stands over my shoulder and dictates. Dictator would have been a good career choice for him. I, of course, never tell him no. Who could?
I hope he's not watching while I'm writing this. But I'm pretty certain he'd tell you the same thing I'm about to. His greatest strength IS greatest weakness and that is his complicated, unfathomable, unconditional, and unquenchable love for Nora.

How many books do you plan to write in the Original Sinners series?
In this plot arc there are four books—The Siren, The Angel, The Prince, and the tentatively titled fourth book, The Mistress. The Mistress will be the final book in the timeline. After that, I'll write the four prequels that deal with young Nora and her relationship with Søren and Kingsley building his underground Empire of Kink. The first prequel I plan to write is attentively titled THE PRIEST. Something tells me that one is going to sell really well AND get me excommunicated. You take the good with the bad, right?

Which scene in THE SIREN was the most difficult to write? Which one was the easiest?
Most difficult scene to write was Nora's flashback scene to her last anniversary with Søren. As soon as I wrote Nora's words, "Don't. Don't say I ran from you. I didn't run. I could never run from you…" the tears started pouring. I have no idea why that scene got to me so badly but it was written with shaking hands as actual, full-body sobs wracked my body. When I typed the words, "I'll fly" I nearly collapsed. I think I turned into a Nora while writing that scene and all her love and longing took over me and hit the page.
Easiest to write was the BDSM scene between Nora and her favorite client Sheridan. Originally the scene was a fade-to-black due to word count issues. But my editor asked me to do an on-screen scene. I said YES and wrote the whole thing in about fifteen minutes. The words, like Sheridan in that scene, came and came and came.
Fun side note: One of the nicest compliments I received on THE SIREN was from a woman writer who is currently dating another woman. She said it made her so happy to read a book where a woman has a sexual encounter with another woman and doesn't feel any angst about it. That's my Nora—not an angst-ridden bone her body.

If given the chance to switch places with one of your characters in your books, who would you pick and why?   
I always say Nora isn't my alter-ego. She's my alter-id. The id is the party animal of the personality. If I looked like Nora and could get away with the shit she pulls, I'd be doing it every damn day of my life. Since I don't and I can't, I'm just happy she lets me come along for the ride.
You've mentioned that you live the BDSM lifestyle. How has this helped you with your writing? Does it spark ideas?
It does, definitely. And it helps with the authenticity. If people complain my books are not realistic, I can tell them that #1-"it's a work of fiction and I'm dramatizing events" and #2-"I've done this shit so shut the fuck up."
More politely…yes, I've done hardcore kink in the past with men I've been in relationships with. I've also visited a NYC Dominatrix twice for kink sessions. I have mined my past thoroughly to get sexy kink ideas. My old Dom once tied a rope around my neck and looped the other end to my ankle. I had to keep my leg bent behind me and high up in the air (Google image search the yoga pose called "King Dancer" and you'll see what I mean). If my leg went down, the rope tightened on my neck. While holding this pose I had to submit to some serious…stuff. It. Was. AWESOME. Not shockingly, you'll see this pose take place in one of the books in the series. Stay tuned…
Also my boyfriend and I are a very happy D/s couple. He's the D, I'm the s. I love him. I trust his judgment completely. It's easy (most of the time) to let go and let him be the leader in our relationship and submit to his decisions. It's a lifestyle I introduced him to and that he took to like a duck to water.
Also, this morning he repeatedly swatted me on the bottom with a rolled up magazine REALLY REALLY HARD while I was trying to fold laundry. And I hadn't even peed on the floor. Doms can be such sadists. I love them.

Quick-fire questions!
Ebooks or paperback? Paperback!
Favorite book: All the King's Men by Robert Penn Warren!
Favorite place to read: In bed!
Last book read: Anna Dressed in Bloodby Kendare Blake!
coffee or tea? Tea!
leather or lace? Lace!
cane or flogger? Flogger!
Top or bottom? Bottom! 
About the Author:
Tiffany Reisz lives in Lexington, Kentucky with her boyfriend (a reformed book reviewer) and two cats (one good, one evil). She graduated with a B.A. in English from Centre College in Danville, Kentucky and is making both her parents and her professors proud by writing BDSM erotica under her real name. She has five piercings, one tattoo, and has been arrested twice.
When not under arrest, Tiffany enjoys Latin Dance, Latin Men, and Latin Verbs. She dropped out of a conservative southern seminary in order to pursue her dream of becoming a smut peddler. Johnny Depp's aunt was her fourth grade teacher. Her first full-length novel THE SIREN was inspired by a desire to tie up actor Jason Isaacs (on paper). She hopes someday life will imitate art (in bed).
If she couldn't write, she would die.

We have one copy of THE SIREN (open to US contestants only) up for grabs.
a Rafflecopter giveaway
Latest posts by Under the Covers Book Blog
(see all)