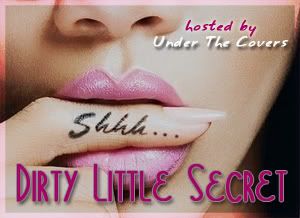 Dirty Little Secret is a weekly meme hosted by us at Under the Covers. Every Thursday we get to know other bloggers and our readers more intimately by asking them a question hoping to reveal their dirty little secrets. We hope that you will all join us!
To participate in the meme all you need to do is:
1. Be a follower of Under the Covers.
2. Create a post in your blog taking the meme image (code above) and copy instructions.
3. Answer the question we propose! This can be done in any way you like, post a video, write a post etc.
4. Then add your link below.
Non-bloggers: We want to hear from you as well!!! Let us know your answer in the comments!
We hope you join us and let us know your Dirty Little Secrets!
This week's question:
"All your favourite characters and celebs have been entered into the SEXY OLYMPICS! Who would win your Gold, Silver and Bronze and why" 
Pick only characters from books you've read THIS year.
Our Answer:
Francesca:
Damn you!!! I thought we were going to talk about those sexy olympians!  OK, fine.  I'll pick from books but that doesn't mean I'm not going to post some pics….
My choices (this was so very hard!!!)
Bronze – Shock from Shayla Black's Doomsday Brethren's series.  We don't have his book yet but I got all caught up on that series this year and I can only say HOLY HELL HE IS HOT!!!  Bad boy all around, dar shades, leathers, can't trust him, don't know who's team he's playing for (as in good or bad guys).  He is sex on a pair of legs and what a sexy beast he is!  Rawr!
Silver – Vlad…Because he was everything I've wanted him to be and then some.  He is hot and had me melting from his fire as well as from his sweet side.  The total package.  This vampire has it all.
Gold – Master Adam Montague.  KA-THUNK.  Yes, Master Adma just won the Ultimate Dom competition and his book was one of my favorite reads so far this year.  I don't think I can remember a book in a very long time that has reduced me to tears and sobs as Master Adam did.  His story is deeply touching, he is a superb Dom.  I wish he would practice some suspended shibari techniques with me.  He's older, more knowledgeable, more intense.  And he can unleash all that on one woman.  I so wish that was me!
Annie:
Bronze: This goes to Winter Makepeace from Thief of Shadows by Elizabeth Hoyt! I don't know what I was expecting but Winter blew my mind in this book! Definitely one of the better historicals released this year.
Silver: Mr. Hot Hands gets my vote! Vlad from Once Burned by Jeaniene Frost heated things up until I was burning from the inside out! I'm hoping for a Chapter 32 repeat, pyro style!
Gold: I started this year off reading about Terrible from the Downside Ghosts series by stacia Kane. He doesn't have the good looks, but he makes up for it in every other department! He's got the Brotherhood swagger that I love. Terrible has the top spot in my heart! 
Suzanne:
Bronze- Charles from the Alpha & Omega series by Patricia Briggs, I have read so many fantastic books so far this year, and Alpha & Omega series and the very sexy and intense Charles has been one of favourite discoveries, I really should have started this series earlier!
Silver- Tate Jackson from Sweet Dreams by Kristen Ashley, he's hot, he's alpha, he has a shiny sexy motorbike….It was love at first mention, and although I have read through most of Kristen Ashley's work this year, Tate still remains my top KA guy!
Gold- Curran from Gunmetal Magic, and so the obsession continues…I know it is cheating but he is MY MAN and he was in Gunmetal Magic a little bit, *sigh* he makes my girl parts tingle.
Now it's your turn!
Latest posts by Under the Covers Book Blog
(see all)