Stetsons and Smexin' with Tell – Kissin' Tell Kick Off Tour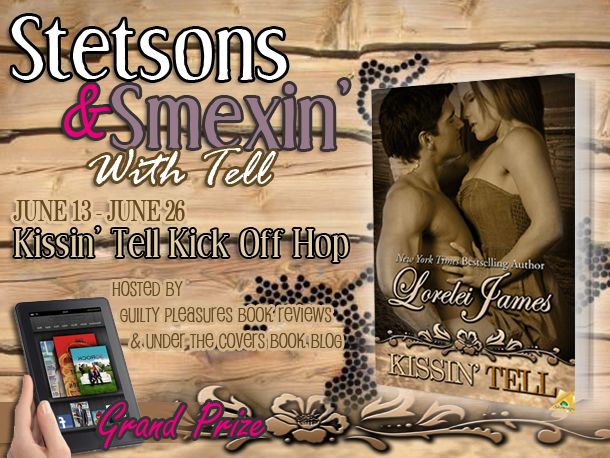 We are heating things up with Lorelei James.  Under the Covers and Guilty Pleasures are hosting the Stetsons & Smexin' with Tell Hop to share the excitement about Lorelei's upcoming release Kissin' Tell.
KISSIN' TELL is the 13th book in the Rough Riders series, and because there might be a few obsessed fans of the series here at UTC we thought it would be great to share with you WHY we love it.
So strap in and buckle up, you are about to embark on a Rough ride and love every single sexy minute of it! To show you how much we love Lorelei James' Rough Riders series we are going to give you six very good reasons to get started on it!
Chugga-Chugga-Chugga… That's right, these boys are the Little (pfft see Will it Fit?) Engine That Could, and they do, many many times! Come rain, shine or an oncoming apocalypse, one thing the McKays will NEVER need is Viagra.
Orgasmaganza What these boys don't know about getting your lady parts quivering, isn't worth knowing. With just a Lick, a Touch and a freaking Look they can have you experiencing the Big O many many times.
Will it Fit? I know I know, and we may sound like a heroine from a Historical, but honestly these guys are heaving around pythons not grass snakes in the trouser department if you know what I mean…so grab some XL Trojans and enjoy the ride!
BOGOF That's right Buy One, Get One Free, Lorelei James is all about economy so where one cowboy goes normally his equally sexy buddy follows, so be prepared for a cowboy sandwich!
Oi! It Ain't All About the Orgasms The McKays may know the secret to multiple orgasms, but it isn't all about that. These cowboys love their ladies deeply and it shows, the Rough Riders series is hot n' sweet and very very delicious.

 Y Aren't Ya Reading it Yet? It has everything, hot men, sassy women, sweet romance and more sex then you can shake a stick at, so saddle up and ride!
All of the above equals COWBOY (yes we ARE clever!) Yet another great reason to read this series, who can ever resist a man in with a six pack, a Stetson and that sexy drawl? We certainly can't!
Pre-Order Now!
UTC: How is Tell different than other McKays?
Lorelei: Tell is a fun loving guy, he's always up for a good time with his friends. And he loves the ladies but he's never serious about any of them. He tries to make his life about more than being just another McKay rancher.
UTC: Now that the series is coming to an end *cue sobbing from UTC girls* what are some of your future plans? Please tell us there will still be sexy cowboys somewhere!
Lorelei: I'm still writing the Blacktop Cowboys series. And I have more ideas for future books than I have time – but you can pretty much be guaranteed whatever I write will have a western flavor 🙂 I would like to get back to the Wild West Boys and at least finish Ramona West's story and Chet and Remy West's story, but the earliest that'll happen is 2014.

UTC: Looking back at the Rough Riders series, which book would you say you are proudest of?
Lorelei: It's always the last book I finished writing because the books are getting harder to write, rather than easier. You'd think they'd be easier now that I'm 13 books into this family saga, but there is more pressure to make each book different and not write a cookie cutter story. 

To be entered in the tour giveaway for a Kindle of Nook you have to enter the Rafflecopter giveaway below. By entering the tour giveaway you are agreeing to be added to Lorelei James newsletter.
a Rafflecopter giveaway
We have two SIGNED copies of Cowgirls Don't Cry, 
along with Rough Riders swag.
US only.
To enter:
1. Be a follower
2. Fill out the form below
And don't forget to follow the tour!