Reading on the Dark Side: Doomsday Brethren
This is a series that I've had on my to-read pile for so long and I've finally gotten caught up with it.  And believe me it was well worth it.  So if you've been wondering what the series is about or you want to have a little peak at what to expect when you start it, we've put together this post for you to get your feet wet.  Some of the information here was taken straight from the source, Shayla's website.  Hope you enjoy it and that you give these wizards a chance to make you fall in love with them!


Series Concept:
In today's world of technology, science and logic, few people realize that magic lives and breathes-and walks on two legs-among mortals. Or that magickind possesses a weapon that can hurt, heal, comfort, destroy, grant fantasies, bring peace. Or, in the hands of someone terrible and strong enough to call forth its power, the weapon can bring about Doomsday.
Created during the days of the Round Table, it resurfaces in modern-day London and is sought by a wizard of evil brilliance with one goal: dominion over human and magical worlds alike. Only a band of wizards, enemies who must learn to become friends and accept love, can save the world from destruction.
Meet the Brethren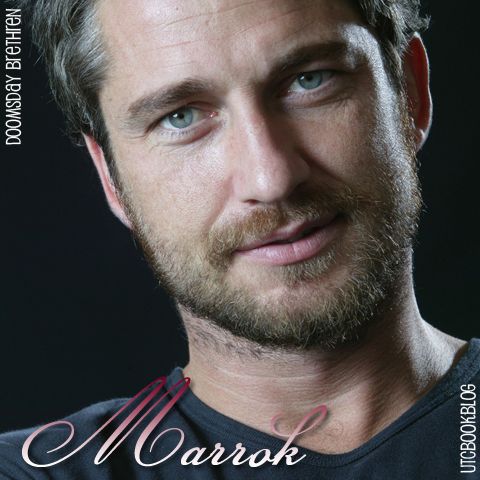 Name: Marrok of Cadbury
Facebook Profile: here
Age: 1484…give or take a few years
Height: 6'5"
Weight: 240
Build: Warrior big and honed
Hair: Dark brown, brushing massive shoulders
Eyes: Blue-gray
Other: Once King Arthur's champion, now he'll do anything to die, even abduct his nemesis's lookalike and use her against his curse—and for his pleasure.

Mate: Olivia Gray
Facebook Profile: here
Book: Tempt Me with Darkness
Work: Trains the Doomsday Brethren in weapons
Living in: London, United Kingdom
Favorite Quotes:
"You taught me that I wanted to be uncursed, not because I wanted to die, but because I finally wanted to live. You have no reason to stay with me, I know. What does a modern twentysomething woman want with a man old enough to be dust."
"What you suggest will require eighteen hours each day of sweating dedication. You will hurt as you never have in your life. You will cry and beg for mercy, and I will have none."
"You will find us up to the challenge."
"Shock, perhaps. Maybe Ice, too. If Lucan can channel his anger….." Marrok shrugged. "Duke looks far too privileged to sweat for hours on end. Tell him to leave his designer clothes at home."
Bram cracked a smile. "Yes, sir. And what is your assessment of me?"
"When I'm done with you, you will no longer look like magic's pretty boy. But you will be ready to fight."
He's an immortal knight hungering for satisfaction….

As soon as Marrok sees Olivia Gray's dark windswept hair and burning violet eyes, he's sure they've met in eons past. He's felt her soft gentle curves writhing in pleasure beneath his own hard powerful body…Morganna! For centuries, towering Marrok, once the mightiest of King Arthur's warriors, has endured a terrible curse cast upon him when he spurned the witch.

She's a modern woman about to discover ancient magic….

Olivia shares a mystical – and irresistible – connection with brooding Marrok. Soon after the sexy warrior appears in her erotic dreams, he abducts her, demanding she uncurse him. Their intense passion is more powerful – and intimate – than either of them has ever known. Olivia may be the key to unlocking the diary that will break Morganna's hold on his life. But in the wrong hands, the book also holds the power to destroy all magickind. As they search for answers, a ruthless wizard returned from exile is building an army of evil. When he discovers Marrok and Olivia have the diary, only their love – with the help of a powerful group of magical Brethren – can save them
Name: Ronan Wolvesey
Facebook Profile: here

Age: Barely 90–far too young to have sowed his oats
Height: 6'1
Weight: 200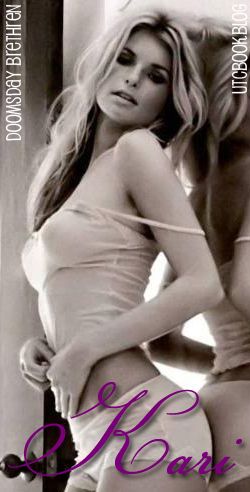 Build: Exactly like his twin, Raiden. Except for the hair, you can't tell them apart.
Hair: Seductive midnight
Eyes: Bliding, beautiful blue
Other: His brother's accomplice in vice, Ronan lives for the next beautiful woman, the next licentious act. Deep down, he's been questioning whether he's living a lie and his feelings for a certain sexy half-human bar maid who occupies too many of his thoughts. When evil strikes her family, and he's forced to choose between the life he's always known and one that will estrange him from his family, what will he do?
Mate: Kari Keswick
Facebook Profile: here
Book: Fated (Novella)
Work: Wizard and warrior with the Doomsday Brethren
Living in: London, United Kingdom
Favorite Quotes:
"You're like a fever to me. I need to touch you."
Kari Keswick and Ronan Wolvesey burned for one another, but a deadly family curse targets their love with destruction. Will magic tear them apart?


Name: Caden MacTavish
Facebook Profile: here
Age: Nearing 30—and all the trouble for a magical man that goes with it
Height: 6'1"
Weight: 200
Build: Ripped
Hair: Short, light brown waves
Eyes: Blue

Other: Magical by birth, not choice, this British bad boy is having far too much fun working in the States to notice his body's rush to magical maturation. Let big brother Lucan see to family duty. Then obligation calls him to help save magickind and forces him to try to resist the one woman he can't possibly walk away from.
Mate: Sydney Blair
Facebook Profile: here
Book: Seduce Me in Shadow
Work: Wizard and warrior with the Doomsday Brethren
Living in: London, United Kingdom
Favorite Quotes:
"I want to move back to Texas. I miss Mexican food."
A reluctant smile spread across her face. "We Brits don't make it well?"
"I've seen dog food with more appeal."
Sydney hand't finished processing the thrill of his mouth on her skin and the knee-melting male scent of him when he lifted her against him and braced her back against the wall.
"The bedroom is just down the hall," she whispered, though secretly thrilled that he wanted to take her rough and urgent against the wall, just as she'd written.
"Here.Now."
When a villainous wizard escapes from exile, the devastatingly sexy Doomsday Brethren must defend all magickind in the spellbinding second book in bestselling author Shayla Black's seductive new paranormal series.

Ex-marine Caden MacTavish has shunned his magical heritage all his life, but he will do anything to heal his desperately ill brother, a Doomsday Brethren warrior in mourning for his missing mate. Posing as a photographer, Caden must convince firecracker tabloid reporter Sydney Blair to reveal the source of her recent exposé on a supernatural power clash. Unfortunately, keeping his hands off the sizzling redhead proves as hard as getting them onto the potent and mystical Doomsday Diary he discovers at her bedside. A bloody rebellion led by an evil, power-hungry wizard is imminent. If Sydney divulges the book's existence, she will jeopardize magickind's most deeply guarded secrets and become the ruthless wizard's number one target. Caden has never trusted magic's cruel and dangerous powers, but he will protect Sydney with his life and magic — even if it means risking his heart.


Name: Isdernus (Ice) Rykard
Facebook Profile: here

Age: 246—Seasoned enough to carry the scars of war on his body and in his heart
Height: 6'3"
Weight: 220
Build: Muscled hulk of wizard
Hair: Brutally short black
Eyes: Green

Other: Scarred by poverty, tragedy and self-hatred, he's a magical warrior determined to avenge the murder of the only person who ever meant anything to him. To do that, he has to cozy up to magickind's princess—a woman so far out of his league. But one taste…and he's lost forever.
Mate: Sabelle Rion
Facebook Profile: here
Book: Possess Me at Midnight
Work: Wizard and warrior with the Doomsday Brethren
Living in: London, United Kingdom
Favorite Quotes:
Sabelle, though he'd never hold her, was… everything. He'd never understood a wizard's urge to mate. After one look at her, he comprehended perfectly.
Ice drew back, then thrust forward again. To the hilt. "I'll take every part of you."
Body and soul.
Don't push her anymore, he told himself. Slow. Gentle. Pull back. She's not ready for more.
He told the voice in his head to fuck off.
The sexy warrior Ice Rykard finds himself craving beautiful Sabelle Rion

As a mysterious dark cloud drains the life of her beloved brother, Doomsday Brethren leader Bram, Sabelle Rion can think of little else. Still, every time she meets Ice Rykard's intense green gaze, her body aches with need for the sexy warrior. Their attraction is explosive, incredible—and forbidden. As dangerous as he is unpredictable, Ice is her brother's sworn enemy. But as Bram weakens, a more sinister force is gaining power. Evil Mathias and his ruthless Anarki army are on a bloodthirsty hunt for the Doomsday Diary. Sabelle must guard the potent book with her life—and Ice vows to protect the beautiful witch with his. Duty demands that Sabelle deny her lover's fiery call of possession and mate with a man who can sway the magical Council against the impending rebellion. With the fate of magickind hanging in the balance, will she forsake the burning desires she can't ignore or turn her back on her people for the courageous man she can't resist?
Name: Raiden Wolvesey
Facebook Profile: here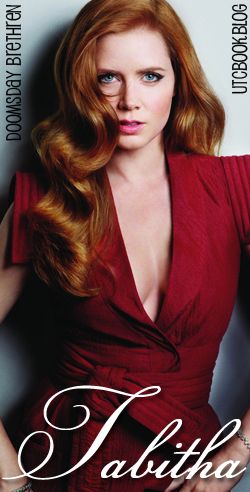 Age: Too young to settle down
Height: 6'1″
Weight: 200
Build: Sleek and ready for action–of all kinds
Hair: As golden as his personality when he's trying to seduce
Eyes: Caribbean Sea blue you can drown in
Other: The product of a hedonistic, all male family of eternal bachelors, determined to do his best to serve his insatiable lust for beautiful women without ever falling into the trap of magical, mystical mating. He takes little seriously, especially life. Funny how fate and a woman seemingly immune to his charms can change a man's mind.
Mate: Tabitha Lowery

Facebook Profile: here
Book: Mated (Novella) 
Work: Wizard and warrior with the Doomsday Brethren
Living in: London, United Kingdom
In the shadowy world of the Doomsday Brethren, magical warrior Raiden vows to protect his woman and their unborn youngling from evil—and deliver her safely to another man. But once he's saved her, can he let her go?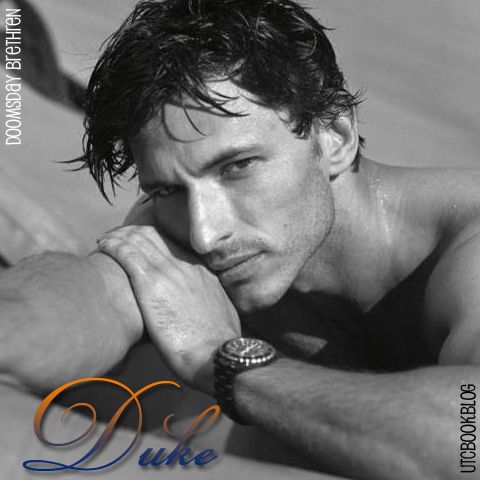 Name: Simon (Duke) Northam
Facebook Profile: here
Age: 43—Explaining why he still looks 30 to the humans is getting to be a bitch
Height: 6'1"
Weight: 195
Build: Lean but deadly
Hair: Dark brown
Eyes: Brown
Other: Urbane, untouchable, in control—at least until he meets the one woman he should never want. A reckless night later finds the bonds of family and magic tested as he never imagined. Still, he doesn't dare give into his heart. But when evil targets his female, he must reveal the depths of his love—or lose her for all time.
Mate: Felicia Safford
Facebook Profile: here
Book: Entice Me at Twilight
Work: Duke of Hurtsgrove
Living in: London, United Kingdom
Favorite Quotes:
"I hope he doesn't feel compelled to ring in the New Year with a bang. Tomorrow is much more convenient for me to fight mayhem."
"I don't give a bloody damn what you do, where you come from, or how much money you make. I want you for you. I want the persistent, logical, sharp woman who asked me a million questions the night I took her away. I want the gorgeous one who surrendered herself to me on the couch."
"Us mere mortals need a bit of time to recover. You don't?"
"Because we generate energy from sex, wizards are pretty much ready every moment of every day."
"Hurstgrove, I've never, um …"
He froze and glared up at her. "It's Simon. You're going to say it. Scream it. Over and over as you come until you get it right."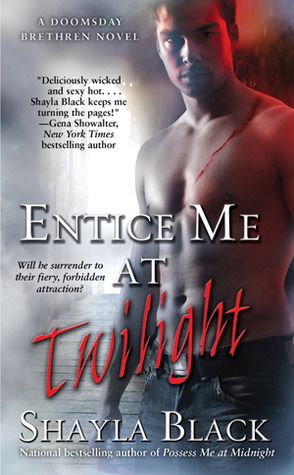 In national bestselling author Shayla Black's electrifying new novel, the Doomsday Brethren fight their mortal enemy for the newest weapon in a bloody magical war: the one woman a warrior shouldn't claim . . . yet can't resist.


Dangerously handsome Simon Northam, Duke of Hurstgrove, and his uptight brother Mason are hardly close, but crashing Mason's wedding and stealing his fiancee further aggravate their sibling rivalry. Duke's family has no notion he's a wizard, so how can he explain that magickind's fate lies with the beautiful, tenacious bride he longs to seduce? Felicia is an Untouchable, a rare human whose presence disables magic–even the impenetrable forces surrounding Morganna le Fay's tomb. The evil witch's malicious powers could propel nefarious wizard Mathias to ultimate world domination . . . "if "he can resurrect her. To conceal herself, Felicia must succumb to her smoldering desire for Duke, but he risks binding his life–and sanity– to a lover whose loyalties are forever torn. He faces a choice: betray his brother for ultimate survival . . . or lose the woman who tempts him beyond control.
Name: Lucan MacTavish
Facebook Profile: here
Age: 397—not giving a lot of thought to the fact 400 is the new 350
Height: 6'2"
Weight: 200
Build: Buffed up and drool-worthy
Hair: Dark brown
Eyes: Piercing Blue
Other: Suffering from grief, reeling with betrayal, the light leaves his soul. Duty to friends and magickind forces him to help a warrior witch strong enough to brave the darkness inside him, yet soft enough to capture his heart.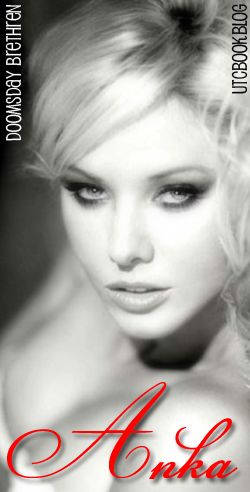 Mate: Anka MacTavish

Facebook Profile: here
Book: Embrace Me at Dawn
Work: Wizard and warrior with the Doomsday Brethren
Living in: London, United Kingdom
Favorite Quotes:
"When the hell had Shock become Dr. Phil?"
"You're going to get the girl.  I'm free.  Now we can all shit unicorns and rainbows and be happy or whatever."


"I fucking hate you. You're a pussy and you don't deserve her. If you don't give her what she needs now and always, there won't be a hole deep enough for you to hide in. I will hunt you down and kill you as slowly and painfully as possible."
"Home is where you belong. I'll never let you leave me again. I will fight for you. I will die for you. And I will love you every day."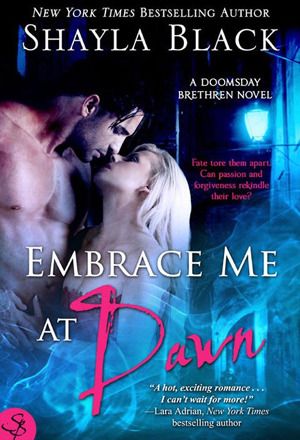 No man will ever define her again.

Anka MacTavish lost everything when Mathias D'Arc captured her, shattered her bond with her mate, and broke both her body and spirit. Determined to heal her bleeding soul, she joins the Doomsday Brethren's fight to vanquish the evil wizard and seize her revenge. But becoming a magical warrior will require close contact with her former mate, the love who's never left her heart, Lucan. And she'll have to explain why she left him and fled to the arms of another lover…

No woman can ever take her place.

Lucan's world crumbled when Anka escaped Mathias and sought protection from his long-time rival, Shock. Now she has returned, and Lucan must train her to confront a new and terrible danger that threatens magickind. With every punch, blow, and parry, Lucan discovers that Anka isn't the demure wife he once knew, and his growing desire for this woman is a need he can't control. He vows to do whatever it takes to reclaim her heart and make her his once more. But when the Doomsday Brethren are forced to make an unlikely alliance, it will test Anka's resolve like never before. To survive, she and Lucan must rely on one another, face their deepest fears…and expose the dark secrets that threaten to destroy everything, including their love.
Name: Bram Rion
Facebook Profile: here

Age: 398—Cool, controlled leadership…sometimes
Height: 6'2"
Weight: 205
Build: Dangerous hulk of muscle
Hair: Golden blond
Eyes: Electric blue
Other: Doomsday Brethren's gorgeous leader, magical Council member with a pedigree a mile long is ensnared for life by the least likely woman. Then she disappears—taking a most dangerous weapon with her, leaving him alone and in need…until he catches up with her again. Paybacks are a bitch.
Mate: Emma
Living in: London, United Kingdom
Favorite Quotes:
"I'm three hundred ninety-eight. The big four-zero-zero is coming up."
Name: Shock Denzell

Facebook Profile: here

Age: 213—Too young to be in the last war, but wise enough to know shit when he smells it
Height: 6'6"
Weight: 230
Build: Buff biker meets Marine
Hair: Unrelenting black to his shoulders
Eyes: No one knows…
Other: Reviled for both his family's loyalties and his tainted bloodline, he's certain he'll live his thousand year lifespan alone—or he'll die young fighting the evil assailing magickind. But fate and a special woman he never saw coming may have other plans for him.
Appearance: Dressed in black from head to toe, ever-present sunglasses shielding his eyes, a leather duster falling to his calves, vicious combat boots covering enormous feet.
Work: Well…nobody knows.
Living in: London, United Kingdom
Favorite Quotes:
"I'm an equal opportunity bastard."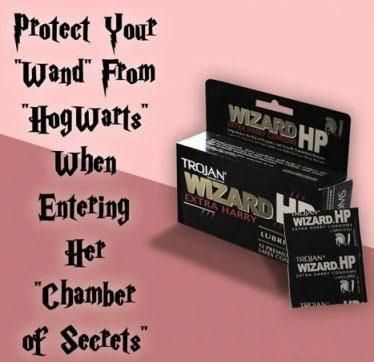 Do you feel like reading this yet, or not?
Latest posts by Under the Covers Book Blog
(see all)