Wow I am conflicted about this… it's 3:20am I got back home about an hour ago from seeing the opening night of Magic Mike and after talking it out with a friend of mine on the phone I am still conflicted but she did get me to change my previous rating from a 3 star to a 4 star because well there was a lot of good in the movie. 
Some things I've come away with:
Channing Tatum can move
Channing Tatum's wife is soooooo lucky
Did you see Channing Tatum's eyes?  Gorgeous!  And those lips?!?  Biteable!  And I did mention the moves, right?
Channing Tatum is cute and adorable and just makes you want to hug him and squeeze him at times, or climb him and jump his bones at others.
Every single actor in that movie has a perfect ass.
I've outgrown my fascination with Matthew McConaughey, he was not doing it for me in this movie.
Where was Matt Bomer and Joe Manganiello?!?!?!!?  I was cheated!!!
Did I already say that I am even more in love with Channing Tatum that I already was?
So the movie has a lot of eye candy, we knew that, we got a lot of that.  But ladies be prepared for one thing… You don't get as much of ALL the guys as I originally thought and expected.  Yes, I love Channing Tatum but I was expecting to see more bootie shaking from Matt Bomer and Joe Manganiello than we actually saw.  I was left wanting more, a lot more, when it came to the rest of the cast.  The big surprise for me was Alex Pettyfer.  I've always thought he was cute but I walked out of there thinking he's pretty sexy.
The story?  Well call me demanding but I wanted a story as well.  And there is one, not bad.  Mike (Channing) meets Adam (Alex) at one of his many day jobs and decides to bring him in to the dark side and get him to strip.  Adam is young and all the attention and success, girls and partying goes to his head and gets him in trouble.  In the meantime, Dallas (McConaughey) is trying to move their small town act to a bigger city venue to gain more exposure.  I thought the story was good until about 90% of the movie.  See? Not bad, lots of potential.  Then the ending came around.
My friend actually looked over at me about 2 minutes before the credits started rolling and said "Wouldn't it be funny if they just end it here?" and I said "I would be pissed if they did!".  Then I looked over at the screen and the credits started rolling.  I am not happy.  And that is maybe the reason I was going with the lower rating.  No, this has nothing to do with what I've seen other reviewers say about the story getting deep and emotional.  I wanted that!  I just didn't want to be left with so many balls hanging in the air and not really knowing where any of them would land.  And then my other issue was… "Was there supposed to be romance in this movie?" Because apparently in the last few minutes it was decided that there was romance but there was no connection to me throughout the whole movie to justify that.
Rant over.  Magic Mike is still worth going to the movies and watching.  I am, as a matter of fact, watching it again tomorrow.  Really, you can't go wrong with paying to see Channing Tatum's sexy ass and those moves. My heart might've stopped a few times.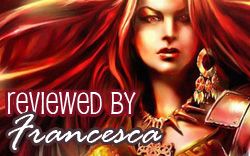 Latest posts by Francesca
(see all)