Author Override is the place where authors take the reins and take you on a journey into their world. Some may allow you into their private writing dens. Others may take you along with them on research trips or interviews. Whatever the case may be, sit back, relax and enjoy the ride because here you'll get an in-depth look into an author's musings.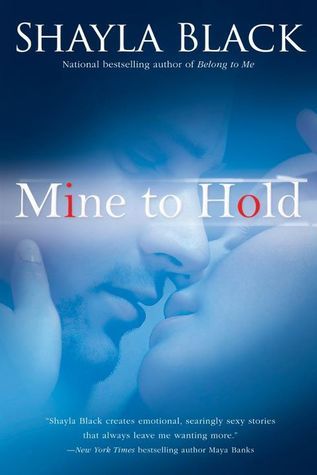 MINE TO HOLD EXCERPT
"Please, let me go. I know best, really. If you'll just . . . do this for me—"
"You mean leave you now when you need me most, just like I did after I touched every inch of your body and got deeper inside you than any man ever has? Leave again, simply because you asked me to? Because you think you know best?"
Tyler advanced even closer, and suddenly, his bedroom door was at her back. He planted both of his large hands on either side of her head and leaned in. Her heart picked up speed viciously. That woodsy, testosterone-oozing scent swamped Delaney, and her legs trembled beneath her. She flattened herself against the door . . . but Tyler kept coming closer, leaning in, his green gaze darkening, drilling into her.
"How well do you think me listening to you worked out last time?" he challenged.
Terribly. Eric had eventually screamed that Tyler slinking off only made him wonder how long they'd been fucking each other. Her protestations otherwise had fallen on completely deaf ears. The positive pregnancy test had been the death knell of their marriage. By then, Tyler had been long gone, and she'd missed him so much. But . . .
Delaney closed her eyes. "This is different."
"Yeah. It's worse. Seth could lose you for the rest of his little life. I could lose you forever instead of for two years. Not happening, angel. Last time I saw you, I listened to you about everything. This time? It's my way."
Tyler cradled her face in his big hands. His stare zeroed in on her mouth. He pressed the length of his body against hers. The thin T-shirt she wore did nothing to protect her from the blistering heat of his body. He notched his heavy, steely erection against her mound. Delaney's heart stuttered. And then his lips hovered right above hers, his head cocking to the side as his gaze ensnared her. He lowered his mouth so, so close. She curled her fingers into fists at her sides so that she didn't wrap her arms around him, her legs around him, and beg for everything he could give her—safety, comfort . . . feverish desire, shattering pleasure.
He exhaled against her mouth, parted his lips. God, she couldn't breathe. Already, she wanted him desperately. Her heart pounded. Her pussy ached. If he kissed her, it would only make everything ten times more difficult.
"Don't," she whispered.
He hesitated, dropped his head near her ear. "My way, Del."
Then Tyler nipped at her lobe with his teeth. A shiver wound through her, all the way to her toes.
She didn't get in another breath before Tyler's lips took hers, at first hungry but searching, as if testing his reception. The past, his long list of conquests, the pain between them—all instantly obliterated in the comfort of his solid embrace. His aching familiarity. His seductive kiss. There was no way she could stop the welcome bubbling inside her. Her lips turned pliant, yearning.
An instant later, Tyler groaned, bulldozing his way into her mouth. His heat crashed over her, inside her, surging low in her belly—then spearing deep between her thighs. The warmth of his breath as he seized her mouth and shoved her lips farther apart with his own burned her up. His arms twisted around her body, jacking her tight against the inferno of his taut muscles and steely cock.
She gasped into his mouth. He went deeper, even as his palm worked under her shirt, branding the suddenly feverish skin of her back, holding her against him without a breath of air between them.
Without conscious thought, she whimpered, her body melting into his, hands fisting his T-shirt, then clutching his shoulders to drag him closer. She opened wider for the hot thrust of his kiss. Needed it. Tyler gave it to her, then grabbed her thigh in one hand, slung it over his hip, and pressed harder against the needy flesh throbbing between her legs. She moaned.
Then Del caught herself.
No, no, no . . . Please let the response shimmering inside her be like a mirage on a hot highway, glimmering with promise. Not real.
Because if it was, she was in a whole world of trouble.
But it felt all too genuine, too intense. It had been so long since she'd experienced the tug and pull of attraction, that agonizing want making her sink against a man's body.
Now wasn't the time to be distracted. Her life—and her son's—were on the line.

Shayla Black is our Author of the Month, 
and because she is one of the most awesome authors around she will be giving away one book per week to one lucky maiden!
You get to choose from a book from her backlist.
We will also pick 5 random winners to get Shayla Black swag.
2. Fill out the form below.
Latest posts by Under the Covers Book Blog
(see all)