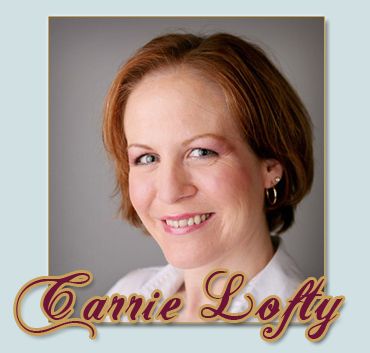 We'd like to welcome to UTC once again, Carrie Lofty.  With the release of STARLIGHT just a few days away, this is actually the first time we got to ask her some questions and here's what we got out of her!
For someone who hasn't read your Christies series, how would you describe it?
Sir William Christie, ruthless tycoon and notorious ladies' man, is dead. Now his four grown children have gathered for the reading of his will. What lies in store for half-siblings Vivienne, Alexander, and twins Gareth and Gwyneth? Stunning challenges that will test their fortitude across a royal empire…and lead them to the marvelously passionate adventures of their lives. FLAWLESS, the story of an estranged husband and wife learning to love each other for the first time, was released in September 2011. A tie-in novella called A Little More Scandal came out just last month, where I take a look even father back in time to see tough, gruff William Christie fall in love. It's available now from Pocket in all digital formats.
STARLIGHT is about the eldest Christie, Alex. What can we expect from his book?
First off is a new setting for me: Scotland. I finally made it north of the border! Readers can expect a passionate affair that catches both lovers by surprise, and a conflict between them that seems to have no resolution. Alex is determined to save his son at any cost, while Polly, the head of a weavers union, works tirelessly for an entire community. I loved working with that dynamic, as to which holds greater value. Compromise, trust, being able to see the other side of an issue–these are themes that weave through their romance and define who they are, both as people and as loving partners.
You write post-apocalyptic stories under a different pen name with Ann Aguirre. How do you get in the right mood to write each genre?
Sometimes it was simply a matter of deadlines! For example, I co-wrote MIDNIGHT, the second of our Ellen Connor "Dark Age Dawning" books, at the same time I was writing my Napoleonic historical, PORTRAIT OF SEDUCTION. I would literally finish a chapter on one, take a break, then finish a chapter on the other. The brain…it spins! To get in the mood, however, I always use music. I have a playlist for each of my books. Some I choose ahead of time, but most spring up organically from music I'm listening to at the time. For example, with MIDNIGHT the playlist consisted of dark, atmospheric music by performers such as Abney Park, St. Vincent, Jon Crosby, and the Cocteau Twins. PORTRAIT OF SEDUCTION was much more adult contemporary, with OneRepublic, David Cook, Bat for Lashes, and Dido as key artists. Switching from one to the other was vital!
If you could travel back in time, what would be your ideal time to visit and why?
I grew up fascinated by the Old West and eventually wrote my master's thesis on gunfighter legends, so that's the first to jump out of my head. Recently, though, I've become much more interested in the Georgian period. I haven't set a book there yet, but I have an image in my head of the movie Amadeus. Decadence. Wealth. Few rules. It seems like Rome before the fall, with cataclysmic events such as the French Revolution right around the corner. So…I'd visit and play for a while, but scamper back home before the peasants dragged out the guillotines!
Were there any particular writers that influenced your craft or your desire to be a writer?
I grew up reading literary fiction as well as romance, which gave me an appreciation for poetic language. We derogatorily call it purple prose when too much of it is used in romance, yet I love playing with words. Romance authors such as Penelope Williamson, Megan Chance, Patricia Gaffney, and especially Candice Proctor are among my favorites because of their rich characters, immersive settings, and gorgeous use of language.
Can you give us a peek into the day of a writer? Do you write every day? If so, for how long?
I can give you an idea of the variety of tasks I accomplish, but again, what I do always depends on putting out fires. Promotion, contracts, proofing, answering emails, website updates, conducting workshops, social networking–they're all essential to an author's career. That said, I feel cheated if a day passes where I haven't written new words! One a solid writing day, I average 18-20 pages, and I'll managed three to four such days each week. The writing is the reward!
Out of your own characters, do you have a favorite hero/heroine?
I once heard Nora Roberts reply that the favorite of her books is always the most recent one. I love that, and it's completely true for me. When I think back to what compelled me to write previous romances, sometimes I'm not able to remember that spark, that obsession. As such, the characters don't resonate as well for me as more recent ones do. That said, Polly will remain one of my favorite heroines for many years. She's the least pretentious, happiest, most resilient young woman, despite growing up under tough circumstances. And I'll always have a soft spot for Miles, the lovable bad boy rogue in FLAWLESS. Who can resist an aristocrat wielding a whip?
What's next for Carrie Lofty?
After STARLIGHT hits the shelves, I'll be looking forward to the release of HIS VERY OWN GIRL, a historical romance set in World War II. It's not women's fiction. It's not literary fiction. It's a genuine romance, complete with sexy times and a happy ending. Look for it September 4th as a Pocket Star digital original novel. I cannot wait to see how readers respond!
I'll also be launching a new co-written pseudonym, Katie Porter, with my long-time friend and critique partner, Lorelie Brown. Our "Vegas Top Guns" series of contemporary erotic romances will launch from Samhain on July 31 with the release of DOUBLE DOWN. Two more from the series, INSIDE BET and HOLD 'EM, will follow in August and September. You can learn more about these and future books at our website [http://katieporterbooks.com].
Thanks again for having me!
Where to find me:
http://www.carrielofty.com
Twitter: @carrielofty


STARLIGHT EXCERPT
"Now, then, Mr. Christie, you seemed ready to act as judge and jury. Shall I fetch an ax and reveal my neck?"
He blinked so hard it was nearly a flinch. "Excuse me?"
"You might as well be my executioner, too."
And, good Lord, he could be. A quick glance down revealed hands bunched into fists like mallet heads. He wore that beautiful white shirt and finely tailored woolen trousers, yet the simmering anger that pulsed from his robust body was anything but elegant. More like . . . brutal. There was no mistaking how his baser instincts would resolve matters.
How odd. Most masters left their dirty work to overseers like Livingstone. This Mr. Christie looked ready to knock heads. Polly shivered and returned her gaze to his face. But that was no help either. Breathtaking hazel eyes stared back at her, narrowed, fierce in his disconcerting blend of ire and intelligence.
She cocked a hand on her hip. "No bloodshed today, then? No beheading? Just rampant accusations and brute force, instead of a proper investigation. Typical, I say. If this is how you do business with your workers, especially after an emergency, I've all I need to know about what sort of master you are."
His deep assessment was nearly more than she could endure. She would've rather taken more of Livingstone's jabs and pinches. Standing before Mr. Christie, waiting, holding her breath, with the whole room silent after her taunt, she felt terribly exposed, as if he could peer past her bravado to the place where she hid her moments of doubt.
But they were just that. Moments. She never let her doubts last long.
Briefly, he stood at the wide only window and looked out to the darkening sky—half in shadow, half in the fading afternoon. Only then did Polly notice the coat he should have been wearing, tossed over the back of his chair. Her rebel mind insisted on playing out that moment. How had his body moved as he shed an encumbering layer of civility? Even now, poised in that tense moment, she admired the way the revealing cotton stretched between his shoulders. She traced where twin shirttails disappeared into the snug waistband of his trousers.
She shut her eyes. Secretly, she led the union in her father's stead, which meant the new master of Christie Textiles was her adversary. But he was also a precious novelty in her tiny world: a strong, handsome, intelligent gentleman.
"I want all of you out," he said at last. His odd American accent, so low and rough, invaded her darkness. Polly opened her eyes on a shiver.
"Pardon, sir?" asked Constable Andrews.
Mr. Christie swiveled away from the window. "Out of my office. I'm going to chat with Miss Gowan."
"You don't know what the hell you're doing," the overseer snarled. "She bats her green eyes and wraps every Calton man around her finger."
"And you are radically out of place by speaking to me in such a tone. I'm no Calton man, Mr. Livingstone, and I'll manage just fine."
"The law doesn't work for you."
A callous smile shaped Mr. Christie's firm, wide mouth. "No, I suspect the law works for the highest bidder. I will ensure they're well compensated for putting you in your place. Get out."
Raw hatred flickered through the overseer's eyes, but Mr. Christie stood his ground. His big fists were back, curled and primed for a fight. Polly covered her mouth with unsteady fingers. To see Livingstone get his comeuppance at the hands of this new master would be the makings of her wildest fantasies.
Hit him, she found herself chanting. Hit him.

I'd like to give away a copy of STARLIGHT, and I'll ship anywhere. Just answer the question Under the Covers asked me: If you could travel back in time, what would be your idea time to visit and why?  Be sure to leave your email address so we can contact you if you win.
An esteemed astronomer, Alex Christie, the eldest and most steadfast of the Christie siblings, has never possessed his late father's ruthless business drive. But to protect his frail infant son from his cruel father-in-law's bid for custody, the young widower must undertake Sir William Christie's posthumous million-dollar challenge: to make a Glasgow cotton mill profitable. At sea in an industrial world of sabotage and union agitation, Alex meets Polly Gowan, daughter of a famed union leader, who hopes to seize a mysterious saboteur without involving the police. Because a sympathetic mill master would aid her cause, Polly becomes Alex's guide to urban Scotland. From soccer games to pub brawls, Alex sees another side of life, and feels free for the first time to reveal the man–vital and strong–behind his intellectual exterior. Polly is utterly seduced. Their ambitions, however, remain at odds: Alex vows to earn the mill bonus to save his child, while Polly fights for the needs of her people. Is there strength enough in their sparkling passion to bind them together in their quests– and in a lasting love that conquers all?
Available June 26, 2012
Pre-Order: Amazon
| Barnes and Noble
Latest posts by Under the Covers Book Blog
(see all)