Battle of the Covers: SHELLEY BRADLEY
Our Author of the Month aka Shelley Bradley has been reissuing her historical romances and all with new covers!  I think it's safe to say the new covers are awesome, what do you think?
One Wicked Night
OLD                                                NEW
WAS IT ONE NIGHT OF PASSION…

When Lady Serena Boyce's husband, the elderly Duke of Warrington, could not give her an heir, he begged her to take a lover in order to conceive a child. She never dreamed it would mean falling in love. One look at the handsome stranger who rescued her from a thief, and virginal Serena was overcome with desire. Dark and compelling, Lucien Clayborne, Marquess of Daneridge, was everything her honor warned her against. Yet the anguish in his soul drew her nearer…and before the night was through, she had gifted him with her innocence.

…OR A LOVE THEY WERE DESTINED TO SHARE?

Then the duke was murdered, and Lucien discovered that Serena was pregnant. Still reeling from the death of his cherished daughter and enraged by his first wife's callous betrayals, Lucien's honor demanded that he make Serena his bride. But the rapture of their one night together had unlocked feelings he thought his heart had forgotten. And now, a chilling evil threatened their chance to claim a love that promised to last a lifetime.
Purchase Links: Amazon
| Barnes and Noble
Strictly Seduction
OLD                                                NEW
PURELY PASSION

As an innocent girl, Madeline Sedgewick learned that nothing comes without a price—even desire. Five years later, now widowed and deeply in debt, she's certain that the stranger who bought her last husband's notes of credit will demand swift, steep repayment. But she never imagines her creditor will be Brock Taylor, her baseborn former stable-hand turned newly wealthy entrepreneur—the man who stole her virginity and her heart. She's even more stunned when he says that he'll forgive her debts only if she becomes his wife.

Brock's memories of their parting are no less bitter than Maddie's, and his plans for their future are hardly a rekindling of their blissful first love. But seeing Maddie again—just as spirited, strong, and beautiful as ever—reawakens a desire he thought long dead. When she refuses his proposal, they strike a dangerous wager, with Brock's self-made fortune and Maddie's treasured independence at stake. It's a wager only one of them can win—as long as they resist the other's passionate seduction . . . and falling in love again.
Purchase Links: Amazon
| Barnes and Noble
Strictly Forbidden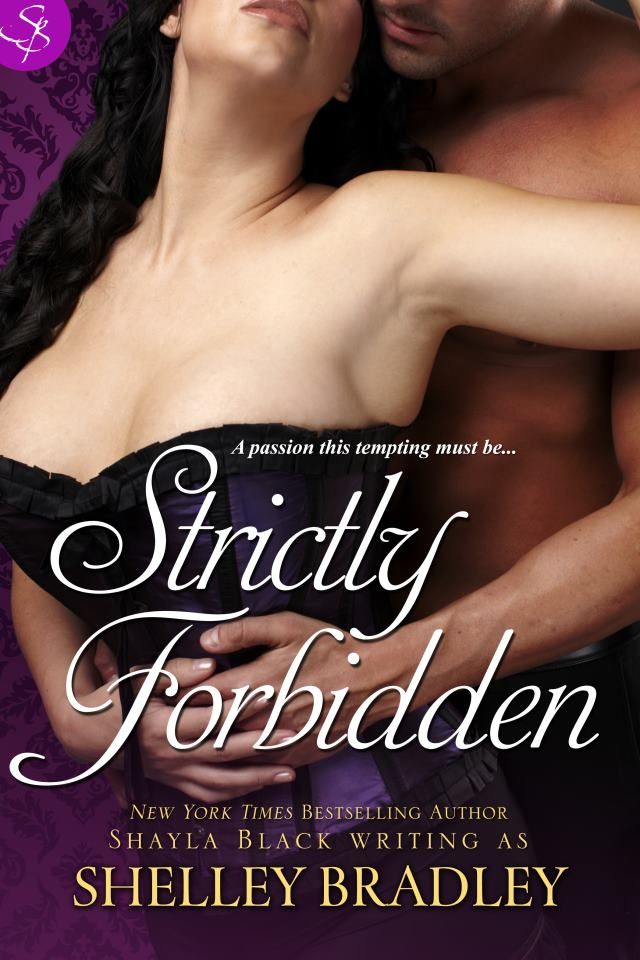 OLD                                                NEW
Blending the passion of Christina Dodd with the storytelling finesse of Mary Balogh, up-and-coming author Shelley Bradley returns to early Victorian England with a provocative story of dangerous desire.
Purchase Links: Amazon