Blog Tour with Hope Ramsay and Bella Riley

Hey Maidens! Today we are taking part in the Hope Ramsay and Bella Riley blog tour with Forever Romance publishing. Under the Covers got the chance to ask a couple of quick questions with Bella Riley, the author of WITH THIS KISS, the second book in the Emerald Lake series. Check out what the awesome Ms. Riley had to say!
Tell us three things that readers would be surprised to know about you.
1. I've been an opening act for Jewel and Santana.
2. I've dragged my kids to a David Archuletta concert instead of the other way around. (Which they loved!)
3. I don't particularly care for chocolate.
Do you have a writing process? Do you have to listen to music, have complete silence, write only on a full moon?
I do love listening to music while I write. Sometimes I'll get obsessed with one particular song and listen to it over and over again, especially if it helps meet get into the headspace of a character. "Last Kiss" by Taylor Swift was the song I listened to most often while writing WITH THIS KISS.
Thanks for your time, Bella! Both Hope Ramsay and Bella Riley are great contemporary romance authors, so if you haven't had to chance to check out their books, you can find more information about them on their websites: Bella Riley | Hope Ramsay

(Emerald Lake # 2)
by Bella Riley
Rebecca Campbell, the innkeeper at Emerald Lake has always dreamed of finding everlasting love. When she sees how deeply her friend, Andi has fallen for her soon-to-be husband, Nate, she realizes that the love between her fiancé, Stu isn't like that at all.
Upon this realization, she finds Stu to tell him how she feels. However, Stu has some words of his own that he wants to share. It turns out that Stu doesn't want to get married anymore. He has found someone new and when you read this book, you'll realize that this isn't necessarily an asshole move. It was clear from the beginning that Stu and Rebecca got along well. They laughed, shared many memories together, but that didn't translate to sparks that lit up their worlds.
When Stu asks Rebecca to keep his secret while he tries to figure out where his life will take him now, Rebecca shows her love for Stu by promising to keep their inn running even though they won't be getting married anymore.
It is then that Sean Murphy, Stu's brother comes along, hoping to attend his brother's wedding. When he learns it's been called off, he becomes very suspicious of Rebecca.
WITH THIS KISS is a sweet romance that has the ability to lift spirits and make you fall in love. It was really easy for me to enjoy this book because Rebecca is such an admirable character. She was strong when she needed to be, sure of herself even in the most confusing of times, and loving as she showed Sean what her heart was capable of.
Similarly, Sean was also a great character. He has this scar on his face that makes him feel dangerous, but not overly so that you are intimidated by him. He rarely smiles which makes you want to squeeze that little smirk out of him and grin like a fool when he does. What is great about Rebecca and Sean was that they seemed like genuine people who slowly learn to trust each other and eventually, fall in love.
Bella Riley does a great job of bringing the atmosphere of Emerald Lake into her books. The writing is smooth, light-hearted and felt like a great escape, almost as if you were at Emerald Lake on a little vacation. I thoroughly enjoyed this book and hope to return to Emerald Lake soon! WITH THIS KISS is the perfect weekend read.
*ARC provided by publisher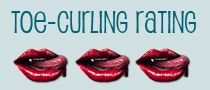 Purchase Links:
Dear Reader,
Gracious me, my beautiful daughter Rocky sure could use my help. I always knew she wasn't much interested in the local boys – but who'd have thought she'd come home with English royalty?
Trouble is, Hugh wants to buy some of our folks' land. We don't want to sell, but Rocky's job depends on her closing the deal. And though Hugh's obviously smitten, I'm not sure he's right for my Rocky. Oh, he's classy and handsome – and you should've seen the way he judged pies and fixed stock cars at our Watermelon Festival! – but what do we know about him, really? I know I sound like a nervous mother hen, but after forty happy years with my Elbert, all I want is to see my little girl find the same.
Well, time for me to quit chattering and get back to Miss Bray's wet set. Always nice talking to you, and remember: the Cut 'n Curl's got hot rollers, free coffee, and the best gossip in town.
See you real soon,
Ruby Rhodes
*Blurb taken from Hope Ramsey site 

Forever Romance is graciously giving away three US RESIDENTS both books! So to enter, please:
1. Be a follower
2. Fill out the form below
Latest posts by Under the Covers Book Blog
(see all)