Romance Rewind: MacCarrick Brothers by Kresley Cole
Romance Rewind: The Highlander Edition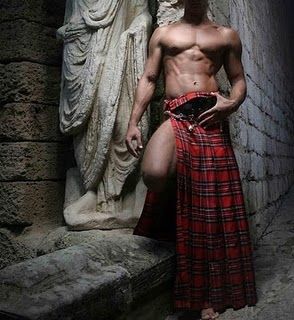 Most of us have heard of Kresly Cole's
Immortals After Dark
series but, did you know, before she started addicting us to her lickable Lykae and delicious demons that she has also written some historicals? And not just any historicals, but
highlander
ones? The mighitest of all historicals, the men in the sexiest skirts with the best accents ever to grace the pages of a book. To demonstarte, we have a visual aid to the right!
So we girls at UTC recommend that you start Kresley Cole's amazing MacCarrick Brother trilogy. The trilogy is about three HIGHLANDER brothers, who have an ancient celtic curse on them, but will true love overcome the deadly curse? We recommend you read and find out!Here is the reading order for the trilogy with our thoughts on each book:
If You Dare (MacCarrick Brothers #1)
Suzanne: All I can say is that COURTLAND MACCARRICK is MINE! I love the rugged ones, and he is a gorgeously ruggedly handsome mercenary just looking for a lady to love him *waves hands in air* oh oh pick me pick me!
Annie: A great read! I loved the clashes between Anna and Court, they were both stubborn and they sparked really well against eachother, and I couldn't help but thoroughly enjoy being caught in the flames! This book was hawt!
If You Desire (MacCarrick #2)
Annie: I preferred Hugh over Courtland, but both brothers seem pretty irresistible to me. Hugh is a little more polished than his brother, Court and he definitely has a better sense of control over his feelings. What I loved most about Hugh was his overall effort in everything he does. Like Jane's father said, Hugh tries.
Suzanne: Aww, Hugh, what a sweetheart although Jane did strike me as a little bit of a cock tease. However, I really enjoyed the romance between them and I read this book in one sitting!
If You Deceive (MacCarrick Brother #3)
Suzanne: Wow, if you like your heroes dark and smoudering, this is the book for you! Although Courtland is always my man, I have to say she has saved the best book for last. Ethan is intense and dangerous with a dark past. Madeleine is a fantastic heroine, I really liked her feisty yet caring and loyal with an equally murky past. This trilogy ends with a fabulous book and I can't help wishing that Kresley Cole would pop out some more historicals for us!
I hope we have sufficiently enticed you into bed with these sexy, and did I mention, Highlander, hunks! It is  fantastic series leaving you hot and bothered, and planning a trip to Scotland…