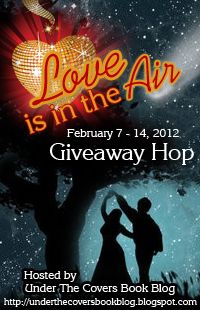 Do you feel that? It's February and that could only mean the coming of Valentine's Day! To celebrate love, we're going to give away some romance books! Love Is In the Air Giveaway Hop is hosted by us, Under the Covers Book Blog. This hop will run from 12:01 AM February  7th through 11:59 PM February 14th, just in time for Valentine's Day! Special thanks goes out to all participating blogs! Now let's spread the love!

When we think of romance, we think of Lisa Kleypas and her books. So we will be giving away TWO hardcover copies of CHRISTMAS EVE AT FRIDAY HARBOR to two lucky Maidens! Open internationally.
This is the Prequel of her Friday Harbor series, a must read and magical book.  Sweet and enchanting from the first page.
New York Times bestselling author Lisa Kleypas's new series begins during the most magical time of year
ONE LITTLE GIRL NEEDS A FAMILY One rain-slicked night, six-year-old Holly lost the only parent she knew, her beloved mother Victoria. And since that night, she has never again spoken a word.
ONE SINGLE MAN NEEDS A WIFE The last thing Mark Nolan needs is a six-year-old girl in his life. But he soon realizes that he will do everything he can to make her life whole again. His sister's will gives him the instructions: There's no other choice but you. Just start by loving her. The rest will follow.
SOMETIMES, IT TAKES A LITTLE MAGIC… Maggie Collins doesn't dare believe in love again, after losing her husband of one year. But she does believe in the magic of imagination. As the owner of a toy shop, she lives what she loves. And when she meets Holly Nolan, she sees a little girl in desperate need of a little magic.
…TO MAKE DREAMS COME TRUE Three lonely people. Three lives at the crossroads. Three people who are about to discover that Christmas is the time of year when anything is possible, and when wishes have a way of finding the path home…
1. Be a follower of this blog
2. Fill out the form below
Keep Hopping!
Latest posts by Under the Covers Book Blog
(see all)