Interview and Giveaway with Isobel Carr!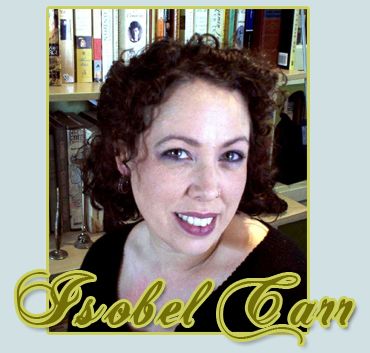 Thank you so much for stopping by UTC and being part of our Historical Romance event, A Scandalous Affair. We are thrilled to have you here!
Who is Isobel Carr? Tell us 5 interesting things about yourself that readers would not know.
– Though I'm a California girl born and bred, I went to Hollins University (a small women's college in Virginia ) where I majored in philosophy.
– I was a vegetarian for twenty-two years, but I fell of the wagon during my best friend's wedding in Paris.
– Travel is one of my favorite activities. I've been on every continent except South America and Antarctica (and I'm working on South America !).
– I'm a regular attendee at the Burning Man art festival in the Nevada desert. This summer will be my fifteenth year there.
– I live in a 1916 Bungalow and have an obsession with the Arts and Crafts movement.
Can you tell us about your first book, Ripe for Pleasure? How did this story come to be? And why the League of Second Sons?
I like history, and I read a lot of historical non-fiction for inspiration as well as research. The idea for RIPE FOR PLEASURE grew out of my stumbling across the story of the fortune the King of France sent to support Bonnie Prince Charlie's bid for the English throne in 1745. The rebellion collapsed before the money reached the prince, and no one knows what happened to it after that. It obviously must have made someone very rich though …
The idea of the series of books about younger sons grew out all the comments I see from readers about their weariness with dukes (though clearly, dukes still sell!). I wanted to do something a little different, and the lot of younger sons is an interesting one. They're quite literally spare children. They won't inherit anything of real worth, and every family seems to have had its own traditions and expectations for them. Some sent them into the military, some used them for political purposes by getting them elected to the House of Commons, others preferred they be raised to be their elder brother's land steward (and thus ready to take over should he die or fail to produce and heir of his own).
Combine this odd existence with the dramatic changes to the marriage laws in the mid 18th century (the Hardwicke Marriage Act) and the younger son's option of eloping with an heiress (something they were known for) suddenly became much, much harder. I could see the young men of the 1750s responding to such a blow by banding together and pledging to help each other in some other way. Combine that with the period penchant for clubs, and you get the League of Second Sons.
You also have another book, Ripe for Scandal out now. What is your favorite part of this particular book?
Oh, that's a hard one. But I'd have to say it's the heroine. I love Beau. She's a bit too highhanded for her own good, and she's willing to do whatever it takes to get what she wants, even if that means manipulating people. She's a woman of action, and very much the daughter of a duke. I've been told by some that this makes her mannish and unlikeable, but I bet that in a pinch, most of us would rather have a friend like her than one who responds to a crisis with tears and hysterics. I know I would!
You write under another pen name, Kalen Hughes. What's the major difference between writing under these two pen names? Do you prefer writing under one name than the other?
There's no difference. It was a simple rebranding necessitated by a disastrous decision by a certain mass-market chain to dump my Kalen Hughes debut book. The book got great reviews and sold really well in bookstores, but that one account killed my sell-though rate and thus my career under that name.
I would have loved to have kept writing as Kalen (since that's my actual name!), but the vagrancies of publishing made that impossible.
What's the romance novel with the cheesiest cover you ever bought?
I learned to ignore the covers a long time ago, but I'm guessing it was probably one of Candice Hern's Avon books. They all had oddly blurry watercolor covers with shirtless heroes wearing boots at balls or some such nonsense. The covers totally failed to tell readers that inside there was a marvelous, fully-realized, historical world.
If you could travel back in time, what era would you like to find yourself in and why?
There are so many I'd love to experience, but some are more vacation material than others. I've done 16th century re-enactment for most of my life, so I'd love to see that era, but I wouldn't want to be trapped there. And of course I'd love to see the late 18th century, since that's my current obsession and the period in which I set my books. If I could go on a spending spree and bring all my goodies home with me, that would be even better!
What do you do when you are stuck on a particular scene?
Change POV. If the scene isn't working, it's almost always because I'm in the wrong person's head.
Apart from historical romance, are there any other genres that you would love to write?
I'd love to write Science Fiction. It's what I grew up reading and continues to be a large portion of what I read now. I have ideas for a couple different series, but finding the time to work on them with a day job and my current romance commitments is just impossible.

Outside of historical romance, which other author's work do you enjoy reading?
I read almost everything (except horror, which is just not my bag). My current auto-buy authors include Neil Gaimen, Ilona Andrews, Larrisa Ione, C.S. Harris, Patricia Briggs, George RR Martin, P.C. Hodgell, Bernard Conwell, Sharon Kay Penman, Robin McKinley, Arturo Pérez – Reverte , and Guy Gavriel Kay .
Rake or virgin hero?
Rake. I'm on record all over Twitter as not understanding the appeal of bedding a man with no experience. Enthusiasm and imagination will carry one only so far.
Cozy up by the fire or lay out on the beach?
Fire. Unless you're talking a nice, cold, foggy beach. I'm not a sun and surf kind of girl. A Hawaiian vacation would be a punishment for me.
Coffee or tea?
Tea. Unless I'm at Burning Man, where I help fun the giant café. We have amazing coffee there.
Boxers or briefs?
Boxer briefs all the way!
Tats or piercings?
I have both, but if you're asking what I prefer on a man, the answer would be tattoos (so long as they're well thought out and beautifully rendered).
For more information on Isobel Carr and her book, please visit her website.

Isobel Carr is giving away the winners choice of one of her books, open worldwide!
To enter:
1. Be a follower
2. Fill out the form below
Latest posts by Under the Covers Book Blog
(see all)