If You Know Her by Shiloh Walker ARC Review Tour


4.5 Feathers
by Shiloh Walker
(Ash Trilogy # 2)
The time has finally come to reveal who the killer is! You can expect If You Know Her to be a nail-biting, edge-of-seat and very sexy read!
This series has a great cast of characters. I can't say there's one that I didn't like, but Nia and Law are MY FAVORITE! They're perfect for each other.
I've liked Law since book one, he's the perfect friend and support for every female in this series. While during book one he was in love with Lena, he was also the best friend she had and the one person she relied on for everything. During book two we see that he's been such a rock for Hope, helping her get out of a bad relationship and giving her the opportunity to start over. So I couldn't help but want to see him finally be happy, with a girl that wanted him. And that was Nia Hollister.
I like that she's not a girly girl, she's very strong and independent and a bit of a badass. I mean she rides a bike, wears leather and has a gun! My kind of girl. I thought from their first meeting in book two that they were explosive together and I can say they didn't disappoint me! At all!
Now onto the suspense. This series has a great storyline and it's full of suspense. This book was excellent, even got me a bit scared to keep reading at times! I started off with a suspect in mind (having gone through a long list of possibilities throughout the series) and I was shocked (and not) when the killer is finally revealed.
I will only say this. Trust your first instincts people! The killer is the person I thought and had as prime suspect in my head at the end of book one. And then I completely forgot about that. Sick, demented, totally unstable. When the backstory got revealed I was shocked at the depth the issues the killer had went.
An amazing ending to the series and job well done for Ms. Walker! This series is a must read for anyone who likes a mystery, suspense and plenty of sexy with all that. 
*ARC provided by author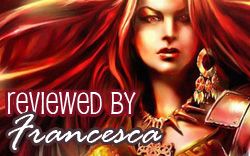 Purchase Links: Amazon
Follow the Tour:
2/20 – The Book Vixen
2/21 – Under the Covers
2/22 – I Just Wanna Sit Here and Read!
2/23 – Urban Girl Reader
2/24 – Books-n-Kisses
Latest posts by Francesca
(see all)