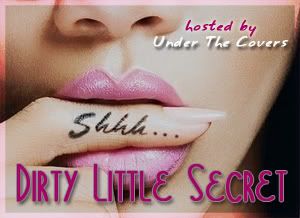 Dirty Little Secret is a weekly meme hosted by us at Under the Covers. Every Thursday we get to know other bloggers and our readers more intimately by asking them a question hoping to reveal their dirty little secrets.  We hope that you will all join us!
To participate in the meme all you need to do is:
1. Be a follower of Under the Covers.
2. Create a post in your blog taking the meme image (code above) and copy instructions.
3. Answer the question we propose! This can be done in any way you like, post a video, write a post etc.
4. Then add your link below.
Non-bloggers: We want to hear from you as well!!!  Let us know your answer in the comments!
We hope you join us and let us know your Dirty Little Secrets!
This week's question:
Heroes in historical romance like the extremes – the virgin hero or the rogue rake. Which of the two makes you shudder in pleasure?
Our Answer:
Annie: I love when an author can do a virgin hero right. But I find myself falling over the rakes more often. I want to be the one who tames the rake!
Francesca:  Although I have read some pretty good virgin heroes (like Courtney Milan's Mark Turner in Unclaimed) I seem to LOVE the rogue rakes. There's just something about taming the wild boy and when they fall and put all that focus and knowledge on the one girl *fans self* Perfect example: Adrian Alistair Rohan from Reckless by Anne Stuart. He can keep me happy forever. 😉
Suzanne: Oh that's a hard one (haha pun intended!) buuuut, I think I may have to go with rake, you don't want anyone fumbling around down there, although I do love a talented virgin who seems to have internal radar to a womans g-spot! Oh yes Fran! The Rohans, hand me Francis Rohan, the granddaddy of all rakes! 
Angela: Hmmm. I had to ask Fran what a Rogue Rake is (I honestly did not know)…she says pretty much said a "Man Whore". Well, yeah! Any woman that can tame a Man Whore is worth a try. I mean, if he's experienced, we can have a life time of love and pleasure! No training needed.
Now it's your turn!