Corsets, Kisses & Kleypas Blog Hop – Rainshadow Road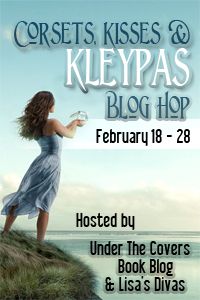 In honor of the upcoming release of Lisa Kleypas' RAINSHADOW ROAD, we are celebrating all things Kleypas with this giveaway hop! Corsets, Kisses & Kleypas is hosted by us, Under the Covers Book Blog and Lisa's Divas. This hop will run from 11:59 PM Feb 18 through 12:01 AM Feb 28! Thank you to all participating blogs and Lisa's Divas!

(more like 4.5 feathers!)
(Friday Harbor #1)
by Lisa Kleypas
Welcome back to Friday Harbor! As an avid Lisa Kleypas reader, this book was at the top of my must-have list for quite awhile. Kleypas has a way to sneaking into one's heart and settling in there with her words and characters. Rainshadow Road is no exception.
In this book, Kleypas takes on another Nolan brother, Sam who is known as the geeky brother. Sam owns the local vineyard in San Juan Island and is the care-free no-strings-attached kind of man.
For some, he's the best remedy for a broken heart. However, that's not what Lucy wants at the moment. She suffers from the worse kind of betrayal by two important people in her life. Her boyfriend, Kevin Pearson leaves her for another woman. Adding insult to injury is the fact that its Lucy's younger sister, Alice.
When Lucy's parents refuse to accept Kevin's relationship with Alice at the cost of Lucy's happiness, he calls in a favor and asks Sam Nolan to take Lucy out on a date. He and Alice believe that if Lucy got over her bitterness then she would be happy, which would thus make her parents happy and accept his new relationship with their younger daughter.
Despite this "favor" that Kevin calls in, Sam finds his way into Lucy's life. A romance blossoms between Sam and Lucy on its own and despite Lucy's initial reluctance in the beginning and Sam's later reluctance as things get more serious, both of them can't deny the attraction that they share.
Sam and Lucy's story has Kleypas's trademark all over it. Fusing the sweet and the not-so-sweet sides of life, Kleypas manages to put together two broken souls who find solace in one another, making them whole.
An interesting aspect of this story is that Kleypas incorporates a small magical element in it. Lucy has the ability to turn glass into living things, such as fireflies. I wasn't too keen on this idea because I didn't see how this enhanced the story. I thought perhaps that the author was going for a magical feel, however, Kleypas already writes magic. Her words, world and characters are enough. So I didn't get it. I'm glad that she left this "gift" unexplained. It left that air of magic that I think she was trying to achieve.
Already I am itching for the next book in the series. Dream Lake will be a dream to read. I'm hoping that Alex gets the happy ending he deserves. He's much too sour at the moment. Mark, Holly and Maggie make regular appearances in this one and I loved hearing about their great news! If you're still on the fence about this series, jump! You won't be disappointed.
*ARC provided by author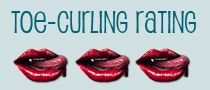 We are giving away a pre-order of RAINSHADOW ROAD to one lucky maiden!
2. Fill out the form below
Follow the hop for more Lisa Kleypas giveaways!