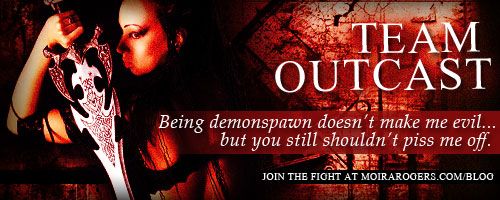 TEAM TRUCKER OR TEAM

OUTCAST

?
The fantastic writing duo, Moira Rogers is celebrating the upcoming release of HAMMER DOWN, the second book in the Children of the Undying series. After having read the first book, DEMON BAIT (see review here), I just had to declare myself as TEAM OUTCAST!
There is just absolutely no competition. Humans versus half-demons? No hesitation.  Demons all the way baby! Here's what TEAM OUTCAST has to offer:
Zel: A natural-born leader who is more beast than man. Check, got your intimidator.
Hailey: A hybrid with summoner blood which makes her the best psychic around.  She's a powerful tool and a kickass girl to boot!
Lorenzo: Though he may be only be half-incubus, he still can rock the "Angel on the street, but a demon between the sheets" line.
Trip: A mastermind with the gadgets, Trip has the ability to hack into anything in this network dependent world. Sometimes the mind IS mightier than the sword.
Jai: Don't be fool by him adjusting to the rules of man. He's a demon through and through!
Think I've got it all wrong? Well then let me know in the comments. Don't hold back. I can take it! I won't cry. In public. Or if you think I'm right, let me know how awesome I am!
Each comment enters you in a drawing to win an ereader of your choice! Remember to consult the list and hop on over the other blogs and comment there for more chances to win.
Let the battle begin!!!
Latest posts by Under the Covers Book Blog
(see all)