I received this book for free from Purchased in exchange for an honest review.
This does not affect my opinion of the book or the content of my review.
BOOK INFO

Released: August 5, 2008
Series: Firefighters of Station Five #1
Published by Signet Eclipse
Pages: 320



This book has changed my perception of things forever. When I used to think of the name Howard, I would think: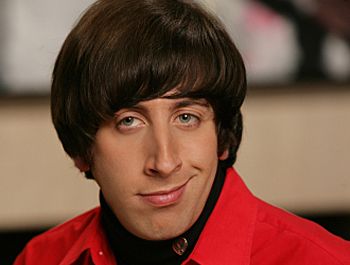 And don't get me wrong, I love Howard from The Big Bang Theory he is my favourite geek, but do I have fantasize about him? No. However, when I now think of Howards I think:
Which is waaay more satisfying. So thank you Jo Davis, you deserve three starts for sexing up all the Howards out there! But asides from the hunky Howard issue, this book also earnt its' stars as I thought it was sexy and had a little bit of suspense in it.
Howard *drool* Paxton, or Six Pack to his friends gets more then he bargained for when he and his team get called to fire in a supposedly empty house. However, they find a body tied to a bed and burnt to death. But the murderer is playing an elaborate game centred on Howard…
This was a good book, I liked the romance between Howard and Kat, I thought they were a great fit. Kat was sassy and smart and Howard was gorgeous with a terrible past. They also had amazing chemistry and I didn't expect this book to be as hot as it was, so expect some really great sex scenes.
As for the mystery, I enjoyed it, but I figured out early on the who and the why. But it didn't stop me liking the book, as I was a lot more interested in Kat and Howard. I also liked the bits and pieces you saw of the other team, and I am especially looking forward to getting to the next book about Zach, the cute genius.
A great quick read choc full of crazy hawt fire man! Here is my impression of Howard's team, prepare to drool!
Did you like this review? If so, please tell us your thoughts in the comments below!
Gosh, we all seem to be admitting our ages…and I hate that I am at the point in life when admitting my age is a "thing"…whodda thunk it? I was kind of hoping I would remain 21 forever. However, I have moved out of that New Adult stage of my life and am now strictly in the Contemporary Romance age zone of 28. I would prefer to be in an Urban Fantasy arena, but I don't think I own enough black leather. However, I could probably squeeze into some PNR, I am fully prepared to give a horn job to my favourite demon, or suck on my sexy vamps…fangs and I am definitely up for some heavy petting with some fine looking shifters. Than again their's always Sci Fi…I am fully prepared to do the right thing and help some poor alien race with more 6 packs than a supermarket repopulate their planet. Not that I am loose woman or anything.

Annnnnd I will stop myself there, before I start waxing lyrical about my love of historical romance and fantasy as well; no one needs to know about my elf fantasies. As you can tell, I adore and day dream about most romance genres, and my three big loves are 1) reading about romance 2) writing about romance and 3) talking about romance with my gals. Which, is why I love Under the Covers so much, I get all my bookish needs satisfied and don't get judged when I talk about my favourite characters like they are real people. Which they are right?