Interview and Giveaway with Teresa Medeiros!

Hello Maidens! We are pleased to bring you Teresa Medeiros! Eeek! Thank you, Teresa for stopping by and chatting with us today! Teresa is a New York Times and USA Today best selling author of historicals and contemporary books. For more information on Teresa and her books, check out her website here.
The Pleasure of Your Kiss is your most recent release. Can you tell us a bit about it?
For Ashton Burke, Clarinda Cardew is "the girl he left behind" almost ten years ago. The two of them were madly in love when she was just seventeen but things went badly awry. When Ash reluctantly agrees to rescue his brother's kidnapped fiancée from a sultan's harem, he's stunned to realize Clarinda is that fiancée, the same woman who still haunts his dreams. One of my favorite scenes in the book is when Ash sneaks into the harem and takes the place of the servant who is supposed to be giving Clarinda a massage. That's what leads to the classic line, "You, sir, are no eunuch!" 🙂
What would you say is Ashton's greatest strength? What is the one quality he needs to work on?
His greatest strength is his passion—passion for life and passion for Clarinda. He uses his sarcastic banter and devil-may-care smile to hide the fact that he would still walk through the fires of hell to save the woman he loves.
He probably needs to work on believing in himself. After spending his entire life not being able to live up to his father's expectations or his older brother's reputation for being perfect, Ash has really bought into his whole "bad boy" image. He doesn't give himself the credit he deserves for being a hero at heart.
You have written a fabulous amount of historical romance books, all of which have been great reads. What is it about this particular genre that makes you adore it so much?
I love its primal nature. If a contemporary hero tosses a girl into his Corvette and carries her off to his condo, it's going to result in a restraining order. If a historical romance hero sweeps her up on his horse and carries her off to his castle or haunted manor at the edge of the cliffs, it's going to result in a happy heroine and a swooning reader. Historical romance allows me to explore those ancient myths and fantasies that are still so stirring to a woman's heart without bearing the burden of political correctness.
I also love the rich, varied language of the historical. I loved writing my contemporary GOODNIGHT TWEETHEART but I kept having to remind myself, "Wait! You can't use that word here. It sounds too historical." I love writing complex sentences using delicious words.
What are some books that you consider to be "must-reads"?
The books I honed my romance teeth on and that are still beyond compare are SOMETHING WONDERFUL and ALMOST HEAVEN by Judith McNaught, THE BRIDE by Julie Garwood, A KNIGHT IN SHINING ARMOR by Jude Deveraux and THE WINDFLOWER (or anything at all) by Tom and Sharon Curtis.
What does your writing workspace look like? Clean and orderly? Scattered with notes? Any visual would be nice.
I try to keep it orderly although it has a tendency to grow more cluttered the closer I get to deadline. I have some ADD tendencies and I've learned in the past year that the less cluttered my environment is, the less cluttered my thoughts are. Empty spaces give my imagination room to breathe. And if I get lonely and none of the cats are around, I just let my talking Captain Jack Sparrow doll that sits in the corner of my desk murmur sweet nothings to me.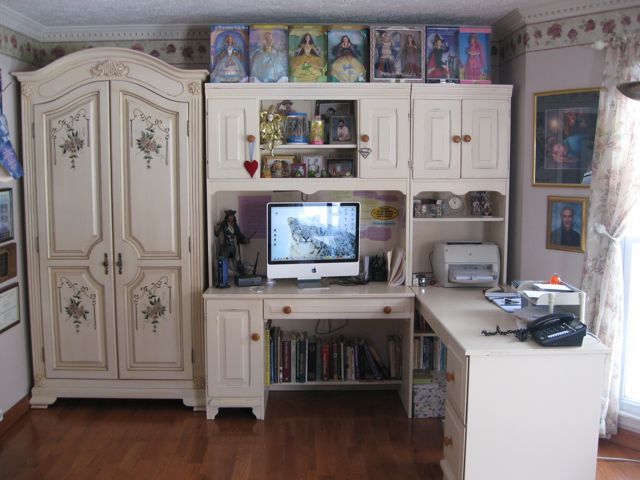 Who is your favourite author or authors and what is it about their work that resonates with you?
I adore Lisa Kleypas in historical or contemporary. Lisa is a wonderful writer who is just as warm and loving in person as she is on the page. I've always loved Stephen King. Nobody creates more empathy for characters and that includes female and child characters. Anne Stuart is another favorite because nobody does the modern Gothic better than she does. I grew up reading the first person Gothics by Mary Stewart and Victoria Holt. They could be SO sexy without including a single sex scene! For the classics, give me Charles Dicken and the Brontes. I've always been more of a Bronte woman than a Jane Austen woman because I adored their passion and melodrama.
You are having a dinner party and you can invite any three fictional characters, who would you invite?
Samwise Gamgees from LORD OF THE RINGS, Sydney Carton from A TALE OF TWO CITIES and my own Billy Darling from NOBODY'S DARLING.
Who is your favourite historical romance hero that is not your own? What is it about this hero that resonates with you?
Oh, definitely Devon from Tom and Sharon Curtis's THE WINDFLOWER. I love the fact that he has Merry at his absolute mercy on that pirate ship and wants her desperately but still restrains his darkest impulses. My favorite stories are always the ones where the hero has the power to either kiss or kill the heroine but opts for the kissing.
Which do you prefer? A notorious rake or a virgin hero?
I've never done a virgin hero (that sounds weird, doesn't it?) but I have done several who have gone without sex for a few years for various reasons. I think the notorious rake remains the more irresistible fantasy because every woman wants to believe SHE'S the one he's been waiting for, the one who can both satisfy and reform him.
With the holidays coming up, what are some traditions that you and your family do? Care to share some memories with us?
Every Christmas Eve we watch an endless loop of A CHRISTMAS STORY, pausing only for a brief intermission of either George C. Scott's A CHRISTMAS CAROL or Alastair Sim's SCROOGE.
Ashton Burke is a legendary adventurer who has spent the past ten years roaming the globe to forget the girl he left behind. His devil-may-care life is interrupted when he's hired to rescue his brother's kidnapped fiancée from a sultan's harem. Too late, he discovers she is none other than Clarinda Cardew, the very same girl who made off with his jaded heart a decade ago.


The last thing Clarinda wants is to be trapped in a palace of sensual delights with the man whose irresistible kisses still haunt her sleepless nights. Although he vows he is only doing his job, Clarinda quickly realizes that allowing Ashton to rescue her may put her yearning heart in even greater peril. In a journey that takes them from the delicious intrigues of a sultan's court to the glittering ballrooms of London, Ashton and Clarinda resume the steps of their dangerous dance only to discover the most seductive pleasure of all may be love itself.
Purchase Link: Amazon

Teresa Medeiros is graciously giving away a $25 gift card to Amazon! US ONLY.
To enter, please:
1. Be a follower
2. Fill out the form below
Latest posts by Under the Covers Book Blog
(see all)