Dirty Little Secrets # 21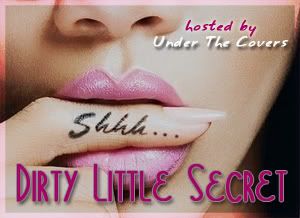 Dirty Little Secret is a weekly meme hosted by us at Under the Covers. Every Thursday we get to know other bloggers and our readers more intimately by asking them a question hoping to reveal their dirty little secrets.  We hope that you will all join us!
To participate in the meme all you need to do is:
1. Be a follower of Under the Covers.
2. Create a post in your blog taking the meme image (code above) and copy instructions.
3. Answer the question we propose! This can be done in any way you like, post a video, write a post etc.
4. Then add your link below.
Non-bloggers: We want to hear from you as well!!!  Let us know your answer in the comments!
We hope you join us and let us know your Dirty Little Secrets!
"
What supernatural power would you NOT want to have?"
Annie:
I wouldn't want to be able to hear the thoughts of others. It may come in handy once in awhile, but overall, I think I'd go insane with hearing every person's thoughts. No filter. And that scares the crap out of me. 
Like imagine if you went out on a date and the guy is thinking about hitting second and third base. And all you hear is…"I just wanna -*Blanked out because it's too explicit*" SUCH a distraction
*winks*
Francesca: 
I thought
about mind reading as well, but you know what I really wouldn't want… To see the future.  I don't think I can handle knowing MY own future and then I keep thinking of Vishous (BDB) being tortured by the visions of how everyone he loves will die and not knowing when it would come and how to avoid it.  Or of Dallas (Alien Huntress) who has visions of the future and sometimes has to try to change the events he saw but usually ends up making a mess of it because things are not clear.  I wouldn't want that!  Visions of the future are tricky and always open to interpretation.  Now, if the vision was more short term, say meet hot guy, then have a vision that you'll be sweating the sheets together, then I might reconsider.
Angela:
I really had to think of this one as I didn't think I would refuse any supernatural powers.  If there is one thing I would NOT want is "The Touch of Midas".  It's just a power you cannot control.  No Gold in the world would outweigh the risk I would be taking around the people I love.  I cannot imagine turning my Fam Bam into gold…just not worth it. 
Unlimited Credit Gold/Black AMEX which clears out at month end, miraculously… that's a different story. =)
Now it's your turn!