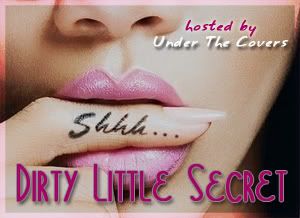 Dirty Little Secret is a weekly meme hosted by us at Under the Covers. Every Thursday we get to know other bloggers and our readers more intimately by asking them a question hoping to reveal their dirty little secrets.  We hope that you will all join us!
To participate in the meme all you need to do is:
1. Be a follower of Under the Covers.
2. Create a post in your blog taking the meme image (code above) and copy instructions.
3. Answer the question we propose! This can be done in any way you like, post a video, write a post etc.
4. Then add your link below.
Non-bloggers: We want to hear from you as well!!!  Let us know your answer in the comments!
We hope you join us and let us know your Dirty Little Secrets!
"Which paranormal creature do you wish would "come out of the closet" and reveal themselves to the real world?"
Annie:
Shifters!!!! I think there's something really sexy about them. I think the fact that that animal prowls just below the surface when in their human form is the sexiest thing about them. I wouldn't mind sharing the world with them.
Francesca: 
You might start to see a pattern here but I would love for shifters to come out of the closet!  It would make my search for a drool-worthy alpha male (preferably a wolf or a jaguar) that I can keep for myself a LOT easier.  I swear I wouldn't be a "Furbanger", ok maybe just a little.  
Suzanne:
Werewolves. Hands down the sexiest PNR race EVER! Especially if they are werewolves like Kresley Coles Lykae *drools* it doesn't get much sexier then that!
Angela:
Vampires!!!  I think the human race just needs to know THEY DO exist.  I mean to officially know they are out there. And for us to just start living and accepting them.  The posibilities of Immortality and Eternal Love…….*sigh* To fully experience CH 32…..*thud*
Now it's your turn!