If You Hear Her by Shiloh Walker Virtual Tour

4.5 Feathers
by Shiloh Walker
(The Ash Trilogy # 1)
Romantic Suspense
This is book is suspense at its best! I loved it! It has enough romance to keep you excited but the actual story is amazing. If you love mysteries, you will love this book!
Our heroine, Lena Riddle, has lived in the small town of Ash, Kentucky for close to nine years. Small community, everyone knows each other, everyone is nice to each other. She works for a bed & breakfast as a chef. She lives alone, with a dog, on the outsides of town, in the woods. And she's blind!
Her peaceful existence is ruined by a woman's scream in the middle of the night. Someone is running through the woods near her house. Someone that's running for their life. But when she tries to get the cops to investigate what she heard, no one believes her.
Well, almost no one. The other disruption to her peaceful existence believes she heard something. Ezra King. He's a city cop on leave after being hurt badly on the job. He went back to his grandmother's home, which he had inherited when she passed away, to try and figure out if he could go back to the force. But he wasn't planning on falling in love.
Very rarely do I find a book where I love both the hero and heroine. I did in this one.
Lena is such a strong woman. When she lost her sight she kept going forward and didn't let that stop her from doing what she wanted, becoming a chef. It doesn't stop her now from living in a house she loves alone. It hasn't stopped her in the past from dating. From being confident. And it's not going to stop her from making the cops take her seriously about the threat that's lurking in the woods. There's a woman out there who's life may depend on it.
Ezra is sexy as hell. He's got the bad boy, cop vibe going. He's one of the good guys. He never belittles her and knows just how to treat her.
And talk about hot! I don't know how they managed it with her not being able to see and him having a bad leg, but *fans self* they were burning up the sheets!
I think my favorite part of this book is the fact that I have NO CLUE who the killer is. Truly. I did the process of elimination as best I could and there's always something in my mind that takes someone off the list. I am at a loss.
What I wasn't expecting was the ending. I guess the killer will run lose for the whole series because we don't get to find out who he is!!! I might've screamed a little. It'll leave you hooked to get the next book because now I just HAVE to know who did it.
Whoever it is, he's a sick bastard. Just be warned of this. There are some parts in this book that are written from the killers perspective, or even worst at times, from the victims. I was a little disturbed by that, but it did make the story more real.
And this being my first Shiloh Walker book I have to say that I love her writing! I will definitely have to get more of her books!
* ARC provided by author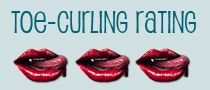 Purchase from Amazon
Follow the tour!  
Check out all the awesome reviews!
Previously posted:
Don't miss the upcoming stops: