Review: Wild, Wet and Wicked… in Whispering Cove by Cathryn Fox, Nikki Duncan and Mackenzie McKade
I received this book for free from Purchased in exchange for an honest review. This does not affect my opinion of the book or the content of my review.

This post contains affiliate links you can use to purchase the book. If you buy the book using that link, I will receive a small commission from the sale.
Wild, Wet and Wicked... in Whispering Cove

Book Info
Released:
June 7, 2011
Genre:
Erotic Romance
Pages:
342

This was an entertaining collection of short story eroticas. They did have more of a feel of contemporary romance, but I think it's the perfect summer light reading with a kick. All three stories are, in a way, about lovers reunited. Three old irish men set up to marry off their grandkids by playing on their guilt and bringing them all back to Whispering Cove, the small town they all fled like the plague ten years ago.
by MacKenzie McKade
3 Feathers
This was my least favorite story of the three. Andie was dating her high school sweetheart Brody but a tragic boat accident killed both her parents, and that ran her out of town and has traumatized her for all future relationships. Now, a lawyer in LA, she is forced to come back to Whispering Cove because her grandfather is ill. Except when she gets back to town she falls right back into his arms. And now he's the Sheriff. Sheriff Brody never understood why she left him, but he is determined to get her back, and get her to stay in Whispering Cove.
Her reasons for staying away, even though a bit of a stretch in mu opinion, were valid. And all of a sudden they EASILY disappeared. Too easy in my opinion. Were they hot? Yes. Did I like Brody? Yes. I didn't really care for Andie though!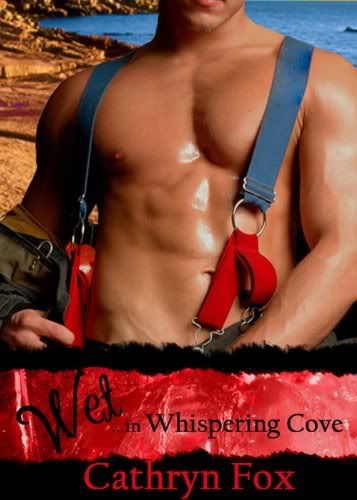 Wet
by Cathryn Fox
3.5 Feathers
Katy did not want to stay stuck in Whispering Cove…..And being with Trent would've. He wanted to have a family with her, and stay in the small town. She needed to see the world. So she left ten years ago to become a chef, left her parents to run the town diner by themselves, and left the love of her life. Now as famous TV chef personality, she comes back because her grandfather says her parents business is struggling financially and they are too proud to ask for help. So, since her show is on hiatus, she goes back to help for the summer. And maybe, just maybe, get Trent back. She's not convinced city life is all that's cracked up to be and can see why she would be happy back in Whispering Cove with Trent. Trent now being a sexy firefighter, who won't survive losing her again, but just can't stay away from her.The romance in this story was nice, the development of the events was entertaining, with just a bit of mystery. And these two were pretty hot together!
by Nikki Duncan
3.5 Feathers
We see small glimpses of Dr. Dani through the other two stories, and now we get her story. She was the geeky girl, and had a crush on Braydon Mitchell. She used to spy on him from her house (yeah, stalker much). But Braydon left town 10 years ago, to basically live on his boat, travel around, and write about sports! He is not the settling down type of guy. But it's time for him to come back to town for their 10 year high school reunion. He is excited to see his friends! But his grandpa manages to bring Danica to the dock to welcome him with the excuse of his health, and Braydon is smitten at first look. Of course it takes him a little while to realize who she was, and to remember she used to kinda stalk him. And he now plans on having all of her while he's in town.
I almost want to say these two were the hottest ones in the book. She is not so shy anymore, especially after he gives her 3 or 4 orgasms in one afternoon alone. But she can't keep seeing him or her heart will never recover. What I didn't like about this is that there's too much 'I love you's and 'Marry me's after seeing each other for a few days.
Did you like this review? If so, please tell us your thoughts in the comments below!
Latest posts by Francesca
(see all)