Review: Instinctive by Cathryn Fox
I received this book for free from Purchased in exchange for an honest review. This does not affect my opinion of the book or the content of my review.

This post contains affiliate links you can use to purchase the book. If you buy the book using that link, I will receive a small commission from the sale.
Instinctive

Book Info
Released:
October 6, 2009
Genre:
Erotic Romance
,
Paranormal Romance
Series:
Eternal Pleasure #1
Pages:
288



Instinctive is definitely a job well done by Ms. Fox.  Having read other books by her and being used to her contemporary erotica I have to say I liked her paranormal better!
Let me give you a warning for when you pick this up and start reading it.  This book start off with a bang, and I mean that in the most literal way possible!  I was a bit shocked about finding our heroine in a sex club basically having a threesome in front a a lot of the club goers.  But having prepared you for the opening scene… IT WAS HAWT!
Now onto the paranormal elements of this story.  I liked it, it was original.  I don't think I've read before about panther shifters who, like any good cat, have nine lives.  And I loved the idea of the supernatural town of Serene.  They pretend to be a normal town but actually everyone that lives there is some sort of supernatural creature, and there's a town council that regulates and enforces their law.
Enter Jaclyn, our heroine.  She was adopted by a very rich couple, owners of a cosmetics company, that gave her everything she could ever want.  And she has only given back headaches with all the bad press and media attention she's drawn to herself with her out of control sex drive and preferences.
She decides that she can change people's perspective of her by turning into a bit of a prude and proving herself useful for the company by going to the small town of Serene to increase their sales, and by showing a goody two-shoes lifestyle to show her parents she has changed.
She couldn't expect to find the ultimate temptation in this small town.  Slyck.  And yeah, the name had me laughing until I realized he was just too hot to laugh at.  Slyck is a panther shifter, the alpha of the pack, and representative of the panthers in the town's council.  He is immediately attracted to Jaclyn but has to keep his distance until the council decides what to do about the human intruding in their territory.  But he can't seem to stay away.  Of course it doesn't help when he lives across the street from her rental and can see her through her windows.
Slyck soon realizes that Jaclyn is his mate… AND a shifter! Now all he has to do is figure out a way to keep the council from finding out about them, about her being a panther and just get her safely out of town, out of the council's reach.  And out of the reach of Slyck's all time enemy Vall, the werewolf alpha.
This book covers all angles you could possibly want:  voyeurs, threesomes, phone sex, kitchen sex, desk sex.  Slyck is a panther of many talents!
I am looking forward to reading the next one in this series!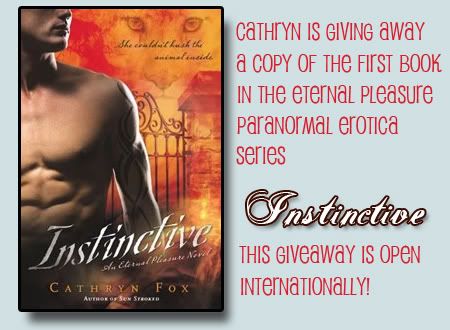 Here are the rules:
1. Be a follower of this blog.
2. Fill out the form below.
Did you like this review? If so, please tell us your thoughts in the comments below!
Latest posts by Francesca
(see all)