Review + Giveaway: A Sinful Summer presents Eve Langlais


Welcome back Maidens!!!!  Today as part of the Sinful Summer Blog Hop we are having Eve Langlais with us and we are extremely excited about this giveaway!  There will be three winners!  Open internationally.  The prizes are:  The Greek Job, Hybrid Misfit and Delicate Freakn' Flower


To celebrate having Eve with us we are reviewing some of her work below.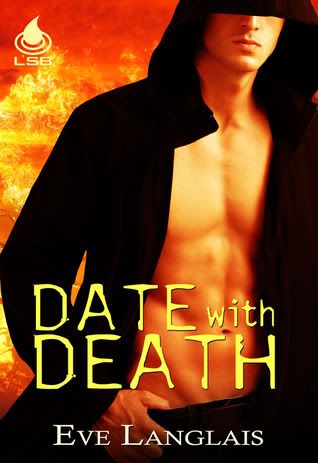 This was the story of Marigold and Mictain.  This was a pretty entertaining but short story. Definetely good to lighten up your mood and as a quick pick me up. 😉 Mictain is an Aztec God who is now serving Lucifer as a collector of souls and he's been assigned to get Marigold as she will die by drinking a potion she makes from an internet recipe.
Some thing had me laughing out loud, for example: the Death Order file with the name of soon-to-be-deceased, and signed by Satan, the Lord of High Sin! Then the hellphone, powered by the souls of CEO's of phone companies.
But when he shows to up wait for her to die, she can actually SEE him. That shouldn't be possible, how can a mortal see him? She must be more than human. So Lucifer assigns him to get close to her to find out what she is.
Of course it helps that she was attracted to him the first time she saw him and had asked him to come back to have dinner with him. But he blows the first date!
He soon realizes that he cares for her more than he has for anyone else in a very long time, and just wants her by his side. He just has to get daddy dearest's approval. But he doesn't know how her father is, and Lucifer won't tell him.
Marigold's personality got a bit on my nerves, but in general this was a fun read.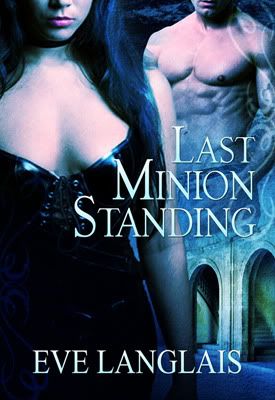 by Eve Langlais
Paranormal Romance

I have to say that I love the way Eve Langlais thinks, she is quickly becoming a go to author for me when I'm in need of a quick improvement in my mood.  She manages to write stories that will make you laugh and squirm at the same time!  The snarky comments and humor she puts in her stories is so entertaining!
Last Minion Standing is, as you can probably imagine by the title, a play on a reality TV show!  Sally is a bounty hunter for the Hellacious Office of Escapees (HOE). She has decided that as all famous people she should have a minion, wait wasn't that supposed to be a sidekick?, yeah, minion works better for her. Her BFF Jezzie convinces her the best way to find one, and a good super heroine name for herself, is to setup a Hellbook Fan Page and accept applications for a contest. Which they promptly set up.
Her Hellbook page becomes so popular and with so many minion applications that Jezzie gets her a contract with HBC (Hell's Broadcasting Corporation) to make the search for her perfect minion into a reality show!
While all this is happening she meets a guy off the screen.  Drake is actually a shifter (I didn't guess what kind so I was pleasantly surprised!)  As soon as he meets Sally for the first time he recognizes her as his mate. And when he finds out that her minion search has now turned into a TV show, he can't stand having other males drooling over her, so he makes the decision to compete, and of course WIN.
This book has some hot phone sex,up against the wall in an alley sex, going through portals and tumbling down on the bed sex, and much more!  It is extremely funny and to date my favorite Eve Langlais read!


Eve Langlais will be giving away "The Greek Job" and "Hybrid Misfit" and "Delicate Freakn' Flower"! Three winners!  Giveaways open only July 5 and July 6!
To enter, you must:
1. Be a follower of all four blogs on the Sinful Summer Giveaway
2. Fill out the form below
GOOD LUCK!
Latest posts by Francesca
(see all)