On My Wishlist
is a fun weekly event hosted by
Book Chick City
and runs every Saturday. It's where I list all the books I desperately want but haven't actually bought yet. They can be old, new or forthcoming.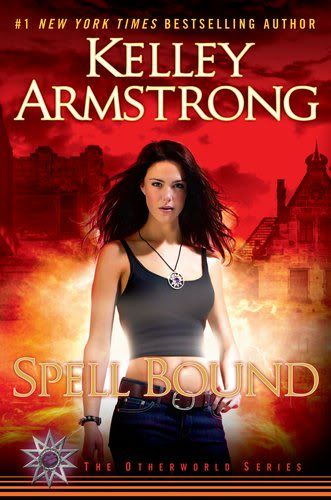 Spellbound
by Kelley Armstrong
(Women of the Otherworld # 12)


Genre: Urban Fantasy
At last, in the novel every Kelley Armstrong fan will need to own, all the major heroines and heroes of Otherworld are united.
It's been ten years since Bitten, the first novel in Kelley Armstrong's New York Times bestselling Otherworld series. In that time hundreds of thousands of fans have ravenously devoured the adventures of Armstrong's witches, demons, and werewolves. Now, in Spell Bound, she brings them all together for her most sweeping tale yet.
Savannah Levine is in terrible danger, and for once she's powerless to help herself. At the heartbreaking conclusion of Waking the Witch, Savannah swore that she would give up her powers if it would prevent further pain for a young orphan. Little did she know that someone would take her up on that promise.
And now, witch-hunting assassins, necromancers, half-demons, and rogue witches all seem to be after her. The threat is not just for Savannah; every member of the Otherworld might be at risk. While most of her fellow supernaturals are circling the wagons at a gathering of the council in Miami, Savannah is caught on the road, isolated from those who can protect her and unable to use her vast spell-casting talent, the thing she counts on most. In a story that will change the shape of the Otherworld forever, Armstrong gathers Elena, Clay, Paige, Lucas, Jamie, Hope, and other beloved characters, who soon learn that the greatest threat to supernaturals just may come from within.
Release Date: July 26, 2011
Dangerous Pleasure
by Lora Leigh
(Bound Hearts # 12)
Genre: Erotic Romance
Dark. Dangerous, and plotting the downfall of the bitter, evil old man that calls him son, Abram Mustafa, Khalid's, half brother on his father's side will not face the most dangerous test of his life. And his heart. When his father kidnaps Khalid's beloved half sister by his mother, and brings her to his Saudi village as a hostage against his son's defection, Abram knows his plans for escape from the terrorist occupied home he's known since his childhood, have suddenly become more imperative than ever before.
With Shane Connor working at his side, he must convince his father of his loyalty, a terrorist commander of his unconcern, and a woman that she's not the center of his heart. And he must do all this while losing the battle to fight the forbidden desires that have haunted his dreams for far too many years where Paige is concerned.
Release date: July 5, 2011

Men Out of Uniform
by Maya Banks, Karin Tabke and Sylvia Day
Genre: Erotic Romance
Three Novellas of Erotic Surrender.
The hottest thing about a man in uniform is imagining him out of it…
They may enforce the rules, but when men in uniform are off duty and under the covers, they're experts at breaking them. In this searingly sexy anthology, popular authors Maya Banks, Sylvia Day, and Karin Tabke present men in uniform-unzipped…
Release date: October 4, 2011
Latest posts by Under the Covers Book Blog
(see all)