Interview and Giveaway with Megan Hart!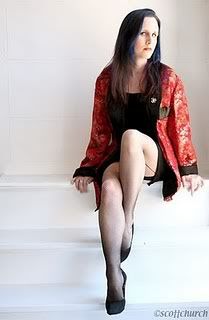 Hello Maidens!!!  We are soooo very excited right now to have author Megan Hart taking part in our Burning Up July erotica event!  I've been a huge fan of her work for years now, and this might be totally biased as I think she can do no wrong, but I love all her books!  She manages to make her stories come to life, the characters are deep, the stories are emotional, raw and real.  Under The Covers had the opportunity to ask her a bit about her work so please help us welcome today the wonderful Megan Hart.
UTC: Ms. Hart thank you so much for stopping by today.  Who is your role model?
That's an interesting question. Honestly, I don't have a role model. I have many people I admire for many reasons, but not one person I could point to and say "role model." I guess I make my own role?
UTC: What is the most fearless thing you've ever done?
I can't think of anything I've ever done without some measure of fear or at the very least, caution. Well, I dance pretty fearlessly. And sing karaoke.
UTC: LOL, fearless dancing. What do you love the most about writing?
Making stuff up!
UTC: I know you love to write to music, what's on your playlist right now?
Right this very second as I'm answering this question, it's "Blow" by Ke$ha. A minute ago it was Ocean by Casey Stratton.
UTC: Which of your characters was your favorite to write?
Elle from Dirty holds a special place in my heart. So does Alex Kennedy.
UTC: Oh Alex Kennedy! *swoons* Your book "Precious and Fragile Things" is somewhat of a detour in what you seems to normally write. Do you plan to write more books in this genre? 
 Actually, it's not a detour at all — I wrote Precious and Fragile Things long, long before I wrote any of the other books most readers would be familiar with. It just took a lot longer to find a home. I have another MIRA release scheduled for 2012 called All Fall Down. It's not much like Precious and Fragile Things, but it's not erotic or a romance, so yes, I will be writing more books that aren't romance or erotic! And I've written some science fiction and a very odd women's fiction novel about a woman who was raised as a feral child, and I also write Young Adult horror/fantasy/dystopian fiction under a different name.
UTC: Maidens, make sure you check out Hart's other books! What was your inspiration to write the Order of Solace series?
Hmm. It's been so long since I started that series, I can't recall what, exactly, started it. I suppose my inspiration was a sullen, damaged hero and a woman who's purpose was to heal him.
UTC: What can we expect from the new Order of Solace book coming out, Virtue and Vice?
Virtue and Vice is about a Handmaiden coming to serve a young king with whom she'd previously had a…well, not a relationship, but an interlude. It's been years since she met him, but she's never forgotten him. Returning to her home land to serve him brings her back in touch with her former lover, as well, who's now the King's Lion. With the possibility of war on the horizon, Demi has to not only help her patron find his solace, she has to deal with her former lover's insistence she use her skills to lead the king toward some political decisions she wants nothing to do with.
UTC: I was surprised to see a writer show the not-so-nice side of a real life threesome, and how things can get messy when feelings become involved. Did you have a plan for Naked when you originally wrote Tempted, so you knew where the story would end up going?
I had no plans for a sequel for Tempted, but I loved writing about Alex Kennedy so much that I didn't want to let him go. But it took some time to figure out what sort of woman would end up with him for good. Also, the Alex in Tempted is NOT the same man in Naked…he's grown and changed a lot because of what happened to him that summer with Anne and Jamie, and he's now ready to make a new start.
UTC: And I definetely can't complain about getting more of Alex!  Also from Tempted, will there ever be a possibility that you'll write Claire's story?
I'd love to! Claire and Dean would have a great story, I think.
UTC: I know you've written some sci-fi romance, have you ever considered writing anything paranormal romance? What would be your choice? Vampires, demons, shifters, or something else entirely?
I've written quite a bit of fantasy and paranormal. Deeper's an erotic paranormal. My upcoming release is a time travel paranormal. I have other stories too. I like vampires and werewolves as villains. I *love* demons and angels and have a book I love to death about angels and demons but it's not finished and hasn't been published. It's not a romance, either. I'd still like to finish it someday.
UTC: I had the opportunity to go to Harrisburg, PA twice in the past 2 years, after reading your novels, which you usually base there, and the whole time I was expecting Alex to pop out of somewhere at me and sweep me away. Why did you pick Harrisburg as the setting for most of your novels?
I lived in Harrisburg for a short time and have spent most of my life living very close to it.
UTC: I know you've written two books together, each of you handling a different couple in the story, how was it like collaborating with Lauren Dane?
Writing with Lauren was a blast and I'm only sad our personal schedules aren't allowing us to collaborate more.
I know you'll be away when we get to post this interview but what do you want to say to our readers who've been devoted fans of yours:
THANK YOU FOR READING! Thank you, thank you. I appreciate it so much! Without readers, there's no point in writing!

Megan Hart is giving away a copy of her latest novel COLLIDE!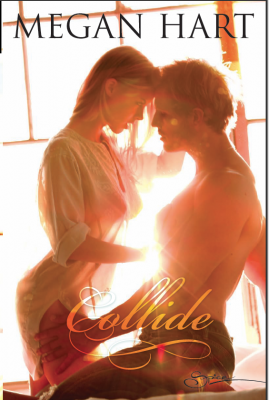 To enter:
1. Be a follower
2. Fill out the form