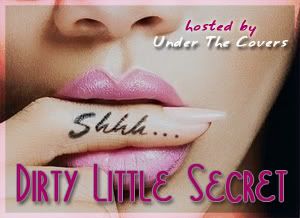 Dirty Little Secret is a weekly meme hosted by us at Under the Covers. Every Thursday we get to know other bloggers and our readers more intimately by asking them a question hoping to reveal their dirty little secrets.  We hope that you will all join us!
To participate in the meme all you need to do is:
1. Be a follower of Under the Covers.
2. Create a post in your blog taking the meme image (code above) and copy instructions.
3. Answer the question we propose! This can be done in any way you like, post a video, write a post etc.
4. Then add your link below.
Non-bloggers: We want to hear from you as well!!!  Let us know your answer in the comments!
We hope you join us and let us know your Dirty Little Secrets!
This weeks question:
"
Who popped your cherry?
What book was your first erotica romance read?
"
If you don't read erotica, what book started your reading obsession?
Our answer:
Suzanne: I think it might have been Jaid Black and her Vikings Underground series which I stumbled across in the anthology Playing Easy To Get which I got for Kresley Cole and Sherrilyn Kenyon but ended up really liking reading about her kinky underground viking!
Annie:  Lissa Matthews's  Simple Need was my first full on erotica read. And I will never forget Vinter! That man does bad things to me! So it's been a recent thing for me. BECAUSE I AM AN ANGEL *bats eyelashes*
*Suzanne and Fran rolls eyes*
Francesca:  In all honesty, my first erotica read was The Claiming of Sleeping Beauty by Anne Rice, not a good experience.  After that I read a bunch of random Harlequin Blaze novels (can't remember names). But the first book that got me hooked on the genre was Dirty by Megan Hart.
Now let's hear it from you!