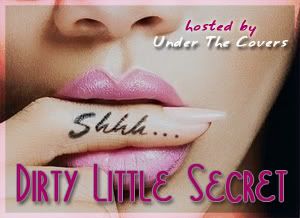 Dirty Little Secret is a weekly meme hosted by us at Under the Covers. Every Thursday we get to know other bloggers and our readers more intimately by asking them a question hoping to reveal their dirty little secrets.  We hope that you will all join us!
To participate in the meme all you need to do is:
1. Be a follower of Under the Covers.
2. Create a post in your blog taking the meme image (code above) and copy instructions.
3. Answer the question we propose! This can be done in any way you like, post a video, write a post etc.
4. Then add your link below.
Non-bloggers: We want to hear from you as well!!!  Let us know your answer in the comments!
We hope you join us and let us know your Dirty Little Secrets!
This weeks question:
"
What's sexier? Tats or piercings?
"
Our answer:
Suzanne: Can I answer both, but if either nipples or cock is pierced then piercings win! I also think a tattoo really low on a guys hip, you know in a very lickable place is also sexy! And would be even better if his cock was pierced to go with it LOL!
Annie:  LMFAO!! SO TRUE!!  That IS hawt!!! very lickable!
Francesca:  It's a tie for me! Nipple bars, piercings in all the right places are HOT as HELL! But give me a hot tattoo and I'll want to lick it! I think I'm pickier with tats though. There are a lot of crappy ones out there that are NOT sexy.
Suzanne:  Too true! A guy with a tattoo that says I Love Mum, just not sexy, who wants to lick that, would be lick licking his mum! LOL!
Annie:  LMFAOOO I know a guy who has that!!!!! ahhhhh! I love nipple bars!
Francesca: I personally am not a fan of names on tats. I don't want to lick his exs name either. 
Suzanne:  Oh yes nipple bars are sexy, but I will take anything, bars or hoops!  Yeah, not a fan of name tats, even one with your kids names on it, I think pics are better.
Annie:  I don't mind the name tats. What if someone got one of your name? 
Suzanne:  Hmmm, I dunno, I would freak a little I think, unless he was DEFINITELY my soul mate, otherwise I would be thinking "how is he gonna get rid of that when we split up?" LOL!
Annie:  Me too! I would be flattered! But that's kinda creepy. Commitments scare me! 
Francesca: I wouldn't want him to have my name tattooed for that reason. Except maybe if he's part of the Black Dagger Brotherhood and he gets my name permanently on his back as his shellan *cough* John Matthew *cough*
Suzanne: Yeah, if Jamie Dominic had his name tattooed on his ass though, I would be a happy lady LOL!
And just because this question DESERVES some visual aid….  the man who has it all!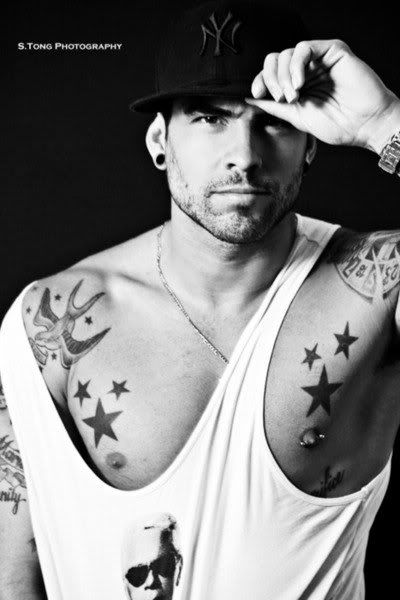 Now let's hear it from you!

Our Theme Song!