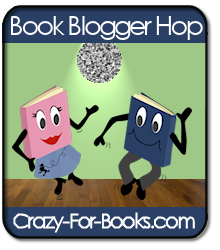 Crazy-For-Books is hosting a Book Blog Party!  If you have a book blog and want to participate click here.
"What keeps you reading beyond the first few pages of a book, and what makes you want to stop reading a book and put it back on the shelf?"
Our answer:  It really takes a lot for me to give up on a book.  Either the characters have to be beyond irritating or the storyline boring to the point that I would rather pull my nails out!  Even so, I can probably think of a handful of books I haven't finished, even if it takes me a while.

Follow Friday is hosted by Parajunkee
The question of the week is:
"ACK! Your favorite book/movie character (example Hermione Granger played by the Emma chick) just walked into the room! Who is it and what would be your first reaction? You get extra points if you include visual stimulation."

This question is best answered by the following video from Season 2 of True Blood.  Yes!  I pick Eric/Alexander Skarsgard for this, and I would do…. WHAT SHE DID!  BITE ME!!!!!
Latest posts by Under the Covers Book Blog
(see all)