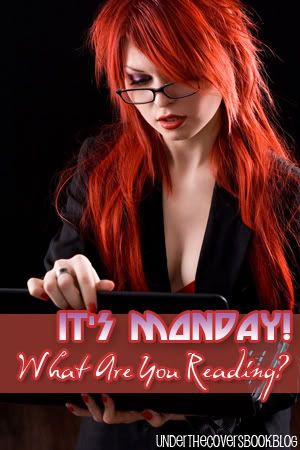 It's Monday! What Are You Reading? Is a meme hosted by Shelia over at
Book Journey
.
Lust
by Charlotte Featherstone
(The Sins and The Virtues # 1)
Of old, humans and Faeries have dwelt side by side in parallel realms. Only the canniest mortals recognize the alluring creatures that often walk—and lie—among them.
The righteous Fae of the Seelie Court cherish an ancient quarrel with their Dark counterparts: a curse born of anger and deceit. The Unseelie Court will perish unless one of its princes can win a woman's love—honestly, without coercion…and love her wholly in return.
To halt the slow demise of his people, Prince Thane—the embodiment of Lust—infiltrates the Georgian court to seduce his mortal inverse. Noblewoman Chastity Lennox is purity incarnate—a sensual prize well worth winning. But Thane's carnal quest proves more challenging than he ever dreamed.

No other has ever been able—or willing—to resist his erotic charms. Chastity's resolve is maddening…and intriguing. It makes him want her all the more. But how best to seduce one who truly seems above temptation? Discover her greatest weakness and become the intoxicating essence of her deepest, most forbidden desires….
Something About You
by Julie James
Staying overnight in a luxury hotel, Assistant U.S. Attorney Cameron Lynde overhears a high-profile murder involving a U.S. Senator. Special Agent Jack Pallas is assigned to the investigation-the same Jack Pallas who still blames her for nearly ruining his career three years ago.

Now the pair will have to put their rocky past behind them, focus on the case at hand-and smother the flame of their sizzling-hot sexual tension.
Collision Course
by Zoe Archer
(8th Wing # 1)
In a galaxy torn apart by war…
Mara Skiren is a scavenger, a black-market dealer. Blackmailed into helping Commander Kell Frayne infiltrate a treacherous corner of the galaxy, Mara learns that her biggest danger is from her sexy, by-the-book partner. She's a loner with more than a few battle scars on her heart, but something about Commander Frayne stirs up her long-buried need for an intimate connection.
An ace pilot for the elite Black Wraith Squadron, Kell's mission is to rescue a lost pilot and ship. Unable to deny his attraction to the beautiful, rebellious Mara, he decides bedding her would cool his ardor. But one taste is not nearly enough, and he finds himself sharing more of his real self with her than he has with anyone.
With deadly criminals on their heels and an increasingly dangerous assignment to complete, he's starting to wonder…if they survived, could he let her go? And will Mara want to stay?
Latest posts by Under the Covers Book Blog
(see all)