I received this book for free from Purchased in exchange for an honest review.
This does not affect my opinion of the book or the content of my review.
BOOK INFO
Released:
June 21, 2011
Series:
Sweetblood #2
Published by
HQN Books
Pages:
379
Format:
ARC

This was such a turnaround, in my opinion, of the Sweetbloods series! I'm actually so excited! The book was amazing!!! I actually think my feelings on this have a lot to do with the fact that I liked the heroine, Lily, a lot. She was one of my 2 favorite characters from the first book, and I really felt for her then and now! And, well, Alfonso helped matters a lot. The sexy Spaniard with longish blond hair and piercing Paul Newman blue eyes with sexy dimples. What can I say? I'm sucker for a hot bad boy! And this one was so in love with Lily he was willing to sacrifice everything to keep her safe.
They have a history together, they were first together 10 years ago, before Alfonso turned bad boy for Pavlos. And neither one of them has been able to forget the other. When Alfonso comes in during book 1 as a secret informer so that they can bring down Pavlos and their sweetblood operation, they rekindled their romance. And the few, very brief moments we got then left me intrigued. But then Alfonso had to "fake" his own death, and Lily found out only to believe he didn't want anything else to do with her. Which has left her in a bad state. Her abilities are diminishing, she used to be the best Tracker, and now she has to rely more on the trainees with her.
But when the DarkBloods are kidnapping Trackers in order for them to find sweetbloods, Alfonso comes in to protect and guard Lily. Which she may have a bit of a problem with.
Lily is kick ass, independent, calls it as she sees it, and doesn't take shit from anyone. Alfonso is still head over heels in love with her, but having a blood assassin on his back trying to kill him, he decides to stay away from Lily to protect her.
There was so much happening in this one! Not only the trackers are being kidnapped and Alfonso has a blood assassin after him, but the DarkBloods are using a video game to promote a sort of "vampire feeding rave".
I enjoyed all the supporting stories as well, Jackson was amazing, I can't wait to read his book. Alfonso was adorable with Lily's daughter Zoe, and there's a wonderful twist there. But… what is up Dom's butt about his brother? I understand he played a part, involuntarily, in the death's of their parents, but I think he's been punished enough, and has tried to redeem himself. Give the guy a chance! In the end, see what a difference a book without MacKenzie can make!?!?!?!
I'm anxiously waiting the next installment in this series.
My Fantasy Cast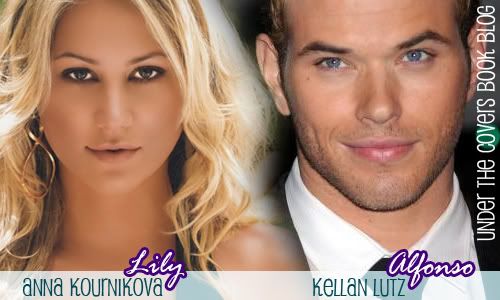 Did you like this review? If so, please tell us your thoughts in the comments below!

I'm a 30 something sun lover living in the Big Apple (read New York).I'm a book and coffee addict and lover of all things elephants.

I get easily distracted by pictures of sexy guys and have tons of book boyfriends.I keep all my alpha males chained to my basement and guard them fiercely.*Back off bitches*I like to see Jason Momoa as a lot of those boyfriends, because ….. mmmmmmm JASON.MOMOA!

I'm a part time graphic designer (yes, everything you see on UTC has been done by me), run my husband's business from home and on a good day I'm a self appointed superwoman (she who can do it all).I love blogging with my girls and I couldn't do it any other way!My first love is everything paranormal, but in the past few years I've re-learned to love contemporary romance.Every once in a while I like to mix things up with a historical romance, a steampunk or an LGBT book.Because I need variety to avoid book slumps.I don't always need an HEA although I prefer one, and I love authors that can rip my heart out and make me ugly cry.
Latest posts by Francesca (see all)