Battle of the Covers: UK vs USA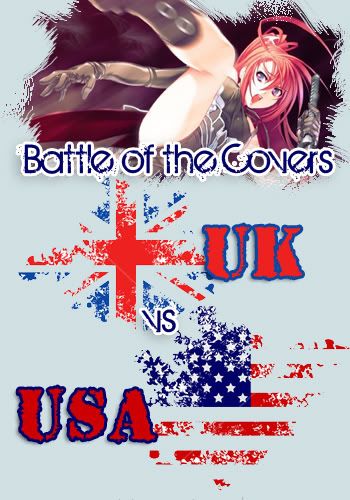 As many of you know, Kresley Cole is our Author of the Month and with May coming to an end, what better way to end this than with our first edition of the Battle of the Covers!  We've all seen them and sometimes, we can't always get the one we want.  For this edition, we're showcasing Kresley Cole's Immortals After Dark book covers. Which cover do you think is better?
USA                                         UK
I will admit, I was hesitant to read this series at first because of the US cover. It's very cheesy! But don't let that fool you! The actual book is amazing! And I've come to adore these corny covers. For this round, I think I'll go with the UK cover. 
USA                                         UK
I love the colors in the UK cover, but there's just something soo sexy in the USA one that captures the essence of the characters better. Kaderin looks bad ass with that sheath she's got wrapped around her leg. Very sensual and powerful. Just like this book!
USA                                         UK
What about this one? I like that they have Mariketa's signature red hair. But based on these covers alone, I would have gravitated towards the UK cover more!
USA                                         UK
Nathan Kamp, need I say more? *grins*
USA                                         UK
As you know, I LOVE PAUL MARRON. But this shot of him isn't doing it for me. I know, I know…  Sad to say… But he looks nothing like Cade anyways. So I'm going with the UK cover, even though I don't like the girl that much either. What is that on her nose? Someone get her a tissue to wipe that off!
USA                                         UK
USA cover…. just yum! Rawr! *claws the air*
USA                                         UK
This one is a bit of a tie for me. I love the lips on the UK cover. But has anyone noticed that for Dreams of a Dark Warrior, Pleasure of a Dark Prince and Deep Kiss of Winter, it's all the same guy on the cover? Does anyone know who he is?
So who wins this edition????  What do you think?