I received this book for free from Publisher in exchange for an honest review.
This does not affect my opinion of the book or the content of my review.

Released: Mar 17, 2014
Series: Cut & Run #8
Published by Riptide Publishing
Genres: LGBT
Pages: 340
Format: eARC




You're able to lose yourself in her books so much so that you forget the rest of the world. [Roux's] characters become real and for a few hours, you get to experience the same thrills and dangers that Ty and Zane experience.~ Under the Covers
What is it about Abigail Roux's books that get me every time? Eight books into the Cut & Run series and I'm still acting like a total fangirl over these two. Ty and Zane are simply my favourite couple of all time. Each sex scene is still blisteringly hot and new. Each time they tease each other, I can't help myself from laughing out loud or grinning from ear to ear. And every time they get into trouble, my heart stops. Those are just some of the emotions I've felt over the course of this series and Roux accomplishes it again with BALL & CHAIN.
Ty has returned home after being gone for six months. Their reunion is one of the best I've read and will definitely tug on reader's heartstrings. It isn't long until Duece calls in a favour, telling the boys that he is getting married and he would like for them to attend his wedding. However, there's more to it then that. Duece has a feeling that his father-in-laws business deal could go bad so he is calling in for backup, asking Ty to bring someone who is well acquainted with danger and a gun. You know, just in case…
As some of you will be thrilled to note, Nick and Kelly become major players in this book and finally, we get some resolution when it comes to Nick and Ty. It's been a long time coming and I am so glad they got everything sorted out in the open. As much as I love Zane and Ty together, I don't think Ty could live without Nick either. In these books, brotherhood and friendship is just as important to all of the characters as romantic love. I LOVE that about these books.
Naturally, Roux likes to torture her readers, stringing them along with some twists and turns that will have them shocked and maybe a little appalled with what some characters are able to do. I couldn't find myself pacing with this book. I blazed through it so quickly, I'm surprised I could remember any of it. But that's a testament to Roux's writing. You're able to lose yourself in her books so much so that you forget the rest of the world. Her characters become real and for a few hours, you get to experience the same thrills and dangers that Ty and Zane experience.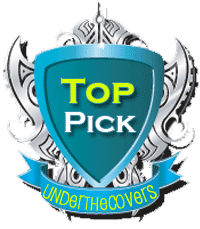 BALL & CHAIN has a particularly satisfying ending. I'm sure every reader will rejoice when they read it. However, Roux isn't one to give up a chance to tease her readers one last time before the book is over. She sets up some interesting things in the last few pages concerning Nick and I am absolutely DYING to know what happens next!
All-consuming and addicting, BALL & CHAIN is another winner from Abigail Roux. With its twists and turns and heartfelt moments, this book has everything a romance reader wants in a book.
Favorite Quote:

Zane spread his legs farther apart as he jacked Ty."Fuck me, baby," he rasped."I need it."
*ARC provided by publisher
Did you like this review? If so, please tell us your thoughts in the comments below!
I'm a 26 year old obsessive makeup junkie and a compulsive reader. I like to call Under the Covers Book Blog my stomping ground, but when I'm not talking about books with my girls, I'm also a reviewer for FreshFiction.com. Over there, I'm also a columnist. I have a column called Into the Night that discusses the latest and greatest news in the Paranormal Romance and Urban Fantasy genre. I also work as a virtual assistant for authors.

When it comes to books I'm pretty adventurous. I read everything from Paranormal Romance to Urban Fantasy, to New Adult, BDSM, LGBT fiction and even YA. If it's got the littlest trace of romance in it, I'll probably read it. That being said, my all-time favorite authors are J.R. Ward and Karen Marie Moning.

When I'm not submerged in a good book, you can find me musing about makeup and fashion or dreaming about boys and beaches. My love for all things David Gandy is well documented on the Internet and we'll be getting married shortly. I'll be sure to send you an invite to the wedding! ;P Until then, check out my reviews and let's talk books!