I received this book for free from Publisher in exchange for an honest review.
This does not affect my opinion of the book or the content of my review.

Released: Nov. 11, 2013
Series: Sidewinder #1
Published by Riptide Publishing
Genres: LGBT
Pages: 92
Format: eARC

SHOCK & AWE is an explosive start to the Sidewinder series. Packed with full-blown hysteria, high-octane passion and a to-die-for romance, Nick and Kelly just may be your new favourite M/M couple!  ~ Under the Covers
There are few things that make me scream; spiders are always one, whenever your team gets a home run and Abigail Roux.
If you've read the Cut & Run series thus far, then you've been subjected to the same torture and heartbreak as the rest of us. Abigail Roux takes a little step away from Ty and Zane and gifts readers with another couple that I'm sure will melt readers' hearts with their romance.
A lot of you may be familiar with Nick O'Flaherty. He has always been "the other guy" in Ty's life, but now Nick has his chance to shine and boy, does he make an impression in this book! If you think you like Ty and Zane together, you may be surprised to find that you adore Nick and Kelly just as much.
But since we're talking about Abi Roux here, maybe that stretch isn't so hard to believe. At under 100 pages, SHOCK AND AWE and its mini sequel BAIT AND SWITCH seem unassuming because of its size, but don't be fooled. Roux minions know what devilish mischief she can accomplish in such a tight word count.
Nick and Kelly had been best friends for all their lives. But when they discover a spark between them that wasn't there before, they take a chance and explore it. One kiss is explosive. One touch is mesmerizing. And the next thing you know, the dirty words are flying out of Nick's mouth like bullets and Kelly is just like the rest of us, swooning and wondering why it took us so long to discover this attraction.
Here's a little taste of what you can expect:
"Wreck me, baby," Kelly pleaded.
"Come for me," Nick whispered. "Scream my fucking name."
Combustible chemistry, right? And it honestly gets better. The sex scene in BAIT & SWITCH just might be the hottest scene I've read all year!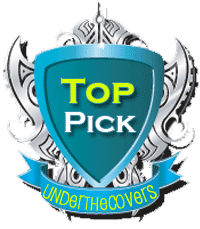 Naturally, along with the intensely hot sex and stellar dialogue, Abi wouldn't be Abi if she didn't torture her readers a little. Nick and Kelly have just found each other when they are separated again, leaving a lot of questions unanswered and lots of avenues to be explored. As Ty and Zane also experience the same hurdles, we see just how deep Nick and Kelly's emotions run and determine if they are strong enough to cover the distance between them.
SHOCK & AWE is an explosive start to the Sidewinder series. Packed with full-blown hysteria, high-octane passion and a to-die-for romance, Nick and Kelly just may be your new favourite M/M couple!
What did you think of our review?
Let us know your thoughts in the comment box below!
 ♡ Don't want to miss any of our posts? ♡ 
Follow Under the Covers: Facebook | Twitter | Tsu | GoodReads | Email
I'm a 26 year old obsessive makeup junkie and a compulsive reader. I like to call Under the Covers Book Blog my stomping ground, but when I'm not talking about books with my girls, I'm also a reviewer for FreshFiction.com. Over there, I'm also a columnist. I have a column called Into the Night that discusses the latest and greatest news in the Paranormal Romance and Urban Fantasy genre. I also work as a virtual assistant for authors.

When it comes to books I'm pretty adventurous. I read everything from Paranormal Romance to Urban Fantasy, to New Adult, BDSM, LGBT fiction and even YA. If it's got the littlest trace of romance in it, I'll probably read it. That being said, my all-time favorite authors are J.R. Ward and Karen Marie Moning.

When I'm not submerged in a good book, you can find me musing about makeup and fashion or dreaming about boys and beaches. My love for all things David Gandy is well documented on the Internet and we'll be getting married shortly. I'll be sure to send you an invite to the wedding! ;P Until then, check out my reviews and let's talk books!