I received this book for free from Publisher in exchange for an honest review.
This does not affect my opinion of the book or the content of my review.

Released: May 278, 2013
Series: Masters of the Shadowlands #7
Genres: BDSM, Erotic Romance
Pages: 369
Format: ARC

On the surface, THIS IS WHO I AM is a story about a broken heroine and a hardened sadist. But at its core, it's a tumultuous journey towards healing both the body and the soul. ~ Under the Covers
In the long awaited seventh book in the Masters of the Shadowlands series, Cherise Sinclair aka Master of BDSM Erotica makes all the waiting worth the outcome. THIS IS WHO I AM has the same elements that readers have loved in the previous books of the series – ominous, but fair Doms, irresistible heroines and a touch of suspense and darkness that makes each page you read a thrilling experience! But everything seems to be better – the pacing is perfection, the characterizations more than enough to make you feel as if they are real people and the sex? I don't think anyone could have doubted that Sinclair could deliver on that front.
If you're like me, you were DYING for this latest installment to the series. Not only has it been such a long time since the last book came out, but also readers were clamouring for Sam's book in particular for a long time. Ever since that memorable blowjob involving Gabi in MAKE ME, SIR, the sadist has caught the eyes of many subs and readers.
What I loved about this book is that Sinclair doesn't hold back. Sam is a sadist through and through and while he can be harsh and mean sometimes, he is also very fair. For some, mixing pain and pleasure isn't their choice of kink. Sinclair writes Sam and Linda's story so that it treads lightly, but also doesn't skim the details and the importance of pain. For a masochist and a sadist, pain is integral to sex. But that isn't all there is to it. I hope this little snippet helps explain what I mean:
When he paused, she looked down to see thin red lines on her pale skin. Despite the wheel's cutting sensation, she saw no blood. Her gaze lifted to the toy, to his hand, to his face…to his eyes. He was watching her intently, studying her responses.

A tremor started from her toes, working upward to her scalp. How could his single-minded attention be more arousing than the pain?
Another thing I loved is that Sinclair showed us a different side of Sam. He isn't simply the scary sadist we see at the Shadowlands, but also a man with his own string of problems. We see him outside of the Shadowlands and some of his past. We see his dry humor and all that helps us better understand in on a more intimate level.
Linda's past is a dark and torturous one. She has survived so much at the hands of her slavers and not even her family understands what she was endured. As she struggles to remain true to herself while facing the stigma of others, she and Sam find solace in one another despite their tumultuous past. Interestingly enough, Linda isn't the only one who needs to relearn how to trust. Sam has his own leap of faith that makes them equally admirable in my eyes.
Sinclair delves deeper and gives readers POVs from Aaron, one of the slavers Linda endured when she was captured. It's a dark perspective, one that is sinister and not what a Dom should be. He was a great villain that created a level of disgust and made Sam the sadist look like an angel in comparison. It was a really nice touch!
Those who follow the series will be thrilled to note that there are several appearances from past couples. Jessica is getting married and a submissive bachelorette party involves a whole lot of drinking, sex toys and the raiding of amused Doms at the end of the night. These scenes had me laughing out loud with some of the antics.
This brings me to my next point. After the party, everyone went home with their Doms – all except Sally. I have loved Sally since the beginning and am SO EXCITED that she will not only get her book next, but that she'll get TWO sexy FBI Agents, Vance and Galen! This is the first threesome book of the series so I'm curious to see where Sinclair will take it.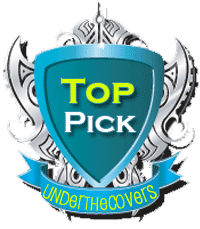 Much like a Dominant, Cherise Sinclair has her readers kneeled at her feet. On the surface, THIS IS WHO I AM is a story about a broken heroine and a hardened sadist. But at its core, it's a tumultuous journey towards healing both the body and the soul. I always hold Sinclair's books as the standard for all other BDSM books out there, but even this one surpasses what I expected. That being said, there is no reason why you should be missing out on this series!
*ARC provided by publisher
Favorite Quote:
His cock rose, and she gaped at him. "You want me to suck your-"

"Yep." He slid her glasses off and tossed them on the desk. "A nice blowjob…and quietly, please."

"Are you sure I can find it? I might get confused with one of those pencils on the floor."

What did you think of our review?
Let us know your thoughts in the comment box below!

 ♡ Don't want to miss any of our posts? ♡ 
Follow Under the Covers: Facebook | Twitter | Tsu | GoodReads | Email
I'm a 26 year old obsessive makeup junkie and a compulsive reader. I like to call Under the Covers Book Blog my stomping ground, but when I'm not talking about books with my girls, I'm also a reviewer for FreshFiction.com. Over there, I'm also a columnist. I have a column called Into the Night that discusses the latest and greatest news in the Paranormal Romance and Urban Fantasy genre. I also work as a virtual assistant for authors.

When it comes to books I'm pretty adventurous. I read everything from Paranormal Romance to Urban Fantasy, to New Adult, BDSM, LGBT fiction and even YA. If it's got the littlest trace of romance in it, I'll probably read it. That being said, my all-time favorite authors are J.R. Ward and Karen Marie Moning.

When I'm not submerged in a good book, you can find me musing about makeup and fashion or dreaming about boys and beaches. My love for all things David Gandy is well documented on the Internet and we'll be getting married shortly. I'll be sure to send you an invite to the wedding! ;P Until then, check out my reviews and let's talk books!