I received this book for free from Purchased in exchange for an honest review.
This does not affect my opinion of the book or the content of my review.

Released: May 3, 2011
Series: Blood Moon Rising Trilogy #1
Published by Berkley Trade
Genres: Paranormal Romance
Pages: 323



MY FANTASY CAST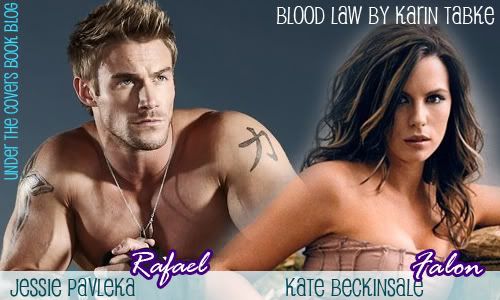 WARNING! This review will contain squealing, fan-girl obsessions and perhaps a happy dance!Blood Law is one of the best books I've read this year! I'm not quite sure what I was expecting when I picked up this book. Having never read anything by Karin Tabke before, I did not have any real expectations. But once I opened this book, I was completely blown away by the attention to detail, the complex laws they abide by and the compelling characters! If I wasn't a fan of Ms. Tabke before, I certainly am now! I LOVE THE BLOOD MOON SERIES!
I will admit, Ms. Tabke starts up early in the beginning, detailing the Blood Law and past events that have altered how Rafael and his brother, Lucien live their lives now. It was a little confusing at first because you are thrust into her world and are bombarded with a lot of information all at once. But once you get accustomed to the initial shock and the names settle in, you are right on track with her!
There are so many good things about this book! First off, the characters come off the page, grip you by your shirt and take you on a ride from beginning to end. And when I say that, I mean that Rafael and his heroine, Falon are the most compelling characters I've read in a long time. Rafael is the alpha of his pack and he is as ruthless as can be. There is something darkly alluring about him, where he uses fear to his advantage. At first, he refuses to accept Falon as his chosen one but despite his hardened soul, he still cares deeply for her.
Falon is my new favourite heroine! I love her! She was cunning and funny, sexy and sweet! She was the perfect counterpart to Rafe. But perhaps the best thing about her was that, she was a strong, independent heroine, one who didn't rely on the hero to save her from her own troubles. Falon possesses some special abilities, such as increased strength and speed, but that wasn't what made her stand out as a heroine. It's her internal strength that really shone through for me. Falon simply kicked ass.
Another favourite character was Lucien. As Rafe was day, Luca was night and I loved that comparison. The juxtaposition in characters was clearly showcased in their confrontations and I loved every moment of this action-packed book. So much occurs and it was as if a movie was playing inside my head. I completely devoured this book and am now feeling withdrawals because I want the next book so badly!
 Did you like this review? If so, please tell us your thoughts in the comments below!
I'm a 26 year old obsessive makeup junkie and a compulsive reader. I like to call Under the Covers Book Blog my stomping ground, but when I'm not talking about books with my girls, I'm also a reviewer for FreshFiction.com. Over there, I'm also a columnist. I have a column called Into the Night that discusses the latest and greatest news in the Paranormal Romance and Urban Fantasy genre. I also work as a virtual assistant for authors.

When it comes to books I'm pretty adventurous. I read everything from Paranormal Romance to Urban Fantasy, to New Adult, BDSM, LGBT fiction and even YA. If it's got the littlest trace of romance in it, I'll probably read it. That being said, my all-time favorite authors are J.R. Ward and Karen Marie Moning.

When I'm not submerged in a good book, you can find me musing about makeup and fashion or dreaming about boys and beaches. My love for all things David Gandy is well documented on the Internet and we'll be getting married shortly. I'll be sure to send you an invite to the wedding! ;P Until then, check out my reviews and let's talk books!